18 Spots for Summer Fun in NWA
Children are out of school and probably a little stir-crazy already. You had good intentions for a strict summer plan that included healthy snacks, summer learning and minimal television. So how are you holding up?
It's OK. Your children are always used to being entertained, but summer is a great time to slow down the pace and set expectations about how they will spend their days and how much of that you are planning. Turn them loose outdoors. Clean out the craft closet and let them be creative. And spend some time exploring your local community like a tourist.
Whether you are local to Northwest Arkansas or looking for easy day trips or a quick summer getaway, these towns are the perfect places to build a summer bucket list of fun things for families. Check out these 18 spots for Summer Fun in Northwest Arkansas.
Creekside Park and Splash Pad | Bentonville
This splash pad is the No. 1 thing on everyone's NWA summer bucket list because it is new. The park opened at the beginning of May, and families have been buzzing about its entertainment value, especially since it's a free city park! Check out splash pads in Rogers, Springdale, Fayetteville and Centerton, too!
Parrot Island Waterpark | Fort Smith
An outdoor waterpark with over 400,000 gallons of aquatic fun. Tiny tots and big kids can play on the long slides or the children's aquatic play area. Check their special events throughout the summer for discount tickets for teachers, first responders, military and more.
Libraries| in all towns
Libraries in most towns have summer reading clubs, classes, camps and story times for kids of all ages. Check your local library's summer schedule.
Image used with permission from
Holly Danielle Photography
>
Kayak Park | Siloam Springs
Fishers Ford, along the Illinois River, is now home to a city park, swimming hole and waterway for kayakers in the area. The park is open and free for use. Special features include Class I and II rapids, ADA-accessible riverbanks, picnic areas and a rain garden.
Coler Trail | Bentonville
A hike or bike ride at Coler is the coolest thing for your kids. They will love going fast, playing in the creek, walking and seeing the trailside artwork. Halfway through, grab a summer drink at the open-air coffee shop.
Turpentine Creek | Eureka Springs
While the animals are not as active as they are in cooler months, it is still such a memorable experience to learn about the rescue and rehabilitation of these big cats and the owners caring for them.
Can Do Hardware Store and Pet Pop | Gravette
Last summer, this themed candy shop took Northwest Arkansas parents by storm. An actual hardware store with a movie scene-ready candy shop hidden inside. Come ready to taste and see what all the buzz is about.
Hobbs State Park & Van Winkle Homestead | Rogers
This Arkansas State Park is kid-friendly and not far from downtown Rogers. Explore the walking and off-road bike trails, sit by the still waters, eat a snack on a limestone rock, learn about wildlife at the hands-on visitor center or stay overnight at one of the primitive camping spots. Take a summer class about bees, birds or venomous snakes!
Arkansas Air & Military Museum | Fayetteville
A fun outing for anyone interested in aviation or learning more about the history of air transportation and the military. It's a fun outing to combine with a trip to Lake Bentonville Park and lunch or dinner Louise at Thaden Field, watching planes land and take off while you eat and play.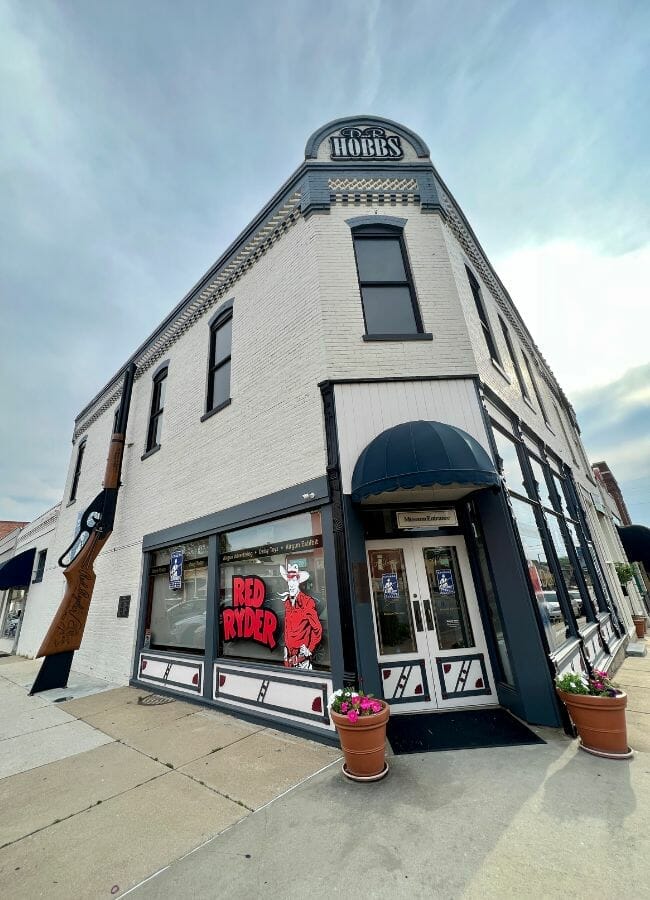 Daisy Airgun Museum | Rogers
This may be one of those trips you take for yourself and blame it on the kids. The history of the Daisy Airgun fills the museum's hallways, including collectibles, memorabilia and the world's largest airgun.
Amazeum | Bentonville
The Scott Family Amazeum brings a discovery of connections at the intersection of arts and science. This children's museum has an outdoor play space but is perfect for rainy days and a cool-down summer spot where kids love to learn and explore freely. While there, visit the Architecture at Home exhibit outside Crystal Bridges along the Orchard Trail.
Trampoline Parks – Altitude | Fayetteville & Defy | Rogers
The best way to wear out your busy kids in the summer is inside, where they can jump all day. Both locations offer timed reservations or summer pass options where your kids can repeat the fun to infinity.
Lost Valley Trail | Ponca
Northwest Arkansas is full of hikes and trails throughout the Ozark Mountains, along the Greenway, on hidden paths and near downtown squares. Lost Valley is a kid-friendly trail with a primarily shaded path that winds along a creek bed, leading to a spectacular waterfall view.
Botanical Gardens | Fayetteville
One of many families' favorite spots in the summer is the weekly Little Sprouts events or the FREE Terrific Tuesday nights from June through Aug. Explore the different garden sections, butterflies, bird-watching station and train.
NWA Naturals Game | Springdale
A minor league team for the Kansas City Royals calls Springdale home, and discounts are offered throughout the summer to make it an easy excuse to make a memory together.
Kindness and Joy Toys | Fayetteville
A year-round haven for creative kids, this toy store offers summer camps, storytime, parties, birthday buckets and a kindergarten experience for kids headed to school for the first time.
Aquatic Parks | Rogers, Siloam Springs, Springdale, Bella Vista, Alma, Clarksville,
Giant slides and splash pads with a lazy river wrapping around all of them make the perfect spot for a day or the whole summer. Check your closest park for hours and admission prices, or visit a new aquatics center each week!
"Habitat" Smithsonian Trail Exhibit | Cane Hill
A partnership between the Smithsonian Gardens and Historic Cane Hill offers visitors a glimpse of habitat research in natural environments where Smithsonian scientists use this Northwest Arkansas exhibit to learn and discover ecosystems and systemic relationships.
Don't miss an opportunity to end your fun summer adventures with a frozen treat around town.
Via Only In Arkansas.