20 Ridiculous Things People Have Done At Kids' Birthday Parties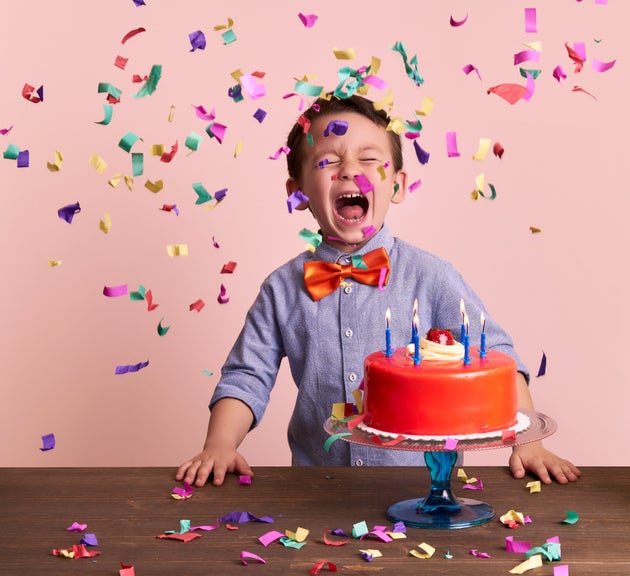 It's their party, and they'll cry if they want to – but sometimes the person in tears, whether from anguish or joy, isn't the child whose birthday it is.
These days, the anticipation and preparation for the big day make the stakes even higher for kids and parents alike.
More families are choosing to go all out when planning kids' birthday festivities, hiring professional event planners and spending tens of thousands of dollars to give their child a Kardashian-level experience.
Even at parties that aren't so extravagant, there's still a lot of planning and expectation to live up to, and some guests, whether kids or adults, just aren't able to meet the moment. 
We asked members of the HuffPost Parents Facebook community the most ridiculous things they have witnessed at kids' birthday parties and found other parents who had shared similar stories on Twitter.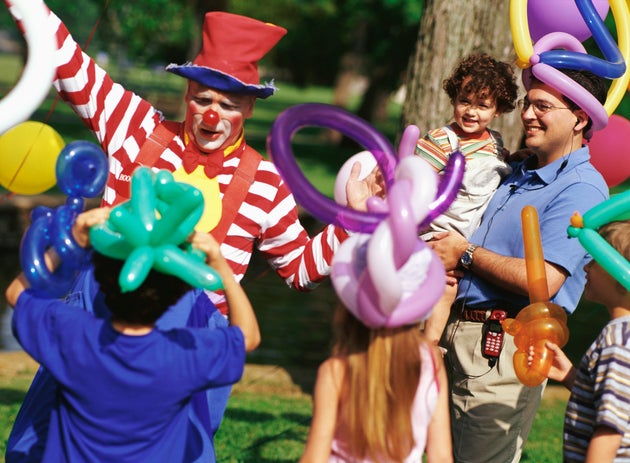 Watch who you hire to be the entertainment. 
"We hired a well-known kid's entertainer (practically a local celebrity) for our daughter's birthday party and were pretty sure he was high or drunk or a combination of both. He also had a bad body odour. He managed to entertain the kids ... but my husband and I were on edge about what he might say that might be inappropriate." —Tanya Munro Erway
You think being a dad is all fun and games? YOU try enforcing the penalty strokes at a 7 year old's mini golf birthday party.

— Henpecked Hal (@HenpeckedHal) April 8, 2023
"My friend saw someone re-light a birthday candle from someone else's cake so their child could blow it out." —Anne Rogers Adams
"My mum brought a stray dog to my 2-year-old's birthday party. She had cut its leg trying to tie it up and was covered in its blood. My husband warned me I should tell her to not bring the stray dog she found that morning, but I figured that was too ridiculous to happen. Sure enough, she did." —Erika Fisch 
Wife: Did you get everything ready for the kids' party?

Me: *checks pocket for earplugs and Tylenol* Yep!

— The Dad (@thedad) March 15, 2023
"In kindergarten, a mum dropped her kid off and left 'really quick.' Three hours later she texts me saying she took a nap and would be back. As soon as her kid noticed she was gone she sat staring at the door for the rest of the party, waiting for mum to come back. I had never talked to this person prior to the party, nor after."—Margarita Clarke 
Let's get married and have kids so instead of brunch and mimosas we can go to a 5 year old's birthday party where I've watched multiple kids wipe their nose on the bouncy house.

— Simon Holland (@simoncholland) February 19, 2023
"When my son turned 4, I rented a bounce house. It was my first time throwing a kid's party. Instead of gift bags, I gave out socks to toddlers and preschoolers. You shoulda saw those little faces!"—Kristy Mapes
Accompanied my son to a birthday party for his friend, Dylan, and I was the only dad with a pocket knife handy when presents needed opening.

Dylan's dad called me out for acting smug and I told him that that's no way to talk to the man of the house.

— The Dad (@thedad) February 2, 2023
"I was once invited to a children's birthday party six months in advance and was then uninvited because I didn't RSVP right away." —Melody Shaw
7-year-old: My friend is having a birthday party.

Me: Are you invited?

7: I don't know. But I'm going.

— James Breakwell, Exploding Unicorn (@XplodingUnicorn) February 10, 2023
"A parent dropped off a 4-year-old and her uninvited bully sister, didn't provide contact information, and left for two hours. I had invited the whole preschool class – I didn't know these people. These people didn't know us. Who does that?"—Daykara Fritzges
When you throw a birthday party for your kid and try to keep up with all of their friends' dietary restrictions pic.twitter.com/P6yjvbCFAC

— The Dad (@thedad) August 15, 2022
"In Northern VA, we attended the birthday party of a child whose invite not only included a registry link to several online stores like Amazon and Target but also a link to send a donation to the child's charity of choice.
"The hosts asked you to bring your gift as well as the receipt showing the donation you made on behalf of the child in order to attach it to a poster. At the end of the party, they announced that X dollars would be donated to this charity.
"When we asked to have our receipts back, the parents informed everyone that their business would use the charity receipts to offset their 'entertainment' expense of the party for the child." —Amy Everett 
6: mom can the neighbor girl put some make up on me?

me: just a little we have to leave soon for that birthday party

how she comes home: pic.twitter.com/rvINQHvvdT

— That Mom Tho (@mom_tho) August 6, 2022
"I'll never forget the viral story of a woman who threw her child's party at Build-a-Bear. All the children got to make a bear, but at the end of the party, she made them give their creations to her child."—Anne Rogers Adams
Showing up to the party with what is clearly a poorly gift wrapped sword

— jon drake (@DrakeGatsby) September 20, 2022
"At my son's 4th birthday party, I was pregnant and had an ultrasound pic on the refrigerator. One of the mums who happened to be a physician's assistant looked at it and announced she was sure it was a girl. We hadn't found out the sex since we wanted to be surprised. Maybe she thought it was a gender reveal party??!"—Carolyn Schantz Yarton
Chillin at a 4 year olds birthday party. Happy weekend pic.twitter.com/M66KQxuo7b

— Dadman Walking (@dadmann_walking) January 6, 2023
"First birthday party I went to as a parent, and this dad handed over a gift, dropped a kid off, and said, 'Call me when it's over.'" —Theresa Carroll 
Responses have been lightly edited for clarity.