Many myths surround the game of chess, such as it's only for smart people, or it's boring, or too complicated to learn. The truth is, anyone can learn to play chess. It's a game that's brought players together for centuries. During the Covid-19 pandemic, it enjoyed a surge in popularity as people searched for hobbies to cope with isolation. In April 2020, Chess.com saw 1.5 million new accounts opened by online users, nearly 1 million more accounts than were opened in January 2020. The Netflix series "The Queen's Gambit" also fueled interest in the game and, recently, a scandal in the professional chess world. World champion Magnus Carlsen refused to play United States player Hans Niemann after Niemann beat him in September. Carlsen accused the U.S. player of cheating. In Arkansas, 16-year-old William Donham became the state's youngest chess champion in August of this year. With so much recent interest, chess seems to be growing in Arkansas and internationally.
Men playing chess in Damascus. Photo: Metropolitan Art Museum via Wikimedia Commons.
The game of chess is linked to a variety of games played in the early centuries in the modern era. A game called chaturanga that originated in India is usually credited with being the precursor to chess. Traders carried the game from India to Asia, where it developed into various forms in China and Japan. A version of the game was played in the Persian empire and then passed to the Arabian empire. In turn, they took the game to Africa and Europe as the Muslim empire spread. The Vikings also played the game, and 78 walrus bone chess pieces which date to the 11th and 12th centuries were discovered on the Isle of Lewis in Scotland in the 18th century.
Chess celebrities at the late chess meeting in Leamington, June 25, 1855. Chess champion Howard Staunton is right of the center.
Modern-day chess came about in the 19th century as it gained popularity. Unofficial world champion Howard Staunton helped standardize the rules and the chessboard. Staunton chess sets with standard pieces are still the sets used in international competitions. The first national championship in the United States was played in New York in 1857. Finally, an international organization formed in 1924, named the Fédération Internationale des Échecs (FIDE). FIDE oversaw world championships after World War II, with Russians dominating until American Bobby Fischer won in 1972. Current world champion Magnus Carlsen is from Norway and has held the #1 ranking since 2011.
Magnus Carlsen at the World Chess Championship in 2021. Photo: Eleri Kublashvili via Wikimedia Commons
You don't have to be a world champion, though, to play chess. The Arkansas Chess Association (ACA) is a non-profit organization that exists to promote chess in Arkansas through tournaments, educational programs and outreach. It is affiliated with the United States Chess Federation (USCF), which holds 25 national championships each year for various ages and levels and oversees over 12,000 tournaments across the U.S. The ACA sponsors the state championships, which take place in August each year, as well as an open tournament in May. Players can take different paths to reach those championships. Many begin in community clubs. These clubs have their own affiliations with the USCF and meet weekly or monthly in coffee shops, churches and community centers. Most are open to beginners and some, like Mosaic CPR Chess Club in Little Rock, cater directly to children ages 5 to 12 who want to learn chess. Nicholas Jaeger is currently the president of ACA and encourages anyone interested to find a local club.
ACA Quads are held nearly every month at Christ Episcopal Church in Little Rock.
For children, school clubs are another great way to learn the basics of the game and try out competitions. The Chess Association for Arkansas Schools (CAAS) is sanctioned by the Arkansas Athletic Association and organizes tournaments for participating school districts. The Arkansas Scholastic Chess Association (ASCA) also promotes playing opportunities for rated and unrated students in Arkansas. At the university level, chess clubs in the state also abound. Arkansas State University has its Scarlet Chess Club, where students can meet, play and compete. The University of Arkansas Chess Club is a Registered Student Organization (RSO) that meets online and in person. Finally, local parks and recreation departments offer chess for adults and children. North Little Rock Parks & Rec offers Wednesday night chess for adults. Pea Ridge welcomes chess players the first Tuesday of the month for chess at the library. The Fayetteville Senior Center offers a chess club for those ages 55+. Looking for opportunities to learn and play locally may just be a matter of checking with the school, library or parks and recreation department.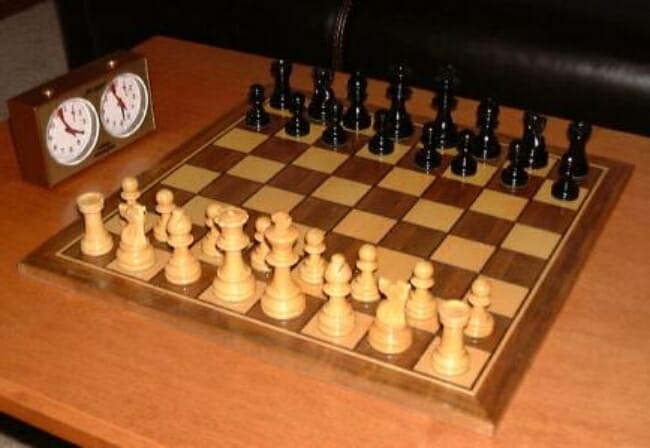 The Staunton chess set is the only set used in international tournaments. Photo: Lee Daniel Crocker via Wikimedia Commons
However, the way many chess players now prefer to play is online. Chess.com is the forum many players use to play casual games and compete in online-rated tournaments. You can even find players or groups from Arkansas to join on the site. For kids, chesskid.com is aimed at young beginners and safeguards children's identities and information. Twitch is a live-steam gaming platform used to stream anything from video games to music, crafting and, yes, chess. You can watch players compete live, and the site has become a popular tool for players to use to learn strategies about the game. All Arkansas chess tournaments are played in person, though, "mainly for the integrity of the sport," Jaeger says.
Fayetteville Chess Club is holding its 2022 Winter Classic tournament Dec. 17 and 18. Players can register for the open event or reserve event, and cash prizes are up for grabs. Register for the tournament at https://new.uschess.org/2022-fcc-winter-classic.
Another afternoon of chess in Little Rock.
For students from grades kindergarten to 12th grade, the Arkansas Scholastic Individual Championship is held in March with three separate categories for players to compete in according to age – elementary, middle or high school, and one category open only to girls ages K through 12th grade. This girls-only event recognizes the gender gap in chess and is meant to encourage girls of all ages to play chess. The winners of these tournaments will qualify to compete in the national competitions held this year in Grand Rapids, Michigan, at the end of July.
The 2023 Arkansas State Championship will be held in August with open tournaments for adults and for students. Arkansas state champions qualify for the national tournament, and according to Jaeger, Arkansas has sent state champions to the national competition since the early 2000s. If you're interested in competing in the state tournament, be sure to follow the Arkansas Chess Association for all tournament and chess news in Arkansas. "Chess is a community," Nick Jaeger says. "It's nice to have a community." While not everyone can be an international champion like Magnus Carlsen, everyone can enjoy the game, improve, and have fun playing chess.
Arkansas Chess Association photos are courtesy of Nick Jaeger and used with permission.
Via Only In Arkansas.