We're officially one week into summer over here and we're starting to find our groove. I always feel a little stressed when summer rolls around, because I'm not great at the whole "no routine" thing. I like a predictable schedule, plenty of time to get my work done, and at least a few hours a day with a quiet house.
And, you know, that's all out the window for the summer months!
But, I feel like I fall in love with summer all over again every year. I love the slow and lazy days, I love the extra time with my boys, and I love the spontaneous fun we always find ourselves having.
As someone who thrives on routine and structure, I like to go into summer fully prepared with a solid collection of things to keep the kids busy and happy. So, I thought today I'd share a few of my summer must-haves that help guarantee no one loses their minds before the fourth of July.
my top summer must-haves For the kids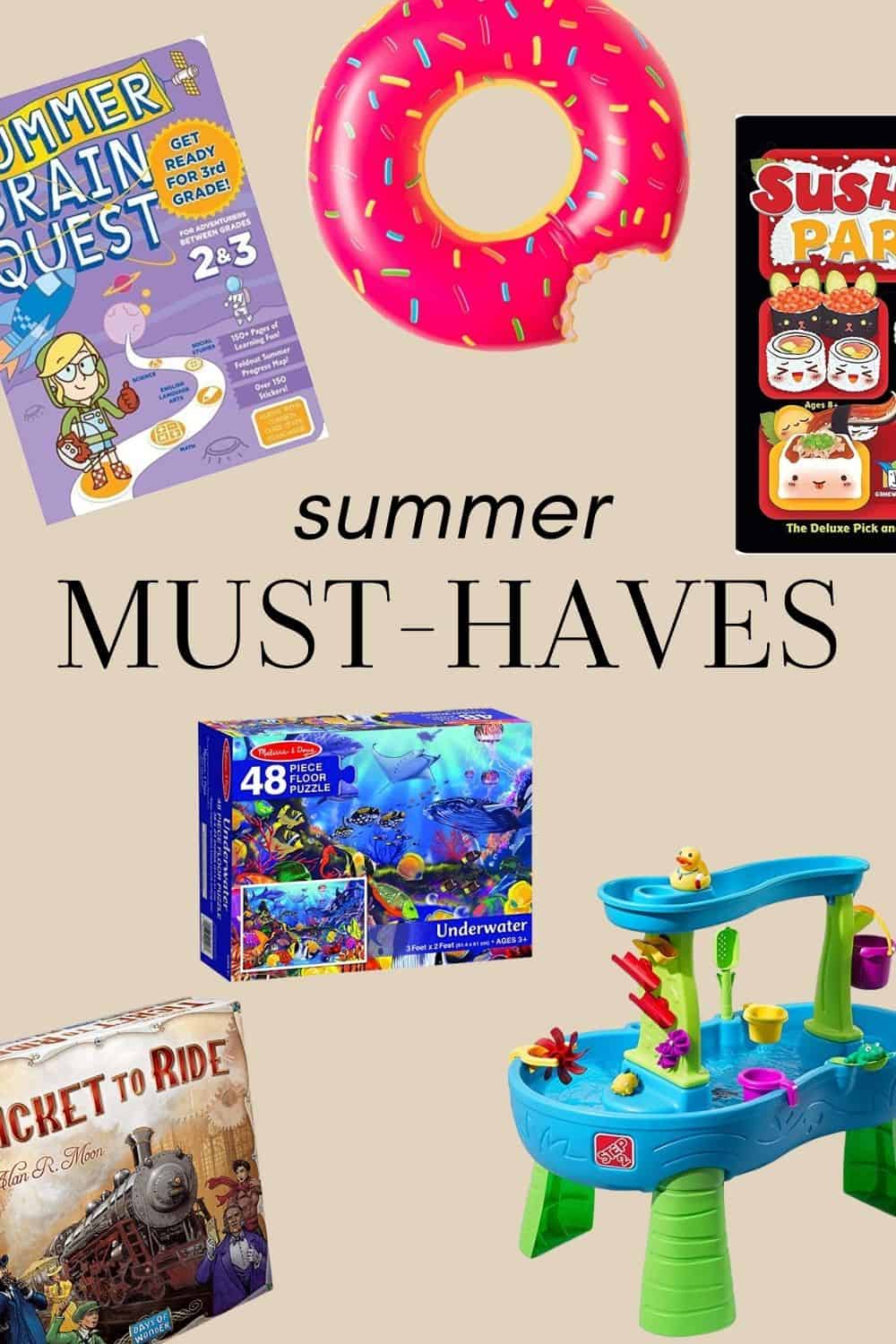 1. something educational
That's right, I'm one of those mean moms that likes to make sure their kids brains stay active all summer long! It's so easy to fall into the trap of sitting around watching tv all day, but it's so easy to grab a few things that will be fun and educational for the kids.
Here are a few favorites:
Summer Brain Quest: We've been buying these workbook every summer since the year before Jackson started kindergarten, and they're always a huge hit! He thinks they're a blast to work on, and I love that it's a fully educational activity that keeps him busy for a few minutes every day. Absolute must-have.
Brain Quest Decks: Speaking of Brain Quest – I used to do these little decks when I was a kid, and I love that they're still around! They've got ones for the littles too, so this is what I'll be grabbing for Grant instead of a workbook. It's a fun little activity that keeps them busy for a little while, and I like that the boys can work on these together.
Puzzles: Nothing better than setting the kids up with a big puzzle and letting them go to town! It's a great activity for afternoons when it's too hot to play outside and everyone has had too much tv.
A few new books: I'm gonna be kicking off summer break for both kids by taking them to the library to pick out some books! I plan to try to institute a 30-ish-minute reading time with both kiddos every day, and a regularly rotating selection of books from the library helps keep things exciting.
2. Games
Can't get through summer without some games for the whole family to play! Corey and I haaaate playing a lot of the typical kid games (I'd rather eat a frog than play a round of Candyland), so we like to find some more unique ones.
Here are some we love, for kids of all ages:
If you want more fun game ideas that the kids will love, click here for a ton more!
3. Outdoor Toys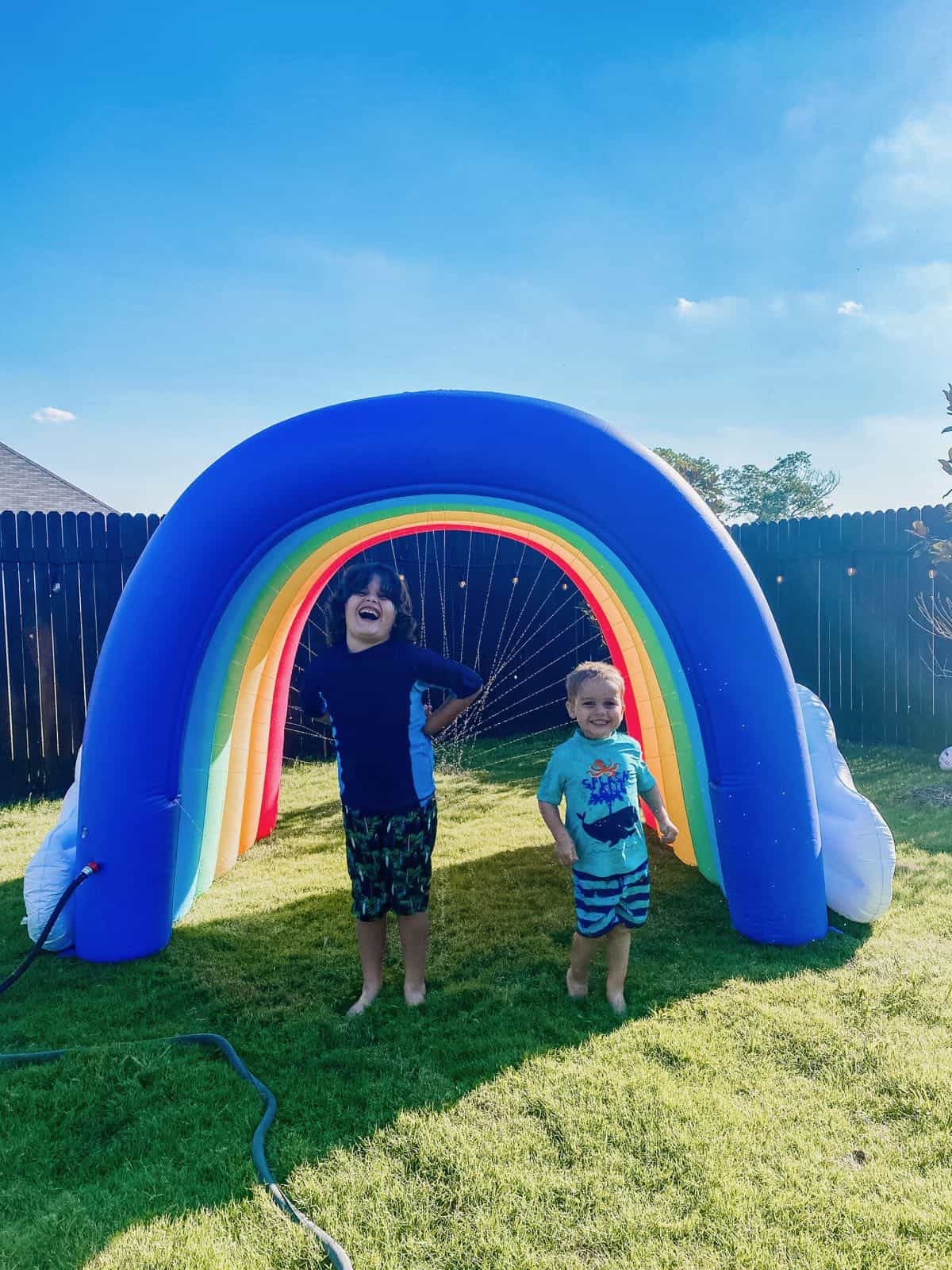 Of course, you have to have some outdoor toys for the summer. We have a pool in our neighborhood so I always prioritize a few pool toys and floats, but we also have some backyard favorites if a pool isn't easily accessible for you.
And that's a few of the things we love to have around this time of year! If you're still looking for ideas to keep your kids busy, click here for more ideas. I've got craft kits, games, pool toys, and more!
Other Posts You May Love
The post Summer Must-Haves appeared first on Love & Renovations.