The Best Age-Appropriate Chores for Kids That Build Confidence
Ready for your child to start doing chores, but aren't sure where to start? These ideas for age-appropriate chores will help you assign chores that build your child's confidence and help him/her contribute to the family.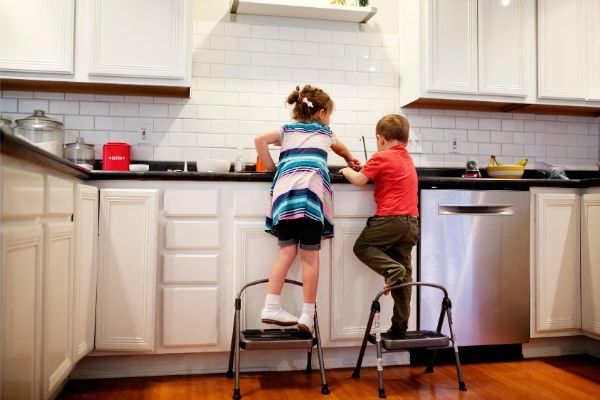 Age-Appropriate Chores for Kids
Chores help teach children responsibility. They're a big part of growing up in most families.
Giving kids chores is one way to teach them that you must all work together as a family, each of your contributing where he or she can to keep the house running smoothly. 
Kids can start doing chores around the house as early as age two.
In fact, starting chores at an early age can help them to reach developmental milestones by building coordination and motor skills.
Just remember, your kids might not be able to do everything correctly so be available to help and give advice when needed. 
Keep reading for a list of age-appropriate chores for your child. 
Chores for Toddlers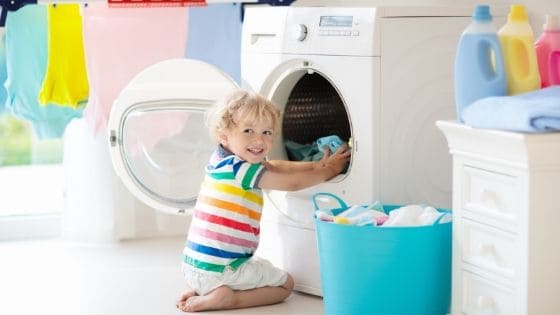 Put away toys. You can make this task into a game with little ones. Teach them to sing a "clean up song," race to see who can pick up the most toys or put them away the fastest, guess where toys go, and give praise for the right answers.
Practice simple instructions. Give children simple one-step instructions. For example: "Put this in the trash" or "Put your shoes in the basket."
Take clothes out of the dryer. This is big fun for kids! Have your little one pull clean clothes out of the dryer and put them into a waiting basket. 
Related: How to Get Kids to Pick Up Their Toys
Chores for Preschoolers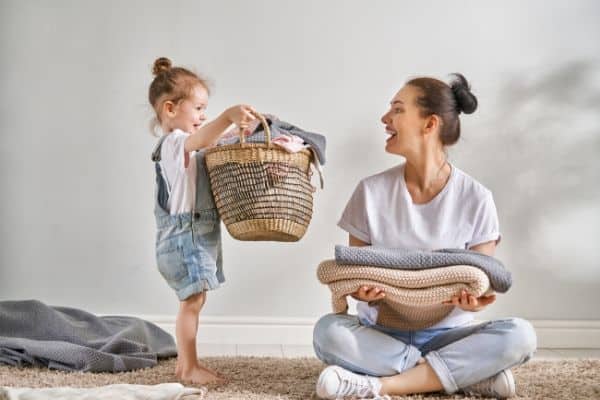 Get dressed. At this age, children can begin getting themselves dressed for the day and putting on their own pajamas. They may still need some help with buttons and zippers.
Take care of pets. Children can begin helping to feed pets, check to be sure they have water, and brush or help with bathing.
Match socks. This is a great chore for preschoolers because it helps them to practice sorting skills they'll need in preschool and kindergarten.
Put away clothes. Our sons used to "deliver" their clean clothes to their drawers via toy dump truck. I'd fill up the truck with socks or t-shirts, and they'd drive them to their rooms. So much fun!
Read: How to Help Your Child Organize Clothes
Chores for Ages 5 to 7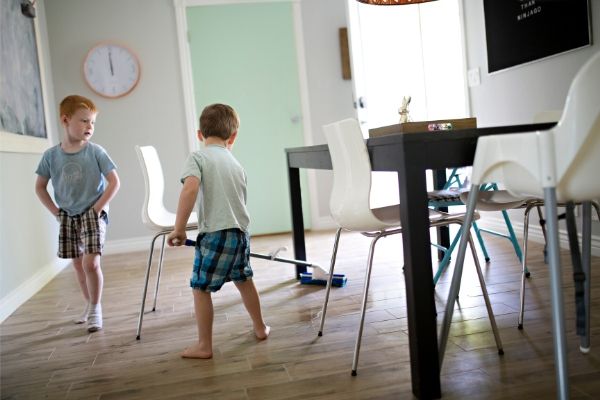 Brush Teeth. At this age, your kids can begin to brush their own teeth. I still check to be sure they have brushed properly. Most children can manage teeth brushing at this age and they're often excited to do it.
Make Bed. If children haven't already started making their own beds, this is the perfect time to start. Kids may need some help at first, but they should easily be able to make their beds each morning.
Get Snacks. Wouldn't it be great if you didn't need to make 1,000 snacks every day? Place healthy snacks where your child can reach them and let him get his own morning or after school snack. 
Vacuum. This one is a game changer! I was so excited when my children could help with this chore. 
Use a Swiffer or damp mop to spot clean the floor.
Related: Realistic Playroom Organization Ideas You've Got to Try!
Chores for 8 & Up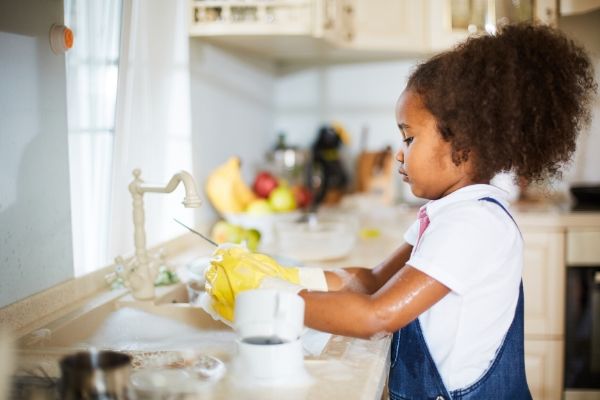 Take out the trash. Have your child take the trash out at the end of the day. My boys have loved helping with this chore because they get to show off their "muscles" as they lift the "heavy" bag.
Sweep. This is a bit harder than vacuuming because it requires more coordination, but sweeping is an easy household chore kids can feel good about helping with.
Get the mail. Everyone loves getting mail, so this is a really fun one for kids.
Wash dishes. Kids can help wash dishes in the sink. If you have a dishwasher, kids can still wash things like water bottles or items that aren't dishwasher-safe.
Unloading the dishwasher. This shows kids how we all depend on each other. If the dishwasher isn't empty, we can't clean up our kitchen together. It demonstrates how we all work together to keep our house running.
Laundry. Our sons started doing their own laundry at 9 years old, but I think they could have handled it earlier. It's an important life skill, and it teaches kids about natural consequences. If they don't do their laundry, they won't be able to wear their favorite shirt that's crumpled up in the hamper!
Related: See our 9-year old's chore chart for more age-appropriate chore ideas
Everyone Contributes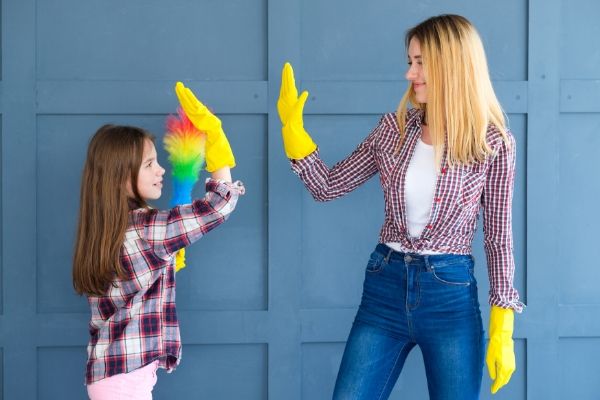 When kids help around the house, they are working as a team with the family to keep everything running smoothly.
Even though kids may balk at the idea of having to do chores, contributing to the family teaches responsibility, builds community, and instills confidence in your child.
There are so many benefits associated with children doing regular chores.
And as a busy parent, having some help around the house can save you time so you can focus on other priorities!
More Home Management Ideas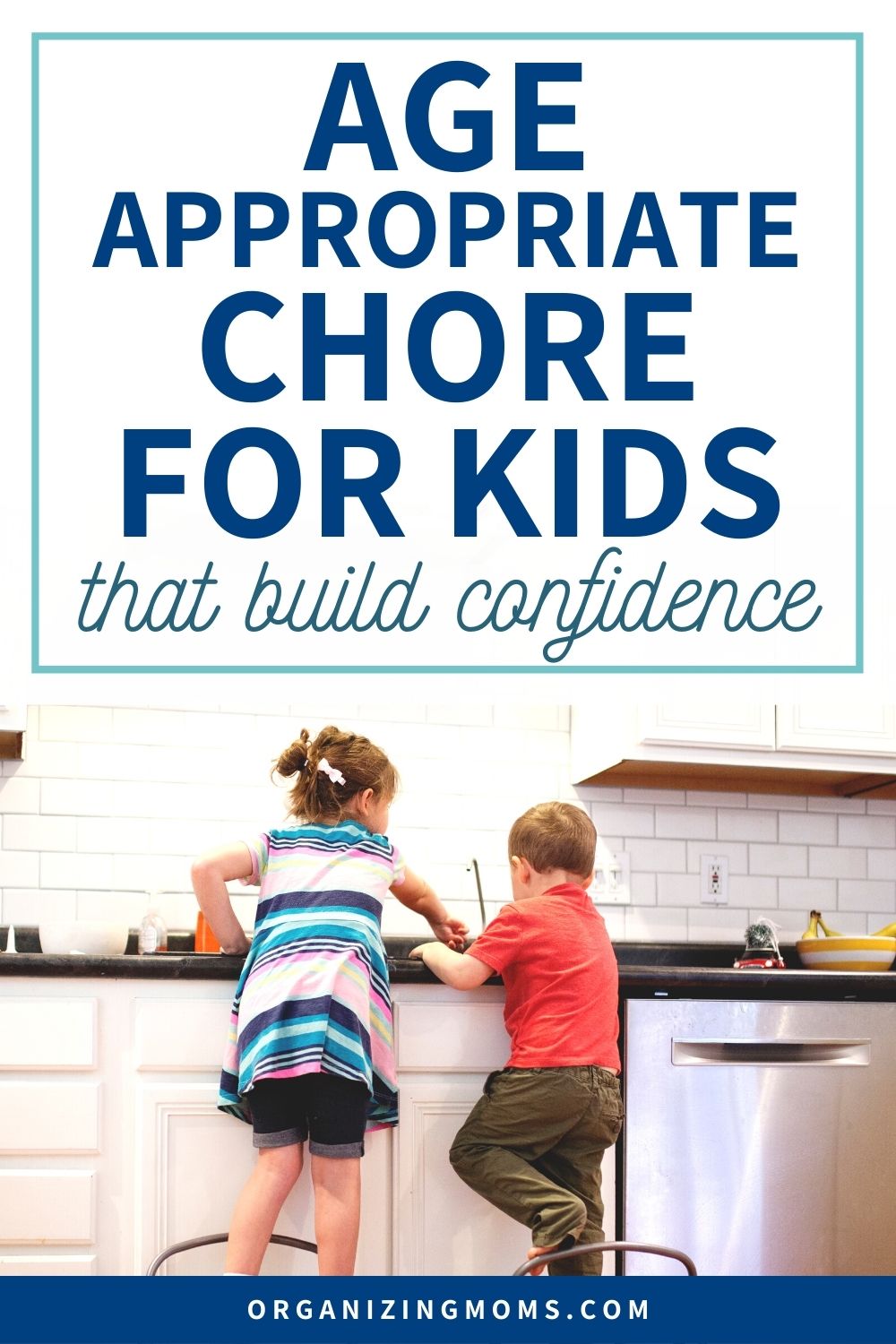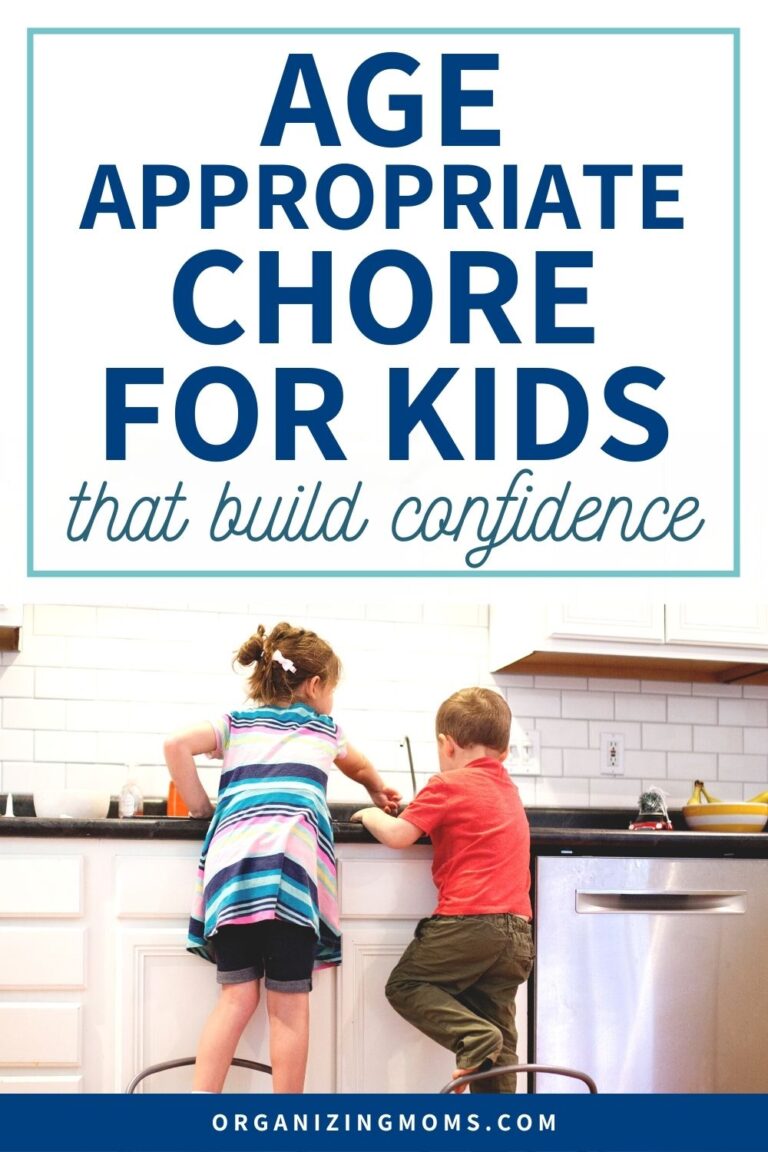 The post The Best Age-Appropriate Chores for Kids That Build Confidence appeared first on Organizing Moms.