The Best Apple Books for Kindergarten
As the school year begins, this collection of the best apple books for kindergarteners and preschoolers is such a fun way to explore apple season. Apples can provide hands-on fun for kids and it starts with a good apple book!
Here's our favorite apple books…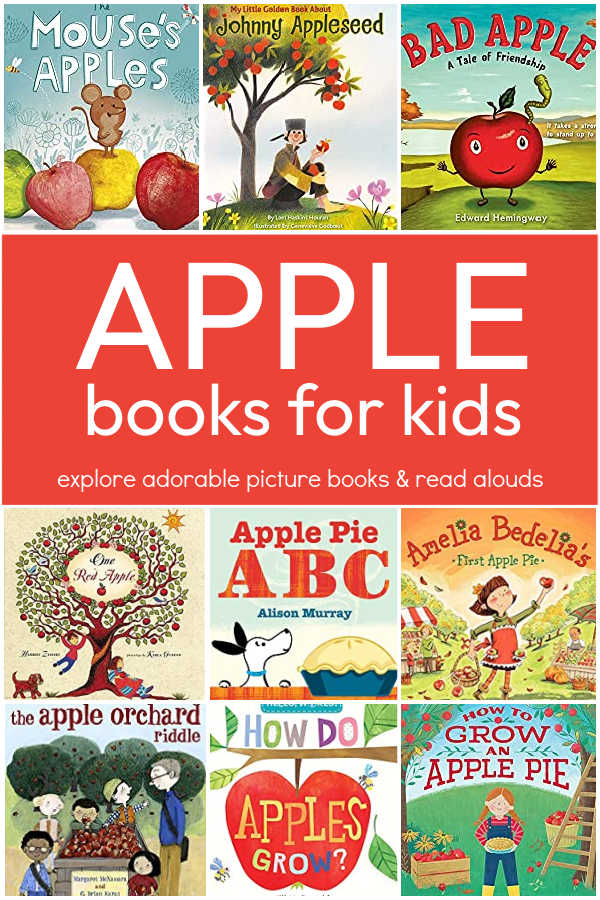 Disclosure: This post contains Amazon affiliate links.
Apple Books for Kindergarten
As the weather begins to cool and we head into fall, one of my favorite fall themes to use is apples.
They are something familiar and yet provide so many opportunities for learning something new. With apples, you can explore so many math, science, and literacy concepts from this popular apple STEM challenge to apple site words.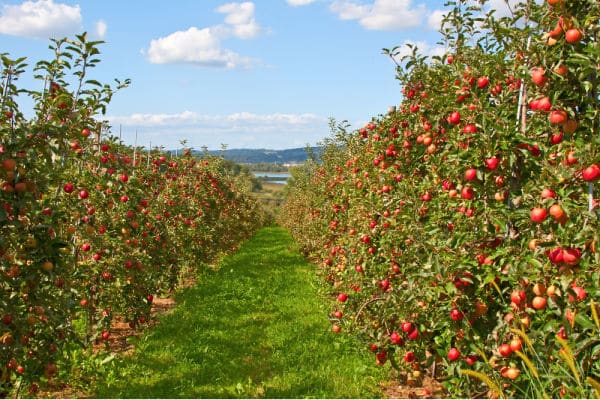 The selected apple books will help children learn about how apples are grown and harvested in the apple orchard. Go on a virtual field trip to an apple orchard after you read a few apple books!
The books also share ways we prepare apples, including delicious apple pie. Try this kid's apple pie recipe to go along with your apple book.
This is an adorable collection of apple books for kids ages 3-7.
Which apple book will you read first?
One Red Apple by Harriet Ziefert – Follow the life cycle of an apple: from fruit growing on the tree to market, to picnic, to seed, to sapling and tree, andfinally to a new apple. This simple, joyful book with radiant illustrations introduces readers to the amazing and delectableway the earth provides food.
Apples by Gail Gibbons – Discover where your favorite crunchy, refreshing fruit comes from. Explore how apples come in all shapes and sizes from all over the world. The book walks readers through the planting, growing, picking, and selling that bring this tasty fruit into the home.
Apples, Apples, Apples by Nancy Elizabeth Wallace – It's a blue sky autumn day and Minna, Pop, Mom, and Dad have decided to go on an outing to Long Hill Orchard. As the bunnies fill their baskets, Farmer Miller teaches them all about apples. This charming story is filled with fun facts, activities, and an applesauce recipe.
Hello, World! How Do Apples Grow? by Jill McDonald – Young children love to eat apples and go to orchards. Here's a Hello, World! book that teaches toddlers all about how apples grow—from seed to sapling to tree to applesauce.
Apple Picking Day! by Candice Ransom – Who doesn't love to go apple picking at the first sign of fall? A sister and brother celebrate autumn with a trip to a local apple orchard in this simple, rhyming Step 1 early reader. The kids bound with glee through the rows of trees, and race against other children to pick the most and the best apples.
Apple Farmer Annie by Monica Wellington – Apple cider, applesauce, apple muffins, cakes, and pies! Annie is a very busy apple farmer. She bakes yummy treats with the apples she picks and saves her best apples to sell at the market. Follow Annie through her apple-filled day of picking, counting, sorting, baking, and selling, and then try making some of her simple apple recipes.
One Green Apple by Eve Bunting – Farah feels alone, even when surrounded by her classmates. She listens and nods but doesn't speak. It's hard being the new kid in school, especially when you're from another country and don't know the language. Then, on a field trip to an apple orchard, Farah discovers there are lots of things that sound the same as they did at home, from dogs crunching their food to the ripple of friendly laughter. As she helps the class make apple cider, Farah connects with the other students and begins to feel that she belongs.
My Little Golden Book About Johnny Appleseed by Lori Haskins Houran – In this simple yet lively book, preschoolers will be introduced to John Chapman, better known as Johnny Appleseed. Lyrical text and bright, appealing artwork capture the essence of this important American and early conservationist who traveled the country planting apple trees. Little ones will enjoy engaging anecdotes about Johnny Appleseed, beginning with the young John, who liked to walk barefoot in the cool, quiet woods. They'll gain a clear understanding of the way he helped American settlers by walking a hundred thousand miles in his lifetime, for over fifty years, to plant seeds.
The Apple Pie Tree by Zoe Hall – Two young sisters follow the progress of their apple tree through the seasons, from a bare tree in the winter, through the pink blossoms of the spring, to the apple picking in the autumn.
How to Make an Apple Pie and See the World by Marjorie Priceman – Bake a delicious apple pie–and take a trip with this culinary global adventure! This picture book takes readers around the globe to gather ingredients for a delicious apple pie. First hop a steamboat to Italy for the finest semolina wheat. Then hitch a ride to England and hijack a cow for the freshest possible milk. And, oh yes! Don't forget to go apple picking in Vermont!
How to Grow an Apple Pie by Beth Charles – It's easy to make an apple pie, but what does it take to make the apples? Sophie is about to find out! First, the apple trees need to be about six years old―just like Sophie. Next, they need to be pruned, and the bees have to pollinate their blossoms! After that, the tiny apples grow through the summer until they're ready to pick in the fall. Finally, it's time for Sophie to make the perfect pie!
Amelia Bedelia's First Apple Pie by Herman Parish – Amelia Bedelia loves everything about autumn in this playful apple themed book. She even bakes a warm apple pie.
Pinkalicious: Apples, Apples, Apples! by Victoria Kann – Pinkalicious and the Pinkertons are all excited when they return from their trip to the orchard with lots of Pink Lady apples to munch on! After realizing they have more apples than the family could possibly use, Pinkalicious finds ways to share the apples with others.
Curious George Apple Harvest by H. A. Rey – While helping the Renkinses harvest their apples, George discovers a giant cider press inside the barn! As usual, George's curiosity gets the best of him, and he accidentally starts the machine. Suddenly all of the apples they've collected are being washed, chopped, and squished into liquid! Will George be able to collect the cider and stop the machine, or will he find himself in an even stickier situation?
The Apple Orchard Riddle by Margaret McNamara – In this playful, humorous, and child-friendly classroom story, the students learn a lot about apples and apple orchards—including how apples are harvested, how cider is made, and what the different varieties of apples are—while trying to solve a riddle.
Fall Apples: Crisp and Juicy by Martha E. H. Rustad – Let's go to the apple orchard! Find out how apples grow. See the many things we do with apples. Taste some cider and apple pie. Yum! What happens in fall?
Tap the Magic Tree by Christie Matheson – It begins with a bare brown tree. But tap that tree, turn the page, and one bright green leaf has sprouted! Tap again—one, two, three, four—and four more leaves have grown on the next page. Pat, clap, wiggle, jiggle, and see blossoms bloom, apples grow, and the leaves swirl away with the autumn breeze.
The Biggest Apple Ever by Steven Kroll – As another year at Mouseville School begins, the students will be learning all about apples–starting with a contest to find the biggest one ever! As usual, Clayton the town mouse and Desmond the country mouse are each eying the prize. But when they can't find the biggest apple, even after they decide to work together, will they just give up? Or do they have another trick up their sleeves?
Bad Apple: A Tale of Friendship by Edward Hemingway – It takes a firm apple to stand up to bullies. In this book when Mac, an apple, meets Will, a worm, they become fast friends, teaching each other games and even finishing each other's sentences. But apples aren't supposed to like worms, and Mac gets called "rotten" and "bad apple." At first, Mac doesn't know what to do—it's never easy standing up to bullies–but after a lonely day without Will, Mac decides he'd rather be a bad apple with Will than a sad apple without.
Ten Apples Up On Top! by Theo. LeSieg – Don't let the apples drop! Three animal friends practice balancing apples on their heads in this hilarious introduction to counting. Kids will learn to count to ten–and want to start all over again!
Ten Red Apples by Pat Hutchins – Ten red apples hanging on a tree. Yippee, fiddle-dee-fee! But they are not there for long. Horse, cow, donkey, pig, hen, and the other farm animals each eat one. "Save one for me," calls the farmer. But what about the farmer's wife?
Apple Pie ABC by Alison Murray – When an apple pie arrives piping hot on the kitchen table, a little pup does everything from A to Z to get his paws on it. He Ogles it. He Pines for it. But will his ABC antics land him a slice?
The Mouse's Apples by Frances Stickley – Mouse is having a wonderful day: she's foraged four plump apples for her tea, the most she's ever found! But here comes Bear, and he's feeling especially greedy and mean. He wants every apple for himself. Mouse might have to think up a clever trick to teach Bear a lesson.
Who Knew? Under the Apple Tree by Laurie Lazzaro Knowlton – The apples are ripe! Which animal will be first to know? Or second? Or third? Inspire young readers to notice the arrival of fall with ordinal numbers in this beautifully illustrated picture book.
The Seasons of Arnold's Apple Tree by Gail Gibbons – In bright illustrations and simple text, Arnold collects apple blossoms in spring, builds a treehouse in summer, makes apple pie and cider in the fall, and hangs strings of popcorn and berries for the birds in winter, among other seasonal activities. Includes a recipe for apple pie and a description of how an apple cider press works.
Apple Trees and The Seasons by Julie Lundgren – Follow along on a fun, science adventure journeying through each of the four seasons to see how apples grow into yummy snacks for picking (and eating!)
An Apple Tree's Life Cycle by Mary R. Dunn – The process of a new life starting is fascinating! Watch an apple tree grow from a seed to a fruit-bearing tree. Young readers will learn about the stages in an apple tree's life, as well as it's appearance. The life cycle of an apple tree is a beautiful thing to see!
Apples by Jacqueline Farmer – The average American consumes about sixty-five fresh apples each year. Where do so many apples come from? How do they grow? Jacqueline Farmer takes young readers on a field trip to the apple orchard to find out how apple growers turn seeds and seedlings into the many different varieties of America's favorite fruit.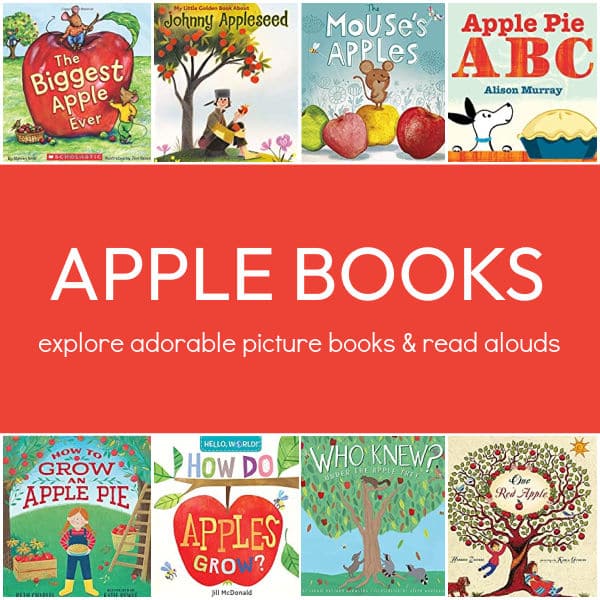 Apple Themed Book Basket Toys
Here's a few apple themed toys to add to your home or classroom.
Apple Themed Book Extensions
You may also enjoy these apple themed activities…
The Best Apple Books for Kindergarten
appeared first on
The Educators' Spin On It
.