The Moments That Defined TV In 2022
Staring at my computer screen with the thousand-yard stare of someone who has seen stuff, I find myself unsure how to characterize 2022. The last year has been, frankly, not that different from the year before; despite the promise of vaccines, a new president in White House, and my new job (thank you /Film), 2022 turned out to be a lot less "post"-pandemic than many of us hoped.
Oh, and apparently it'll take me 20 years of saving to buy a house. 
Yet, the optimist in me can't help but see signs of better things to come. The definitely-not-a-ponzi-scheme NFT boom of 2021 crashed and burned, leaving my Twitter timeline significantly more tolerable — at least until Daddy Elon took over. Canada and Denmark resolved the 50-year Whisky War. And Disney, heading into its 100 year anniversary as a studio, has Bob Iger back behind the wheel. 
We had a strong year for TV in 2022. The long-awaited series "House of the Dragon" and "The Rings of Power" finally made triumphant debuts. "The Bear" made us thirst for Carmen's ... cooking. "Euphoria" returned with season 2, further provoking the masses with gratuitous nudity and drug use. The long-running series "Better Call Saul" ended on a high note, while "Andor" and "Star Trek: Strange New Worlds" set new bars for their respective sci-fi franchises.  
We at /Film have thought long and hard about the last 12 months, all to present to you the following: here are the moments that defined TV in 2022.
The Kids In The Hall: Doomsday DJ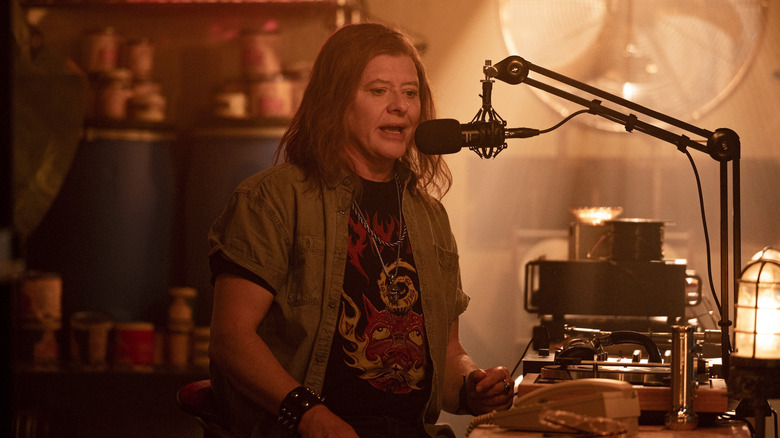 In many ways, "The Kids in the Hall" sketch "Doomsday DJ" is the perfect embodiment of 2022's general vibe. Perhaps that's why it was the breakout moment from the "The Kids in the Hall" revival series — much to the surprise of Dave Foley, who plays the titular "Motormouth in the morning" post-apocalyptic radio DJ. The premise of the sketch is simple: the world has ended, but hidden in a bunker somewhere, a lone disc jokey — perhaps the last of his kind — continues his show, speaking to an unseen, perhaps nonexistent audience with manufactured upbeat affability. Reduced to a single vinyl 45, he plays Melanie's 1971 hit "Brand New Key" on repeat, his dead eyes reflecting a grim acceptance of his hopeless, unending despair. 
We all know that stare — we've seen it in the mirror. 
On a basic level, the sketch is funny because of the extreme contrast in tones between the happy-go-lucky "Brand New Key" and the dark, grimy, leaking bunker. It's the kind of experimental, absurdist comedy that the original "Kids in the Hall" was known for, and that later surrealist sketch shows like "Mr Show" and "I Think You Should Leave" would perfect. "Doomsday DJ" stands out though, feeling particularly apt for 2022. Many of us now know the isolation of quarantine, and the growing dread that an apocalyptic event — whether caused by climate change or nuclear war — could be just around the corner. We see you Motormouth — and we feel seen. (Sarah Milner)
Our Flag Means Death: The Kiss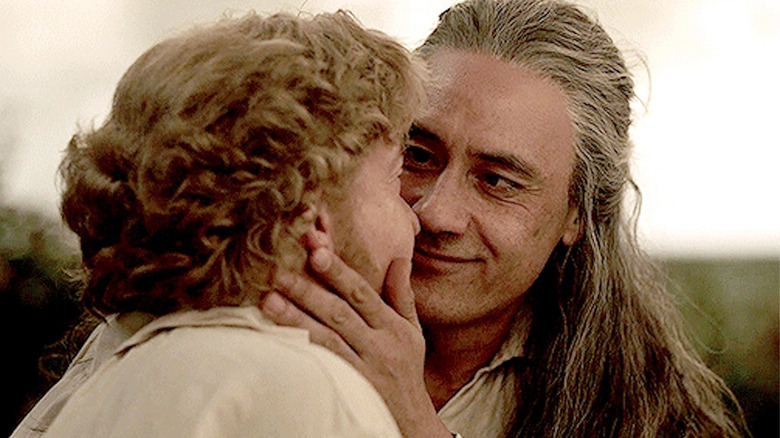 "Our Flag Means Death" was a surprise to many. Sure, we expected the quirky comedy based on the life of real-life, wannabe pirate Stede Bonnet to be funny (it stars Rhys Darby — how could it not be?), but many of us were unprepared for the sweet, queer love story that was Bonnet and Blackbeard's (Taika Waititi) budding, nautical romance. The HBO Max series debuted in March 2022, and was met with critical acclaim for its humor, LGBTQ+ representation, and playful (if at times dark) storylines. 
Darby plays the "Gentleman pirate" Sted Bonnet, who, despite his flaws, is the sort of charming, well-meaning fellow you can't help but adore. (Sure, he abandoned his wife and children to pursue a life of adventure out on the high seas, but it turned out to be an all-around beneficial situation in the end!) Besides, the queer-coded dandy just wants to live his best life. He meets Edward "Ed" Teach, better known as the infamous Captain Blackbeard, who — shockingly — agrees to teach the newbie swashbuckler the tricks of the trade.
Episode after episode, viewers watched "Our Flag Means Death" explore the dynamic between two very dissimilar people who seemed inexplicably drawn to each other. Conversations and gentle, quiet moments hinted at something deeper between the two, and gradually, what began as a silly little story about a man who wanted to reinvent himself blossomed into an earnest, heartfelt tale of two men seeking solace in an often harsh, unforgiving world — all while maintaining a comedic edge. 
After a season-long build up, Stede and Ed share a tender kiss in the "Our Flag Means Death" episode 9, "Act of Grace," admitting their feelings to each other openly for the first time. It was a truly beautiful moment, and one that really felt organic and earned. (Sarah Milner)  
House Of The Dragon: King Viserys Reclaims The Iron Throne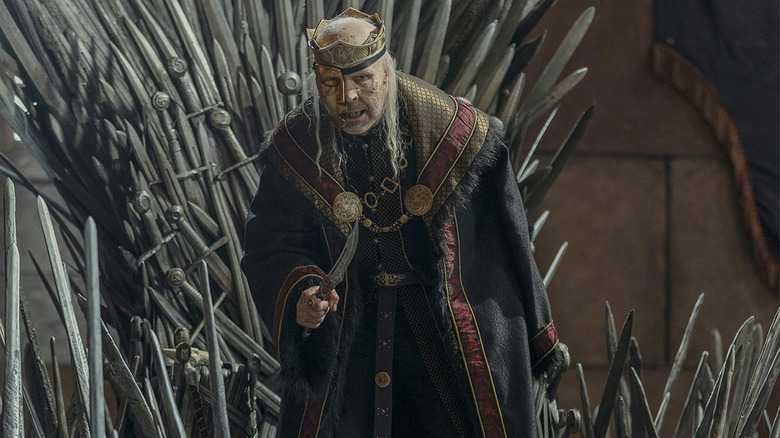 Paddy Considine, you will be missed in "House of the Dragon" season 2. King Viserys was not a good king, but he was a pretty good dad — at least to his beloved daughter, Princess Rhaenyra Targaryen.
"House of the Dragon" was a cultural moment for 2022. After the rushed ending of "Game of Thrones" in 2019, many were left wondering what juggernaut TV series would take its place. Articles speculating about "the next 'Games of Thrones'" were common — and yet, nothing ever lived up to the hype. Perhaps that's why the "House of the Dragon" premiere was so huge, drawing in just under 10 million viewers. This was a series I knew I had to watch every Sunday night because the next day, it was all anyone was talking about. 
There are a number of breakout moments from "House of the Dragon" — the horrible birthing scenes, the exploits of Matt Smith's Daemon Targaryen, the "Junior Targaryen Family Fight Club" brawl, etc. — but the most meaningful is King Viserys' reclaiming the Iron Throne to support his daughter in the eighth episode, "The Lord of the Tides." Weak and decrepit beyond his years, the long-suffering king appears as just a whisper of his former self, kept heavily sedated with "milk of the poppy" (i.e. fantasy morphine). It was a shock when, in the midst of Lucerys' claim to Driftmark being questioned, the king himself dramatically entered the throne room to support his daughter and denounce rumors of her children's illegitimacy. Even under heavy makeup and that gold mask, Considine's performance is striking, communicating a depth of pain, sadness, determination, and love underlying the king's final appearance on the throne. It's a haunting yet, in a way, triumphant scene — and easily one of TV's greatest in 2022. (Sarah Milner)  
The Boys: Homelander's Rally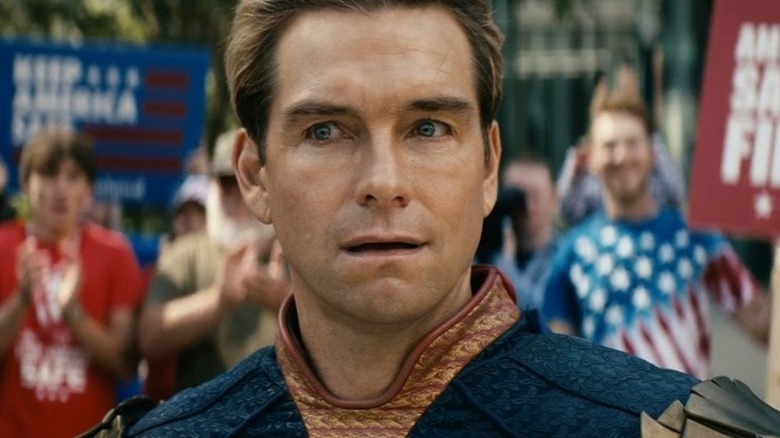 Violent, irreverent, and unabashedly political, "The Boys" is at its best when the superhero series is tackling current issues with its razor-sharp satire. Originally taking aim at corporations and franchises — even lovingly mocking the MCU and DC's "Justice League" (Zack Snyder was a good sport about it) — season 2 of the Prime Video series broached the topic of the alt-right and internet misinformation. "The Boys" season 3 continued down this rabbit hole, with Homelander at times acting as allegory for a certain ex-president. But instead of conspiracy theories about a stolen election and a Hunter Biden cover-up, Vought's blond-headed psychopathic celeb attended rallies where he spouted baseless garbage about Starlight, Soldier Boy, and even a child sex trafficking ring (an allusion to QAnon). 
The season 3 finale brings this arc to its horrifying apex. The rallies have morphed into mass, anger-fueled gatherings that bear a striking resemblance to the January 6 insurrection. These Homelander stans don't care about the facts, choosing to believe the easy-to-disprove conspiracies of their hero. What's worse, they support violence, rejoicing when Homelander blows up the head of a counter-protestor who dared to throw something at him, hitting his son Ryan. This is the ugly side of the Supe that Vought has fought so hard to conceal, and now that the mask is off and his followers are still there, the maniac will be more emboldened than ever. It's a frank condemnation of the current political climate in America, including the segment of the Republican party that either explicitly endorsed, or turned a blind eye to, Trump's attempts to dismantle democracy. (Sarah Milner)
The Rehearsal: Nathan Takes The Experiment Personally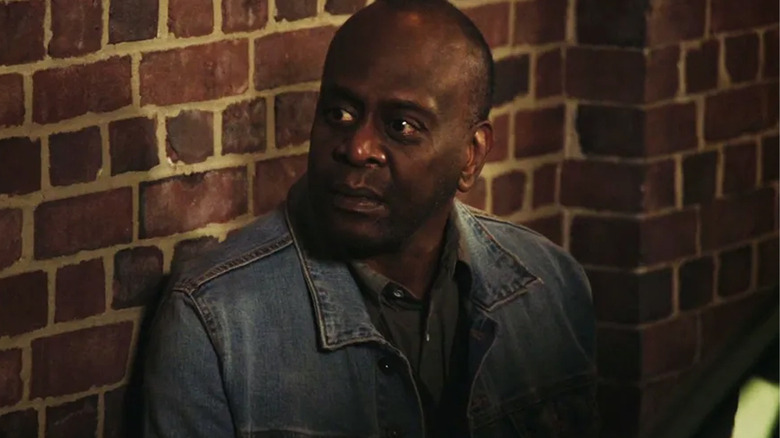 You may not recognize the image above: it is neither Nathan Fielder, the creator and star of HBO's "The Rehearsal," nor is it Kor, the trivia-loving subject in the premiere. Rather, this is the actor hired to play Kor Skeete, whom Nathan "practices" on at the end of that first, hilarious yet unsettling episode. 
"The Rehearsal" is, on paper, a docu-drama in which Nathan helps people "rehearse" challenging life experiences, giving them the tools to succeed at the real deal. Yet, the series is also not that at all. It's a surreal comedy rooted in concepts of futility, reality, and identity. Partway through the series, it folds in on itself, with Nathan essentially abandoning the premise to focus on his own self-development. It's funny because it's so weird, but it's also a refreshing, surreal show unafraid to ask questions with no set answers.
While it was a few episodes before "The Rehearsal" really shifted to focus on Nathan himself, the first episode foreshadowed what was to come with the end scene between Nathan and Kor. Initially, audiences see the two chatting outside after the confrontation they planned for ended successfully; however, feeling guilty for manipulating Kor with the correct trivia answers, Nathan confesses. A twist reveals he isn't really confessing: He's practicing with the actor, and when that conversation goes poorly, Nathan abandons the idea in the real-life conversation. It's the first really mind-melting moment in the series, and perfectly set the stage for what "The Rehearsal" would become. (Sarah Milner) 
Stranger Things: Eddie Makes Metallica Cool Again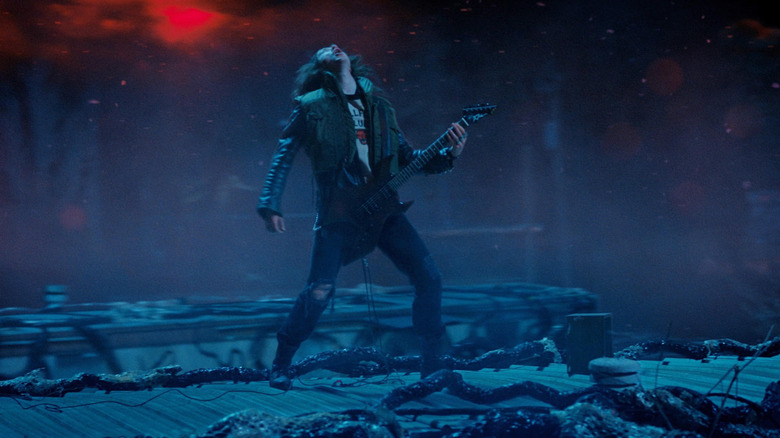 "Stranger Things" is a big deal. The latest batch of episodes was so in-demand that it broke Netflix. A lot happened in this most-recent storyline, but the moment that really stuck out in 2022 was Eddie Munson absolutely shredding Metallica's "Master of Puppets." The high-octane scene had us on the edge of our seats, perfectly scoring the intersecting plot points: the jocks coming after Erica, Max facing off against Vecna, and, of course, Eddie and Dustin distracting the demobats. There was red lightning, a leather jacket, head banging, and a squealing B.C. Rich. It was all deeply metal. 
2022 was a year of mid-'80s throwback tunes, at least as far as "Stranger Things" is concerned. In addition to Metallica lending their music to "Stranger Things," Kate Bush also provides for backdrop for a pivotal scene. "Running Up That Hill" plays the first time Vecna comes close to ending Max's life, and the track was featured to great dramatic effect as she fled from his clutches. Following the episode's debut on Netflix, Bush went absolutely viral, giving her some well-deserved 21st century love.  
Both musical moments in "Stranger Things" season 4 were major pop culture moments in 2022, but Eddie's leaves more of a lasting impression. It was a triumphant moment of redemption for the high school deadbeat, giving the poor guy an epic sendoff before his inevitable martyrdom. In a show filled with outsiders getting a chance to shine, this still somehow stands out (and was infinitely less annoying that last season's "Neverending Story" duet). Plus, Eddie made Metallica cool again, and that's something. (Sarah Milner) 
Peacemaker: That Opening Dance Sequence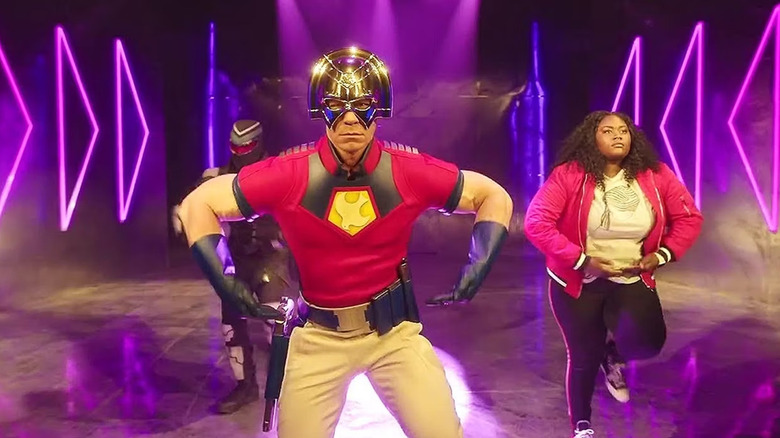 Arguably the most talked-about aspect of James Gunn's "Peacemaker" was that gosh darn opening dance. The opening credits are set to Wig Wam's "Do You Wanna Taste It," a contemporary song that feels ripped from the hair metal heyday — which was 40 years ago (sorry). It's great because the song's got a real hook and the kind of clean, cool licks that would comfortably fit alongside Bon Jovi or Mötley Crüe, but since it's not an established throwback hit, it also gets to be uniquely "Peacemaker." That, with the opening dance, creating the perfect environment for a viral hit. 
The sequence is kooky and self-serious -- exactly what you'd want for "The Suicide Squad" spin-off series. It's also just another example of how director James Gunn likes to use dance to great effect in his works. According to choreographer Charissa-Lee Barton, the "Peacemaker" opening dance reflects Gunn's vision:
"Well, it started with what James wrote in the script ... He wrote very clearly that if we open on Peacemaker standing in the middle of the space and he starts to do this weird dance and then Vigilante and Adebayo fold in. And then it became a little more general like 'and then other people fold in' and so on ... they all do this weird dance with a straight face, no emotion. And then at the end, Eagly flies in and joins the group. So all of that was spelled out."
There's something undeniably infectious about that "weird dance." Maybe it's the contrast of straight, humorless faces against the casual, fun music. Maybe we've just been stuck in our homes too long. Either way, we have our own "Peacemaker" step-by-step dance guide if you want to try at home. (Sarah Milner) 
South Park: Paintball, Parenthood, And Pathos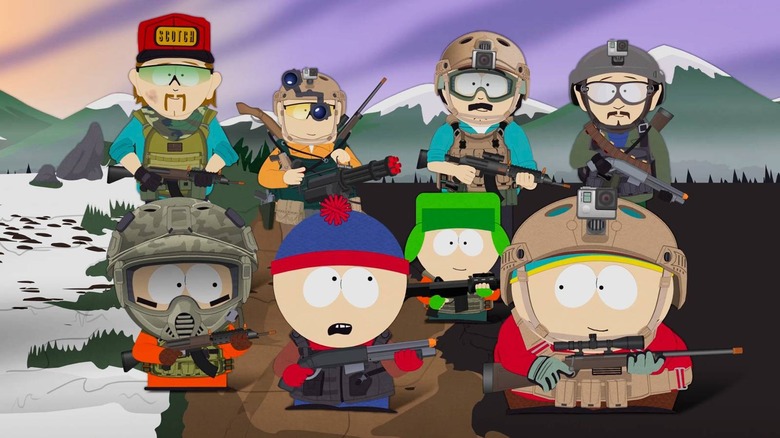 If "South Park" was a person, that gen-Zer would be old enough to vote, drink, rent a car, and have a quarter-life crisis.
The crass comedy's longevity is no doubt thanks to the willingness of creators Matt Stone and Trey Parker to embrace change. We've seen episode formulas change, seasons try over-arcing storylines, and characters completely reinvent themselves. This brings us to the season 25 episode "Help, My Teenager Hates Me!" — playfully titled like a "Dr. Phil" segment or an advice article in "Woman's World." In the episode, the boys get paired with their own "teenagers" at paintball, and the relationship quickly takes on the dynamic of an exhausted parent butting heads with their pubescent child. It's pretty silly and weird, but it does make for some very funny parody. It also challenges the show's status quo.
The episode's final act is where the "South Park" formula is subverted. We see a rare moment of earnest sentimentality, uncorrupted by the show's typical cynicism, violence, or gross-out humor. The fathers — so often unreliable, selfish idiots who care little for their responsibilities as caregivers — show up fully decked out to help their kids take back the paintball yard. Cartman, of course, has no father, but instead of the expected joke about him being a b******, Jimbo steps forward to be the father figure.
After everything we've gone through over the last few years, it felt oddly satisfying to see the boys of "South Park" have just a genuine bonding experience with each other and the men in their lives. It was a feel-good episode — possibly the only of its ilk in the entire show's history.
Look, no one is watching this series for warm interpersonal drama, but in 2022, we needed that additional dose of humanity. (Sarah Milner)
She-Hulk: 'Kevin' And The MCU Machine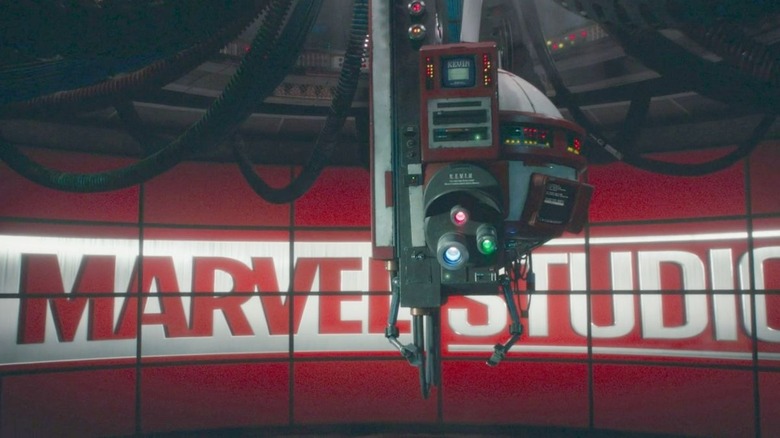 The Disney+ series "She-Hulk" was one of the most talked-about shows online in 2022, and not always for good reasons. The comedy series was intentionally provocative, taking aim at not just the toxic corners of internet, but even the Marvel Cinematic Universe itself. The finale was the natural climax of this, with Jennifer Walters in Hulk form smashing out of her paint-by-numbers MCU battle to metatextually confront the audience about the franchise's overly formulaic narrative structures. Given the comic's own meta tone, it fit perfectly with the character — and was refreshing to see the MCU loosen up from its often self-serious (if quippy) tone.
This brings us to probably the show's best moment: the Kevin Feige robot. The K.E.V.I.N. design alone was hilarious. Clearly alluding to the antagonistic AI in the video game "Portal," this imagined version of the MCU head honcho was a good-natured dig at the Feige's role as the mastermind behind the MCU, and the franchise's reputation for repeating basic story structures and relying too heavily on big CGI-created fight set pieces, even when that approach feels inappropriate for the content (like in "WandaVision"). It was a nicely self-deprecating moment, and helped elevate the finale from "good" to "great." The robot even had a baseball cap built into its design, nodding to the real Feige's signature affectation. A baseball cap. Genius. (Sarah Milner)
Bluey: Growing Up Is Hard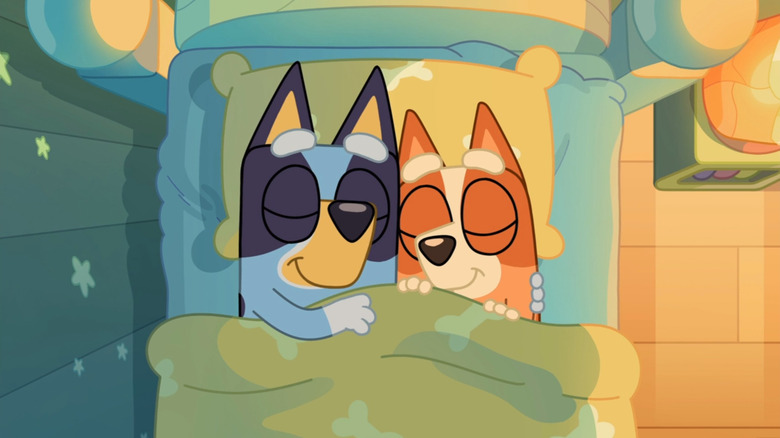 I had to put "Bluey" on this list for all the parents out there. I'm sure many, like me, were pleasantly surprised to discover just how watchable the preschooler show actually is. Good even. After countless hours of "Paw Patrol," "Blues Clues & You!" and "Peppa Pig," the honest, relatable, and often hilarious Australian animated series "Bluey" is downright cathartic.
For the uninitiated, "Bluey" follows a family of four heelers who live in a world inhabited by anthropomorphic dogs. Typically, each eight-minute episode centers on the parents, Bandit (father) and Chilli (mother), joining in on the imaginative play of Bluey and her younger sister Bingo. In the process, bite-sized life lessons are learned. This can be very basic, like Bingo learning to use her "big girl bark" when Bandit is playing too rough, or very complicated, like Bingo figuring out how to deal with a bully at school. Sometimes, the underlying story is for the parents watching. (Season 2's "Baby Race" always makes me cry.) In the season 3 episode "Onesies," for example, the main conflict — Bingo "becoming" a cheetah — is a vehicle to tell a more nuanced, mature story about Chilli connecting with her estranged sister Brandy. 
Like the aforementioned "Onesies," the "Bluey" season 3 episode "Bedroom" is aimed as much at the parents watching as their children. Between Chilli tearing up while looking at the crib in the old nursery, to poor old Dad (who everyone keeps calling "big fella") having to move way too much furniture, to the battle over bedtime, there was a lot of relatable content on display here. It set the tone for what was to come in season 3, and the ending — which sees Bluey and Bingo cuddling in bed — is an unforgettable vignette for the pains of growing up. (Sarah Milner)
Andor: Two Speeches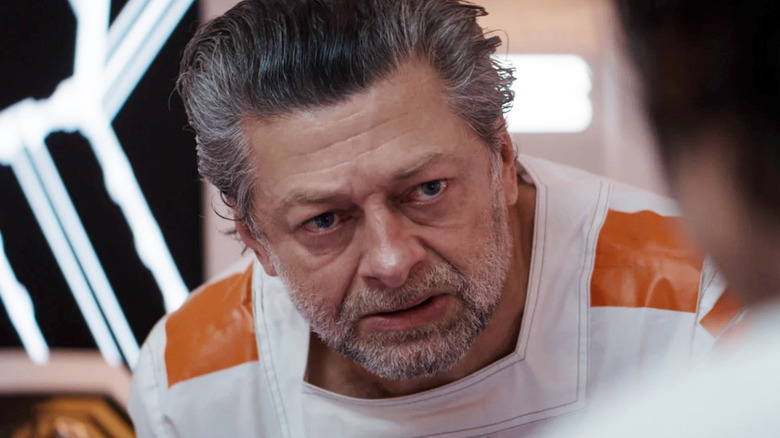 The "Star Wars" franchise has rarely been a go-to destination for extraordinary dialogue, valuing functional exchanges that bridge the gap between memorable acts of sci-fi derring-do. And then "Andor" came along and decided to change that. The tenth episode of the series, titled "One Way Out," features not one, but two monologues that are among the absolute best writing seen in all of "Star Wars."
The first is delivered by prisoner Kino Loy (Andy Serkis), who finds himself the unlikely leader of a mass escape attempt by the inmates of a brutal Imperial prison. Commandeering the comm station that oversees the entire facility, he finds his groove, transforming from a man who has kept his head down to survive into a brave leader of men in matter of sentences. By the time he's chanting "One way out!" as the show intercuts with action across the prison, it's impossible to not be swept up in the action, the emotion, and the catharsis of it all. For the first time, "Star Wars," a franchise that started as a story about a rebellion, feels as raw and angry as, well, an actual rebellion.
If the prison subplot is a rebellion as a fresh, bleeding wound, the story of Luthen Rael (Stellan Skarsgård) is about a messy, tough scar that has healed over out of necessity. When asked by one of his double agents what he has sacrificed, Luthen, a hardened rebel operative, barely hesitates: "Calm. Kindness. Kinship. Love. I've given up all chance at inner peace. I've made my mind a sunless space. I share my dreams with ghosts." And that's just the start. Luthen's rage simmers beneath his composed exterior as he lays it on the table — he has become what he hates, because it is the only way to destroy what he hates. And he knows he's doomed. He can't predict Luke Skywalker, but he knows he's burning his life "to make a sunrise" he will never seen. "So what do I sacrifice?" he spits. "Everything!"
It's easy to imagine actors as good as Serkis and Skarsgård making even a perfunctory "Star Wars" scene memorable. But when you put dialogue in their mouths that verges on the extraordinary, that taps into the vicious poetry of rebellion, that exudes the anger of the repressed so eloquently, you're left with not only two incredible scenes, but two scenes that make "Star Wars," in its entirety, better. (Jacob Hall)
Severance: The Music Dance Experience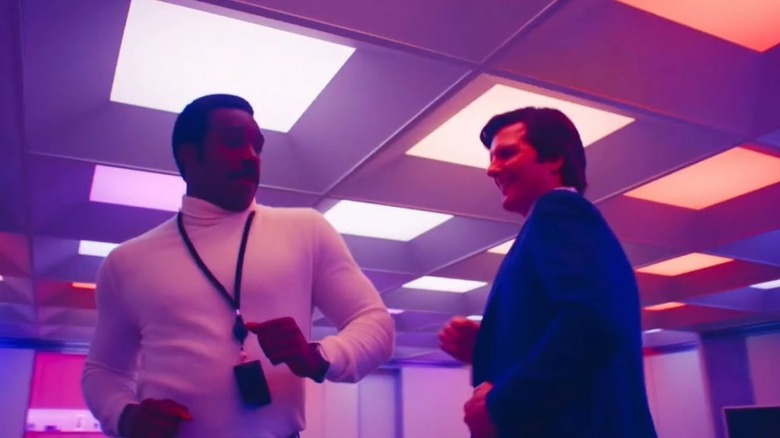 Although the season finale of "Severance" is probably the most intense, nerve-shattering episode of television released in 2022, the appeal of the show is perhaps best summed up by a key scene in episode 7, titled "Defiant Jazz." For the uninitiated, the series is set in a near future where the mysterious Lumon corporation can separate its employees into "innies" and "outies." When employees aren't at work, they have no knowledge of what they do for a living. When they're at work, they have no knowledge of the world outside their cubicle. This leads to an increasingly tangled mystery on both sides of the work/life divide, and eventually, total rebellion.
In "Defiant Jazz," the show's central team of intrepid "innies," increasingly aware that they're being controlled and lied to, are rewarded for a job well done with a "Music Dance Experience." Essentially, it's a brief dance party in their office, complete with colored lights and the tunes of their choice (the choice is reflected in the episode's title). The result is a mind-melting combination of unnerving and hilarious: a corporate recreation of a good time, a party as imagined by an A.I., a celebration intended for people who literally aren't aware what a real party would look like and therefore don't know what a bad time this truly is.
Naturally, the Music Dance Experience ends in violence, triggering a point of no return for the cast and setting the stage for the gripping final episodes. But there's no moment in all of "Severance" that better sums up the show's twisted appeal, nor its unique, perverse takedown of worker drone life. It's spectacular. (Jacob Hall)
Better Call Saul: One Final Cigarette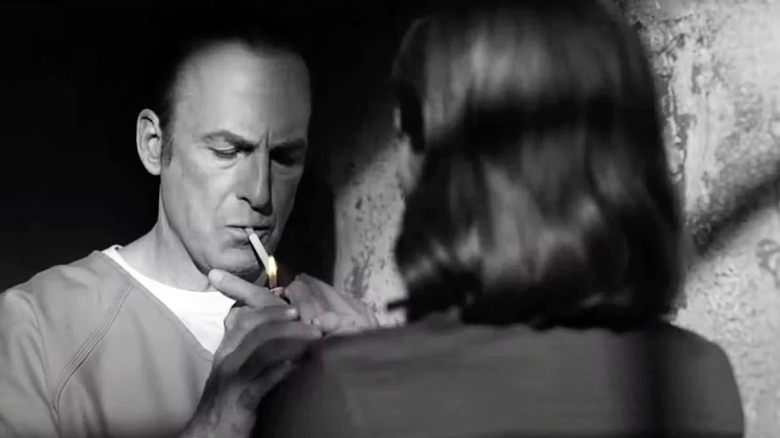 In its final moments, "Better Call Saul" lingered on the beating, broken heart of an often bleak and unforgiving show: the love shared by Jimmy McGill (Bob Odenkirk) and Kim Wexler (Rhea Seehorn). Deeply and permanently in the black and white "modern" timeframe, the super-sized series finale, cleverly titled "Saul Gone," tied off every plot thread, gave every surviving character closure, and even found time to enrich "Breaking Bad" with a few new details and Easter eggs. But the show wisely knew that it all had to come back to Jimmy and Kim, the unlikely pairing that somehow felt so perfect, so wrong and so right, a couple destined to find each other, love each other, and destroy each other.
After giving up his chance at escaping prison to secure a future and freedom for Kim (a scene that is fascinating and shattering in its own right), Jimmy finds himself behind bars, a bonafide celebrity amongst his fellow crooks. But he has a visitor. It's Kim. They don't say much, but they do lean against the wall of the visitor room and share a cigarette, an echo of the silent smoking breaks that have low-key defined their affection for each other since the earliest episodes of the series. As they share this one final cigarette, the embers glow orange, a tiny flash of color in a monochromatic finale. A reminder of what once was. What was lost. What these two still, somehow, after all the chaos, violence, and heartbreak, still share. It's a tiny spark of happiness, a spark of literal color, in a life that has lost everything.
The episode ends with Kim and Jimmy sharing one final glance, and it's up to us to wonder if these two will ever see each other again or if this is truly and definitively the end. The question lingers, an ellipsis meant to dangle over an abyss. But the love between these two, the hopeful little orange pinch of cigarette ash, will never be forgotten. (Jacob Hall)
Star Trek: Strange New Worlds — Signing The Scorch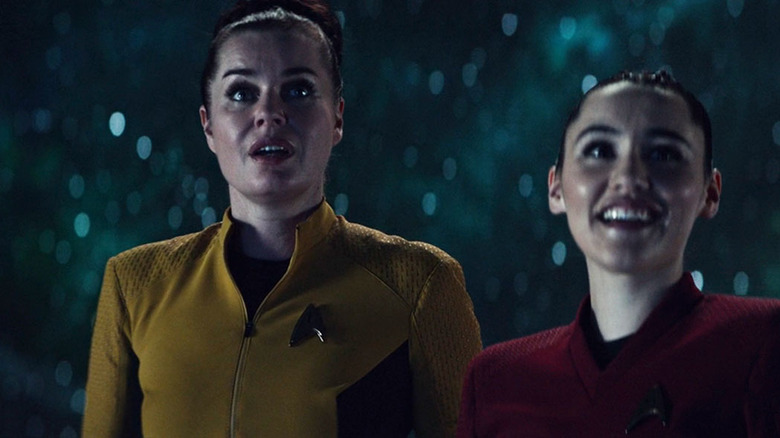 After years of being lost in the wilderness, "Star Trek" came home in 2022. "Star Trek: Strange New Worlds" understands that the classic science-fiction franchise never needed a reinvention, and didn't need to abandon its core tenets (sorry, "Star Trek: Discovery"). It just needed to spruce those tenets up for a new generation. A fresh coat of pain. A new set of eyes. A game cast, and a strong writers room. There's always going to be room for one-off science fiction adventure tales that run the gamut from intense war stories to ethical dilemmas without easy solutions.
And also comedy. Don't forget about comedy. The willingness of "Strange New Worlds" to shift genres with effortless grace became apparent with "Spock Amok," the first season's fifth episode and an instant classic "Star Trek" shore leave episode. Spock and his fiancée accidentally switch bodies. Captain Pike deals with a tricky diplomatic situation. Dr. M'Benga goes fishing. And Commander Una Chin-Riley (Rebecca Romijn) and Lt. La'an Noonien-Singh (Christina Chong) play "Enterprise Bingo."
The Enterprise's first officer and chief of security, hard-nosed enough to choose to work through their shore leave, decide to prove that they, too, can have fun. And that means embarking on a series of rituals usually undertaken by lower deckers. Testing the taste of gum after it's been transported. Shooting each other with phasers on stun. And, most importantly, "signing the scorch." This means putting on a spacesuit and literally walking across the hull of the Enterprise to scrawl their signatures on the saucer section.
It's silly, yes. But it's also a moving and beautiful image, showing us a fresh and unique view of something we have seen a thousand times before. Wait. That feels like a metaphor. (Jacob Hall)
Euphoria: Is This Play About Us?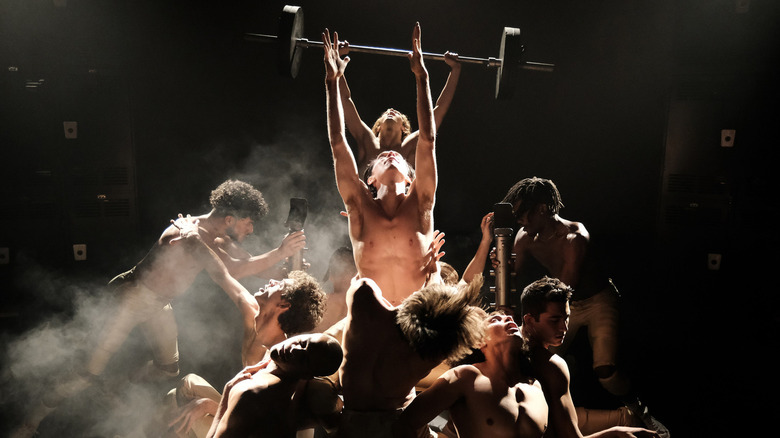 A rousing performance of "Holding Out For A Hero," the humiliation of Nate Jacobs, a treasure trove of reaction shots, and some much-needed catharsis for Rue? Sign me up! Lexi's play may have destroyed her relationship with her sister, but it was still a bonafide masterpiece.
In the dark pit of despair that was most of "Euphoria" season 2, it was a huge relief to pause the heart-racing, drug-induced trauma fest and bask in the chaos of, among other things, a PG simulated gay sex orgy. Lexi's play is magical, musical, and oddly therapeutic, doubling as a chance to see everyone's trauma through a new lens, processed through the eyes of East Highland's most artistic observer. Stylized, musical, campy, and traumatizing, she managed to capture "Euphoria" in a nutshell — all while finally giving Austin Abrams his hilarious moment in the spotlight.
Then, of course, there's the singular moment that took the internet by storm: when it finally dawns on the audience — and Maddy, in particular — that Lexi's play isn't simply a work of fiction but a biographical account of their own lives, she utters the line that still endures as a timeless meme template: "Wait, is this f****** play about us?" Indeed it is, which later gives her the license to shatter the theatrical fourth wall by yes, committing onstage assault. Oh, "Euphoria," never change! (Shania Russell)
The Bear: The Donut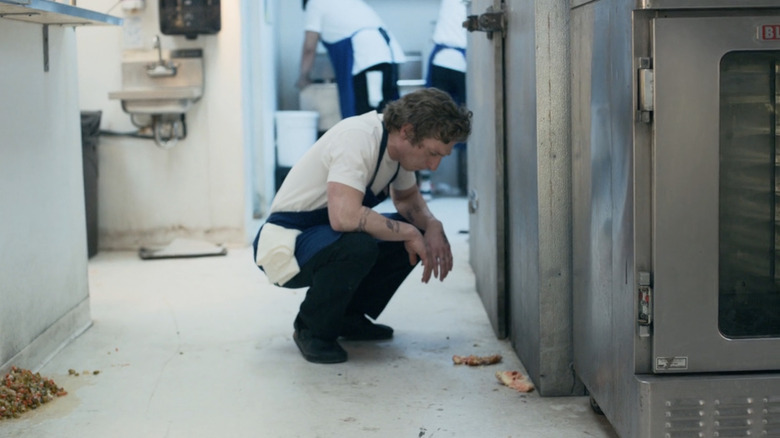 The FX series "The Bear" was a breakout debut, winning critics and audiences over with its depiction of a family-owned beef sandwich shop in Chicago. The first season of the series mixed dark comedy with serious drama as Carmen (Jeremy Allen White) takes over his older brother's restaurant after his death, and depicted working in a restaurant in as realistically a way as possible. The seventh episode, "Review," is all done in one long cut, highlighting the time-crunching anxieties of working in a kitchen. That's right: for twenty minutes, the audience zooms around the kitchen of the Original Beef in real time, capturing the chaos of food service in all of its stress-inducing glory.
Things are a bit busted at the Beef before the episode even starts, as tempers are frayed and it's the first time the shop is ever implementing online ordering and delivery. As the Grubhub and DoorDash orders start flying in, the receipt printer dings again and again, reminding the cooks (and the audience) that they are getting wildly overrun. Eventually, Carmy totally loses his cool and slaps a donut out of the hands of his pastry chef, Marcus (Lionel Boyce). Marcus had been working on the donut all day and was devastated by the act, but later Carmen picks the donut up off of the floor and tries it. He's totally defeated, his kitchen is a wreck, and the customers are furious, but man, that donut tastes good. (Danielle Ryan)
Harley Quinn: The Waynes Die Again And Again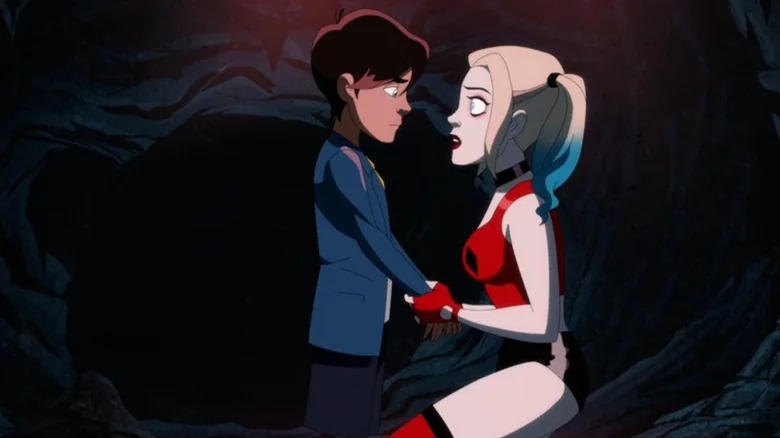 The HBO Max series "Harley Quinn" is a crass, hilarious take on Gotham city and its inhabitants, focusing on the adventures of Harley Quinn (Katey Cuoco) and Poison Ivy (Lake Bell). The series is violent, filthy, and full of adult content, but it also occasionally dips into some pretty emotional territory as it handles how various vigilantes and villains deal with their trauma.
If anyone in Gotham could use a short stay at Arkham Asylum, it's probably Batman himself. Bruce Wayne has never fully recovered from seeing his parents murder, and every version of the character save for the 1960's series has shown him contending with their deaths. In the third season of "Harley Quinn," Bruce does something pretty unheroic to try and heal his grief, and in order to undo the damage, Harley must go inside his mind to serve as his therapist. 
What happens next is an animated journey through Bruce's psyche, and it's the most interesting thing anyone's done with the character in years. In his mind, Bruce is still that scared little boy who asked to walk instead of taking a limo that fateful night, and he's been blaming himself for his parent's death ever since. It's haunting stuff, and this chaotic cartoon takes it as seriously as it needs to be taken. In the end, Bruce feels that being Batman is his "Bat-shaped cross to bear," giving the character genuine pathos and reason for being so intense. (Danielle Ryan)
Barry: Sally's Long Walk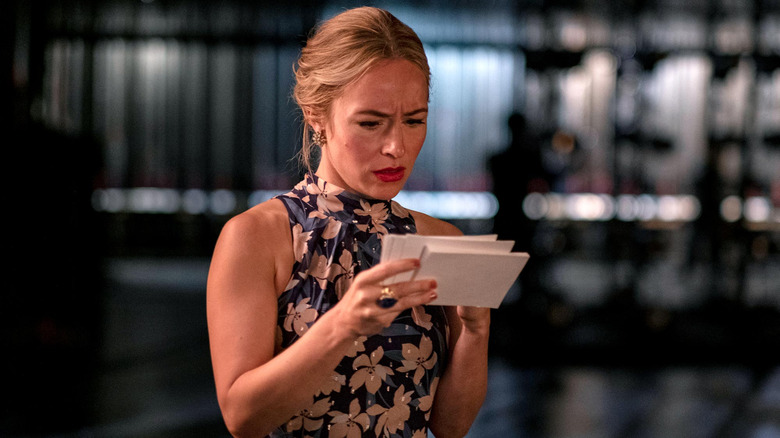 "Barry" might be the darkest of all comedies, following a professional killer named — you guessed it — Barry, played by Bill Hader. While there are great moments every season and the entirety of the season 2 episode "ronny/lily" deserves to be enshrined in the history books, there's one truly spectacular moment in "Barry" season 3 that stands out as one of the best scenes of 2022. Barry's girlfriend, Sally (Sarah Goldberg), finally gets the job of her dreams: showrunning her own TV show, "Joplin." While the gig is everything that she's ever wanted, it's also incredibly overwhelming, and we get a chance to see what a day in the life of Sally Reed is like, all in one well-constructed long take.
Sally walks through the soundstage where they're filming "Joplin," entering one section of the set and continuing through other portions as she talks with her cast and crew. Everyone needs something from Sally, and she walks through the sets with a harried pace, taking on new problems from every direction. It's a brilliant demonstration of what she's going through, and when she finally steps out of the final set and back into the darkened outer soundstage, she's completely alone. In the end, she's always alone, and it's a heavy premonition for things to come. (Danielle Ryan)
Abbott Elementary: 'Sweet Baby Jesus And The Grown One Too'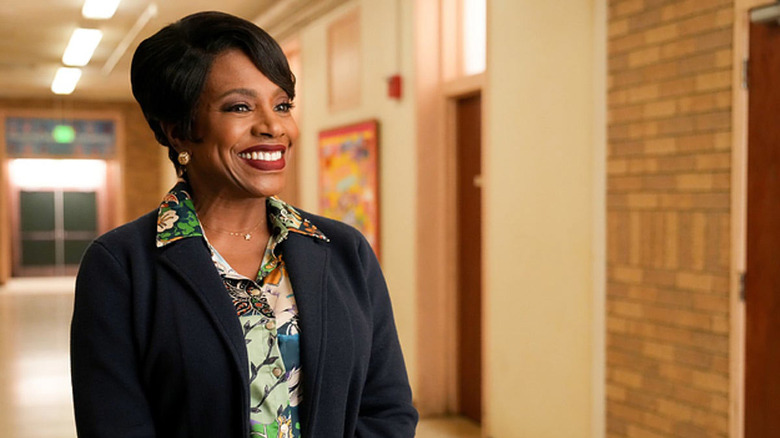 Sheryl Lee Ralph made Emmys history this year as she became the first Black woman to win the Outstanding Supporting Actress in a Comedy Series award in 35 years, and the second ever in history. Ralph took home the statue for her role as Barbara Howard on the smash-hit ABC series, "Abbott Elementary," where she plays a seasoned kindergarten teacher who often serves as the biggest role model for the newer staff. She's poised, no-nonsense, beloved by her students, and often provides some of the biggest laughs of the show. It was clear from the pilot episode that "Abbott Elementary" was something special, but it was episode 11, "Desking," that solidified Barbara Howard as one of the great, new sitcom comedy characters.
The episode sees the entire school plagued by a new viral trend that has the student body of Abbott Elementary recording themselves running across the room on top of the desks without their teachers seeing. With every desk in school covered in footprints, Barbara spends most of the episode bragging about how her classroom has gone untouched. Of course, her kids eventually get in on the act, inspiring Barbara to burst into the teachers' lounge exclaiming, "Sweet baby Jesus and the grown one too! My desks have been desked!" The moment, which was improvised by Ralph has become the unofficial catchphrase of "Abbott Elementary," and spawned plenty of viral memes. Ralph's performance as Barbara Howard in season 1 was more than deserving of an Emmy, but she deserves every award in the book for that line delivery alone. (BJ Colangelo)
Read this next: The 15 Best Anthology TV Series Ranked
The post The Moments That Defined TV in 2022 appeared first on /Film.