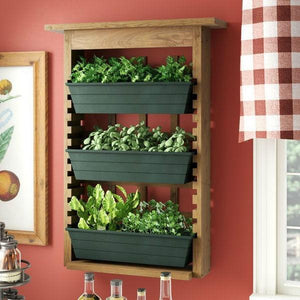 Why waste your money on canned spices? Clean out your spice cabinet and go green! Start your own herb garden right inside your kitchen or outdoors with this beautifully constructed eco-friendly 3 Piece Indoor/Outdoor Wood Wall Planter Vertical Garden. Plants purify air so growing is a win/win.
When selecting planters, it's important that the ones you choose you select are the right size for your green friends so that they have the space they need – but that doesn't mean you can't add a little style in as well! This wall hanging planter set is crafted from fir wood for a traditional look, and includes three polypropylene planters for your herbs.
Includes weather resistant non toxic seal and treatment

Slots to position shelves at different heights

Decorative trellis backing

Can be used to grow strawberries

Freestanding: Yes

Capacity: 600oz.

Drainage Holes: Yes

Material: Plastic; Wood

Material Details: Fir wood and polypropylene

Overall

33'' H x 24'' W x 6'' D

Planter: 16" L x 6" W x 4" D

Overall Product Weight

12 lb.