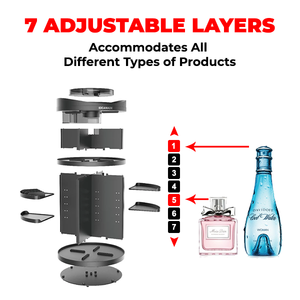 Transform Clutter Into Organized Simplicity
Finally. A place to put all those things that take up space on countertops and create a lot of clutter. Finding what you're looking for is a nightmare sometimes! What happened to your lavender lip gloss? Where's the cinnamon in that crowded, messy spice cabinet? How did the paper clips end up mixed in with the whiteboard magnets again?
If time is money, then the precious minutes you waste looking for things is worth a fortune. Imagine how much more free time you'd have if you could just get what you need in a pinch, without having to go on the great hunt.
Get Your Me Time Back
Your life is about to get easier and more organized. That means you'll have more time for all those things you've wanted to do. You'll feel less rushed and more relaxed. The 360° EZ Organizer will organize your life so well you'll wonder how you ever made do without it.
360° spin gives you instant access to any item
Several tiers provide multiple levels of storage to stash large and small items
Adjustable shelves accommodate tall objects, such as shampoo bottles & hairbrushes
The 360° EZ Organizer is a dream for anyone who wants to escape chaos. With several layers for easy access and organization, this innovative home solution is a MUST-HAVE in every bathroom, kitchen, office, classroom, workshop, salon, or art studio!
(You're probably already thinking of at least two rooms in your house that desperately need it!)
Clear Your Counters, Clear Your Mind
Do you ever look at your countertop or inside THAT cabinet and immediately feel overwhelmed? Could that headache that comes on out of nowhere be a consequence of a messy bathroom or a cluttered workspace? Is your kids' playspace driving you nuts? It's normal. Clutter causes confusion, chaos, and stress.
But guess what?--There's no reason to tolerate mess and disarray when there's a simple solution that will restore order and clarity to your life every day. You don't need a reno. You don't need a holiday (but it never hurts). You just need a new way to organize your stuff that's easy, accessible, and logical. The 360° EZ Organizer is made from durable plastic and can hold up to 150 items and 100 pounds of weight. That means it can store the contents of your entire bathroom cabinet or countertop.
Or, stash all your office tools--paper clips, staples, pens, notepads, charger cords--you name it--in such an organized fashion you'll love spending time in your office. This cleverly constructed system has raised edges to contain items safely and securely. You won't have to worry about things sliding off edges, or tipping and spilling all over the place. And it repels dust, dirt, stains, and wipes clean effortlessly.
What Can You Use It For?
The possibilities are endless!
Stow your jewelry
Tidy up the kids' toys
Store cleaning products
Restore order to the office
Assemble your favourite teas
Arrange arts & crafts supplies
Organize hair products & tools
Stock your vitamins and prescriptions
Stash kitchen spices & baking supplies
Organize every bathroom in your house
Colour code nail polish & other cosmetics
Contain sewing supplies like pins and buttons
Collect & group nuts & bolts and other hardware
The 360° EZ Organizer is entirely customizable, because you can adjust or remove any shelf.Keep things organized the easy way with the 360° EZ Organizer.
How Does It Work?
Looks simple right? It holds lots of stuff and swivels so you can get to things quickly and easily. But without being complicated, the 360° EZ Organizer is way more sophisticated than a closet shelf, cupboard, or countertop will ever be. Check it out--
The Top
The top layer keeps your everyday items neat and accessible. You no longer have to root through cupboards and drawers looking for misplaced objects. The removable, triple-slotted top caddy holds longer items such as hairbrushes, pencils, nail polish remover, and more.
The Middle
The middle layer is a free storage shelf with an open design for maximized storage--the choice is yours! Are you already mentally organizing that crowded bathroom drawer?
The Bottom
The bottom layer is 100% customizable to store larger items, including hair supplies, tools, and large bottles, like shampoo and conditioner. The four adjustable shelves allow you to build this organizer to fit every need.
Position the shelves to maximize space and create specific spaces for different things. The turntable base plate gives you 360° of storage right at your fingertips. This ingenious design is a great way to share the organizer with family, friends, and colleagues. This rotation feature allows you and the kids safe and easy access to your items without any unnecessary spills or breakage. The 360° EZ Organizer is the perfect gift idea for teachers, parents, colleagues, and crafting enthusiasts.
So Much More Than A Shelf
Highly versatile
Available in white
3 customizable layers
Ships flat for easy delivery
Simple, straightforward assembly
Removable shelves for full customization
360° rotation supports sharing and accessibility
Product dimensions = 27.4cm x 27.4cm x 40.1cm (

10.8" x 10.8" x 15.8"

)
Great for moms, dads & kids, teachers, business owners, estheticians, hairstylists, mechanics, and more!
Get our Smart-Spin Guarantee
If you're not satisfied with how well the 360° EZ Organizer shapes up your home or office, we'll give you a FULL REFUND. Just tell us within 30 days, and you'll get 100% of your money back.