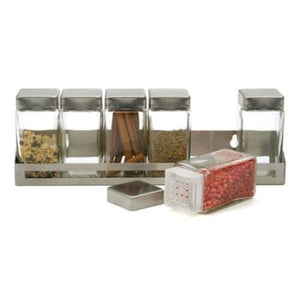 Rectangular stainless steel construction Includes 6 glass spice bottles Hand wash
Product Dimensions: 11.8 x 6.3 x 2.2 inches
Shipping Weight: 2.6 pounds
A door stopper that is an art piece
Comes with a wooden base that prevents hard stopping and saves walls from damages.
Have you ever been cooking your favorite meal and just couldn't seem to find the right spices in the spice cabinet? Most of the time you are using the same six spices anyways. With the RSVP Endurance Stainless Steel Rectangular Spice Rack with 6 Glass Bottles you are able to display your favorite spices with ease and always have the perfect spices at hand.