6 Benefits You Should Know About Black Seed Oil
Black seed oil, which is derived from the seeds of the Nigella sativa plant, maybe one of the best-kept secrets of natural remedies. If black seed oil (or black seed powder) is not on your radar or in your supplement cabinet, perhaps it should be, and here's why.
Nigella sativa is a flowering perennial that is native to south and southwest Asia. The seeds have a bitter, pungent taste and aroma and are a favorite spice in Middle Eastern and Indian cuisines. As an herbal remedy, it has been credited with effectively treating just about anything and has been used for millennia.
Read about Nestle wants to patent medicinal uses of Nigella sativa
Black seeds, which are also sometimes referred to as black cumin, black caraway, black sesame, and Roman coriander, have been the subject of hundreds of scientific studies for a wide variety of symptoms and conditions. Experts have proposed that the reason for the effectiveness of black seed oil is the presence of three phytochemicals: thymoquinone (TQ), thymohydroguinone (THQ), and thymol. These natural chemicals have demonstrated an ability to destroy or inhibit dozens of common human pathogens, which is a big reason why researchers have been testing its ability to fight superbugs. But fighting superbugs is not the only thing for which black seed oil is valued.
Benefits of black seed oil
Here is a discussion of seven health benefits of black seed oil. Talk to your healthcare provider about the best dose of black seed oil for your needs.
Read about the diabetic diet: good for everyone (diabetic or not)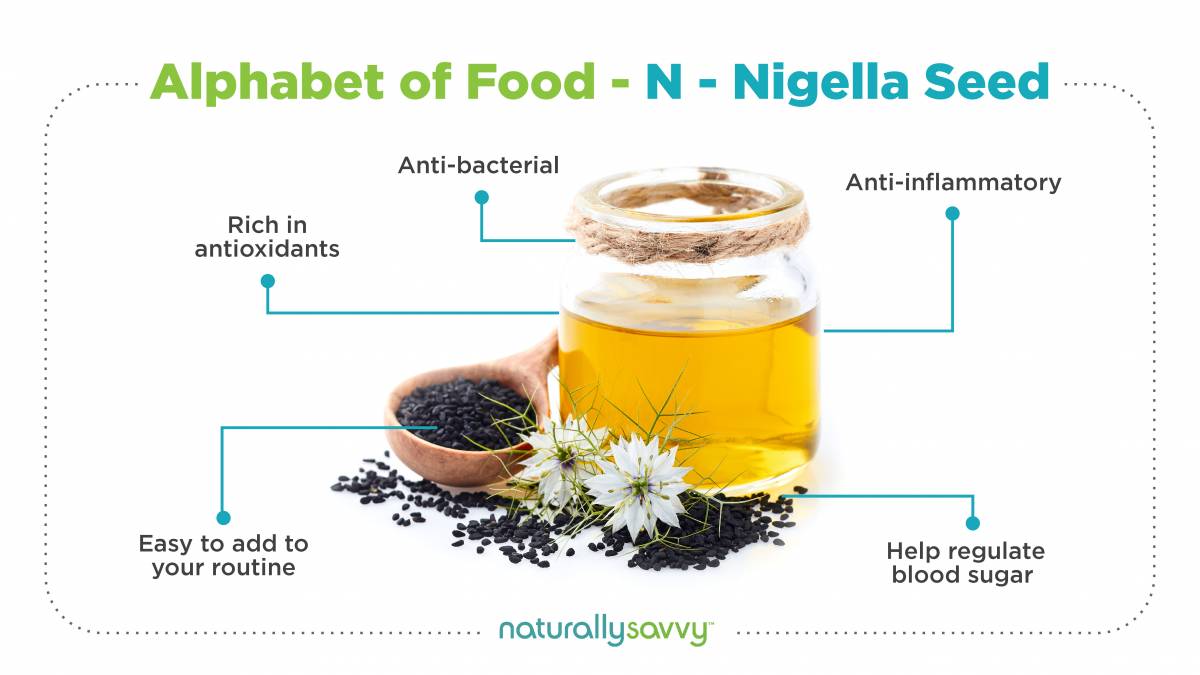 Subscribe to our YouTube Channel.
[Editor's Note: North American Herb & Spice offers a raw black seed oil. You can find out more on their website.]

Sources
Hannan A et al. Antibacterial activity of Nigella sativa against clinical isolates of methicillin resistant Staphylococcus aureus. Journal of Ayub Medical College Abbottabad 2008 Jul-Se; 20(3): 72-74
Hasani-Ranjbar S et al. A systematic review of anti-obesity medicinal plants-an update. Journal of Diabetes and Metabolism Disorders 2013 Jun 19; 12(1): 28
Ivankovic S et al. The antitumor activity of thymoquinone and thyohydroquinone in vitro and in vivo. Experimental Oncology 2006 Sep; 28(3): 220-24
Kaatabi H et al. Nigella sativa improves glycemic control and ameliorates oxidative stress in patients with type 2 diabetes mellitus: placebo controlled participant blinded clinical trial. PLoS One 2015 Feb 23; 10(2): e0113486
Mathur ML et al. Antidiabetic properties of a spice plant Nigella sativa. Journal of Endocrinology and Metabolism 2011 Apr; 1(1): 1-8
Mollazadeh H, Hosseinzadeh H. The protective effect of Nigella sativa against liver injury: a review. Iranian Journal of Basic Medical Sciences 2014 Dec; 17(12): 958-66
Woo CC et al. Thymoquinone: potential cure for inflammatory disorders and cancer. Biochemical Pharmacology 2012 Feb 15; 83(4): 443-51
Yousefi M et al. Comparison of therapeutic effect of topical Nigella with betamethasone and Eucerin in hand eczema .Journal of the European Academy of Dermatology and Venereology 2013 Dec; 27(12): 1498-504
The post 6 Benefits You Should Know About Black Seed Oil appeared first on NaturallySavvy.com.