Beet Hummus with Everything Bagel Seasoning
Lets keep the February vibes going with some hot pink food, shall we? Its the month of love, and love = hot pink. This hot pink color comes from beets. Yall know I have expressed some very strong opinions about beets before, so this recipe may come as a shock to anyone who has heard me proclaim that beets taste like dirt jelly. They still do, but I will concede that there are ways to use beets where the dirt flavor is covered up by other, stronger flavors.
For example, everything bagel seasoning is a pretty powerful flavor, which is why people love it so much and have been finding new ways to use it since Trader Joes came out with its very popular Everything But the Bagel Seasoning. Put it all together, and youve got beet hummus with everything seasoning.
I didnt just wake up one day and decide to make beet hummus, believe me. I was inspired, as I often am, by food on my travels. In fact, I first tried beet hummus on our trip to Portland in September, and only because it was on the salad plate Id ordered from Vivennes Kitchen in the Laurelhurst/Hollywood neighborhood where we stayed.
If you look closely, you can see something pink and black under the cherry tomatoes. That would be beet hummus. Since it was there, I figured Id give it a shot, and turns out it was amazing. I even asked to make sure it wasnt something else, because I couldnt believe how non-dirt like it was. I dont know exactly how they made it, but the black specks made me think of the poppyseeds in everything seasoning, which is how I came up this recipe.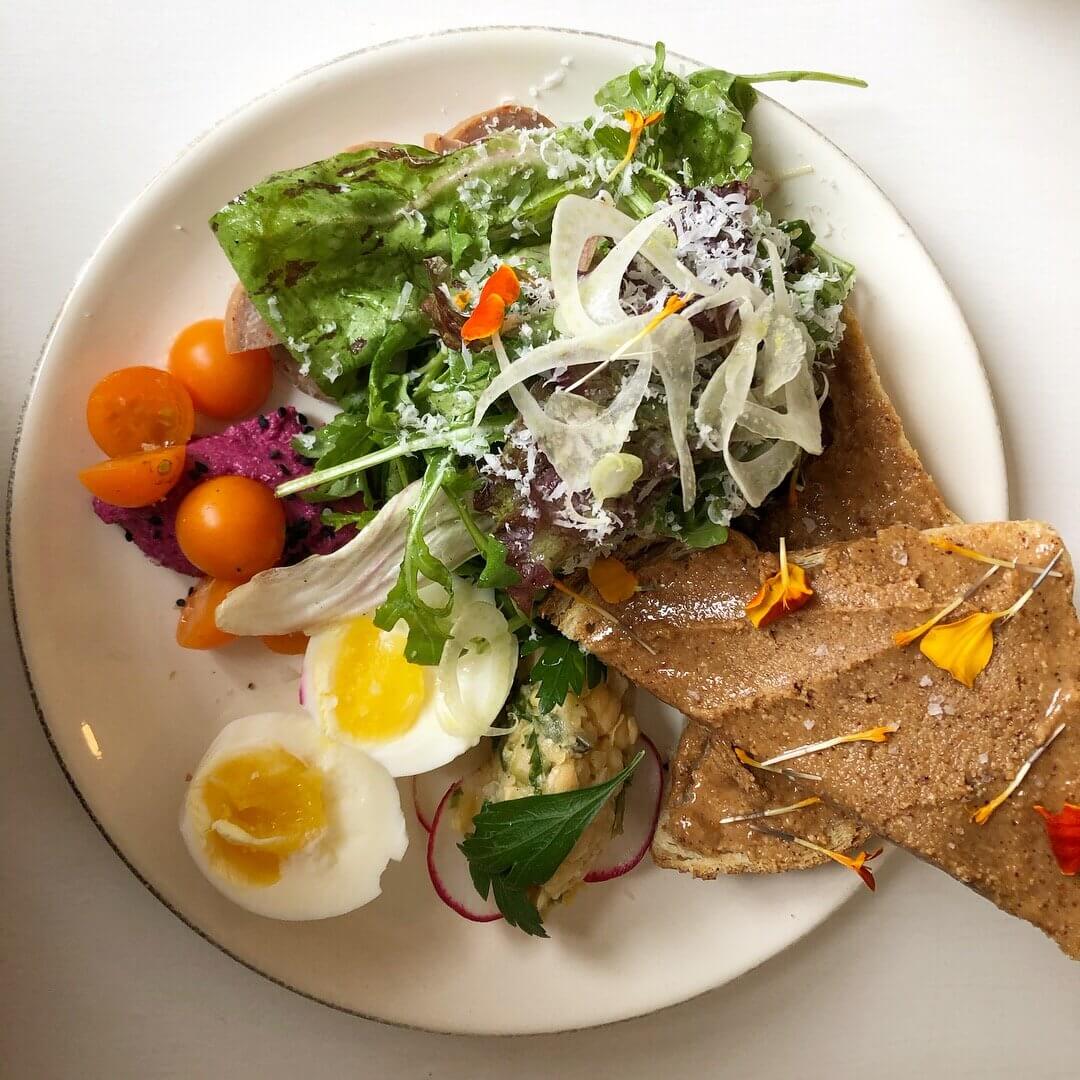 In a strange twist of fate I actually had beets on hand too. I bought a bag of frozen, chopped beets to use in making a deep purplish red pasta when I first got the Pasta Pretty Please cookbook. The remaining half bag of beets hung out in the freezer, waiting for another pasta making session. But this seemed just as good a use for them, and the best thing about living in the time we do is that we can get anything we want from the grocery store. There was no sense in saving those frozen beets, so they got thawed in preparation for this hummus. But this beet hummus is worth making. Even if you hate beets. I do recommend using frozen beets because cutting beets is super messy. Theres a lot of staining juice that goes everywhere. Do yourself a favor and find the frozen beets for the best (read: easy) beet experience.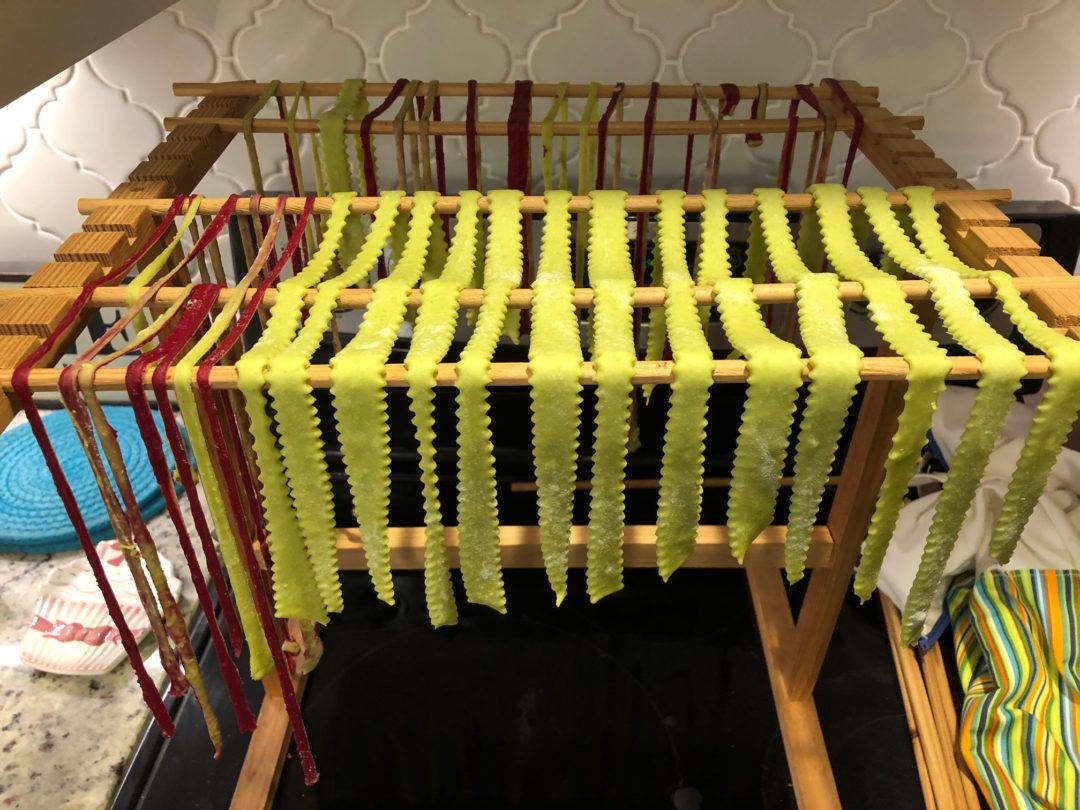 The next crucial ingredient is the everything bagel seasoning. Hopefully youre near a Trader Joes and can get your hands on their new-ish hit Everything But the Bagel seasoning. If you are not, no worries. Everything bagel seasoning is just a bunch of seasonings mixed together for your convenience. You likely already have many of these ingredients in your spice cabinet. TJs Everything seasoning consists of: sesame seeds, sea salt flakes, dried minced garlic, dried minced onion, black sesame seeds, and poppy seeds. Two Peas and their pod has you covered if you need to make your own everything bagel seasoning.
Its such a pretty garnish as well as a tasty addition to the hummus.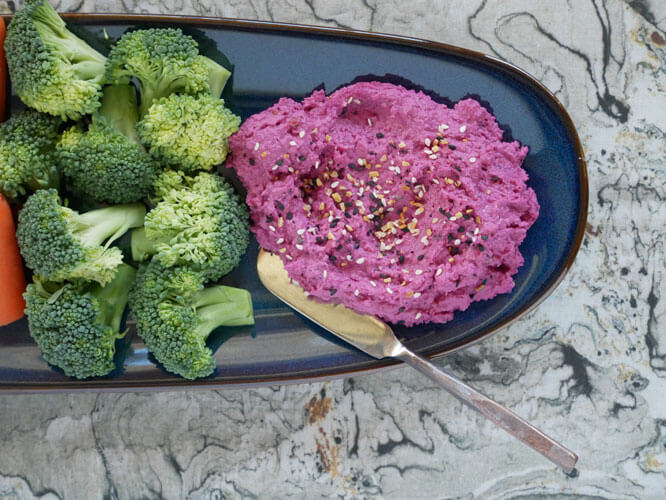 Beet Hummus with Everything Bagel Seasoning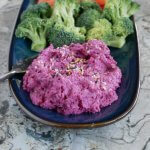 2 cups cooked chickpeas ((or 1 can, drained))
1 cup frozen beets (thawed)
2 cloves garlic
1/2 cup tahini
5 tbsp lemon juice
6 tbsp olive oil
1-2 tbsp water
1-2 tbsp everything bagel seasoning
1 tsp salt
Blend all of the ingredients in a food processor. Add more water as needed to reach the desired consistency.

Garnish with additional everything seasoning as needed, and serve with vegetables and crackers, or bagel chips.
I ate most of my beet hummus with chopped vegetables as shown here, but its equally as delicious with crackers. Specifically, Trader Joes rosemary and raisin crackers, which is also fantastic with another dip blue cheese dip. Indulging in these vegetables with this vibrant pink dip will get you a dose of every color of the rainbow except blue. If you really wanted to feature a blue vegetable to dip, the best I can do for you is purple potatoes, but they are the bluest looking ones. That is on you if you decide to go that route though.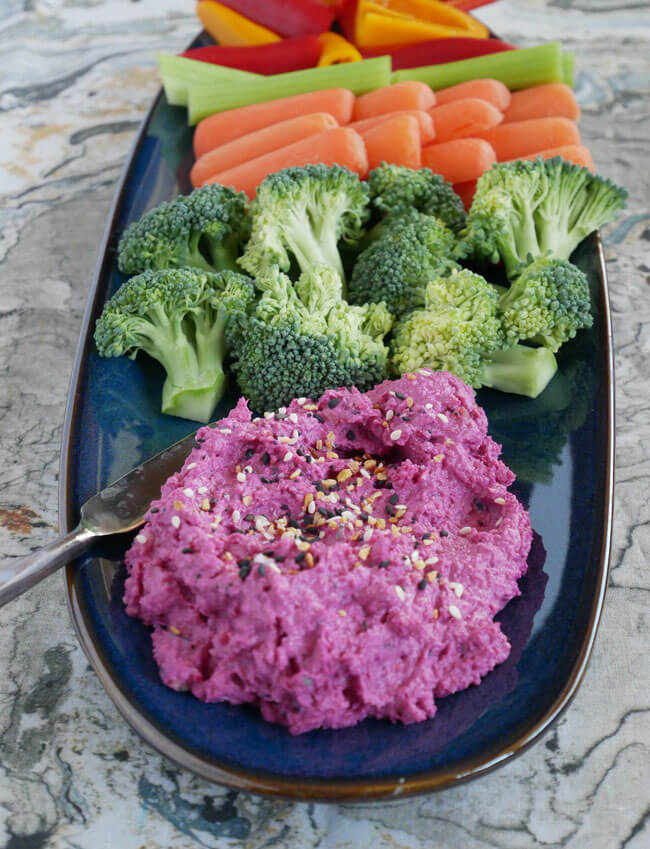 Looking for more dips? Try dill vegetable dip, Greek dip, and boiled peanut hummus.
The post Beet Hummus with Everything Bagel Seasoning appeared first on The April Blake.