Declutter with Kitchen Design Storage Solutions
Your kitchen design is the hardest working place in your home. It must be a multifunctional space where you can cook, dine, entertain, work and relax. How do you ensure that your kitchen remodel will be highly functional but also aesthetically pleasing? The main thing that thwarts an efficient, stylish, and relaxing kitchen design is clutter. A build-up of items on every surface makes it hard to work and also looks chaotic.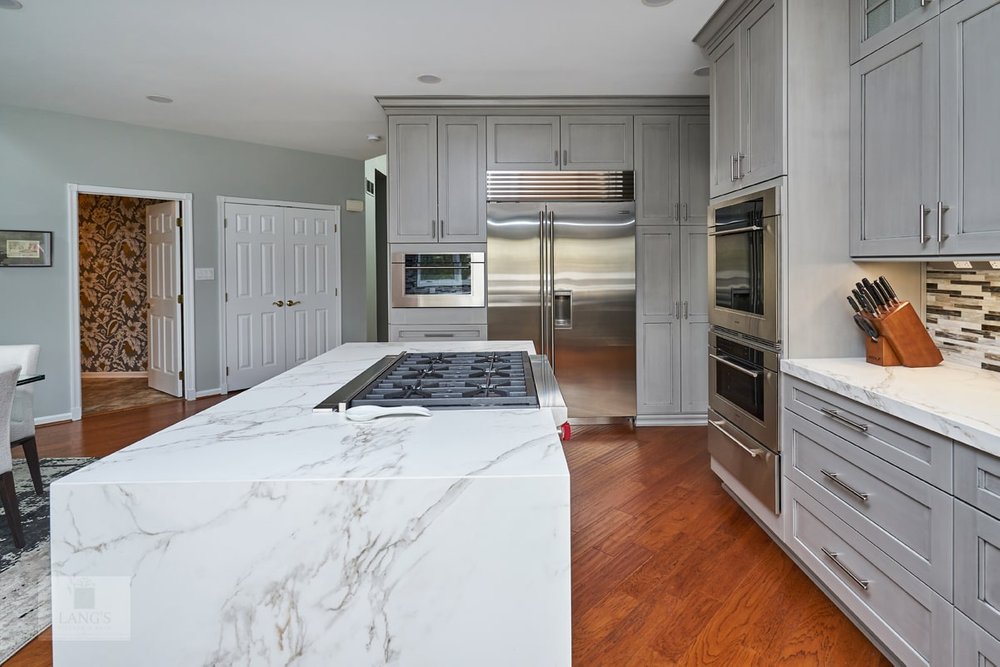 Adequate storage is a hugely significant part of kitchen design as it eliminates clutter. Custom storage takes care of all your lifestyle requirements while embodying your personal style. The right storage can make the smallest of spaces feel larger and easy to navigate. From classic solutions to modern innovations, here is our compilation of the best ways to declutter your kitchen design.
1.Assess Your Requirements
Before you start to plan your kitchen remodel, empty it of all its contents. This way you can assess what you need to store. It's also the perfect opportunity to decide what to keep and what to donate or recycle. Apart from expired foodstuffs, there are probably ancient gadgets and dinnerware items that are rarely, if ever, used. Once you've decided what to keep, your kitchen designer can show you which custom storage solutions would work for your remodel. Internal storage solutions with stylish exteriors and characterful open storage all combine to make a highly functional and aesthetic kitchen design.
2. Look Into Closed Storage
Closed storage, in the form of cabinetry, is a classic choice as it is the ultimate way to hide potential clutter. Like any classic, it gets a twist every once in a while. Streamlining with floor to ceiling and wall to wall cabinetry is the latest trend for closed storage as its strong, clean lines and sleek appearance bring a calm feel to a busy, multifunctional kitchen design. Sliding doors are a modern take on this look that keeps your kitchen design footprint neat, since they take up less floor space and are easier to negotiate when you're moving around your kitchen. Recessed handles are ideal here and can be incorporated in a contrasting material to create a kitchen cabinet feature, or go handleless for the ultimate sleek appearance.
Lift-up and swing-up doors open effortlessly with soft-close features for extra luxury. Push open doors are increasing in popularity as they maintain a minimal, handleless look to emphasize the flow of sleek cabinetry. Install this type of storage from wall to wall and floor to ceiling to maximize storage potential and be right on trend.
3. Display Your Favorite Things
Open storage is another popular choice in kitchen design. It's generally more cost effective than closed storage. However, removing a bank of cabinets to put up shelving exposes a wall that needs to be finished, so be sure to include this in your budget allowances. You can also use open storage to make the most of under-utilized areas. Why not put corner shelves at the side of a cabinet to store your recipe books? Or fill an awkward nook with floating shelves or cubbies to create handy storage and display space. Pegs, hooks, and magnetic strips are also excellent for giving a home to frequently used items.
Open storage must be kept clean and organized to avoid being cluttered. When displaying items, put them in small groups instead of simply arranging them side-by-side. A variety of colors, textures and styles brings warmth and character to a kitchen design. However, what you choose to display throughout your kitchen remodel should be linked through a common trait, such as a signature accent color, to give a professional finish.
4. Try Racks and Rails
A slim, but effective solution is to hang a customized rack with hooks for keys, or even a shallow recessed cabinet, which instantly takes care of a lot of clutter.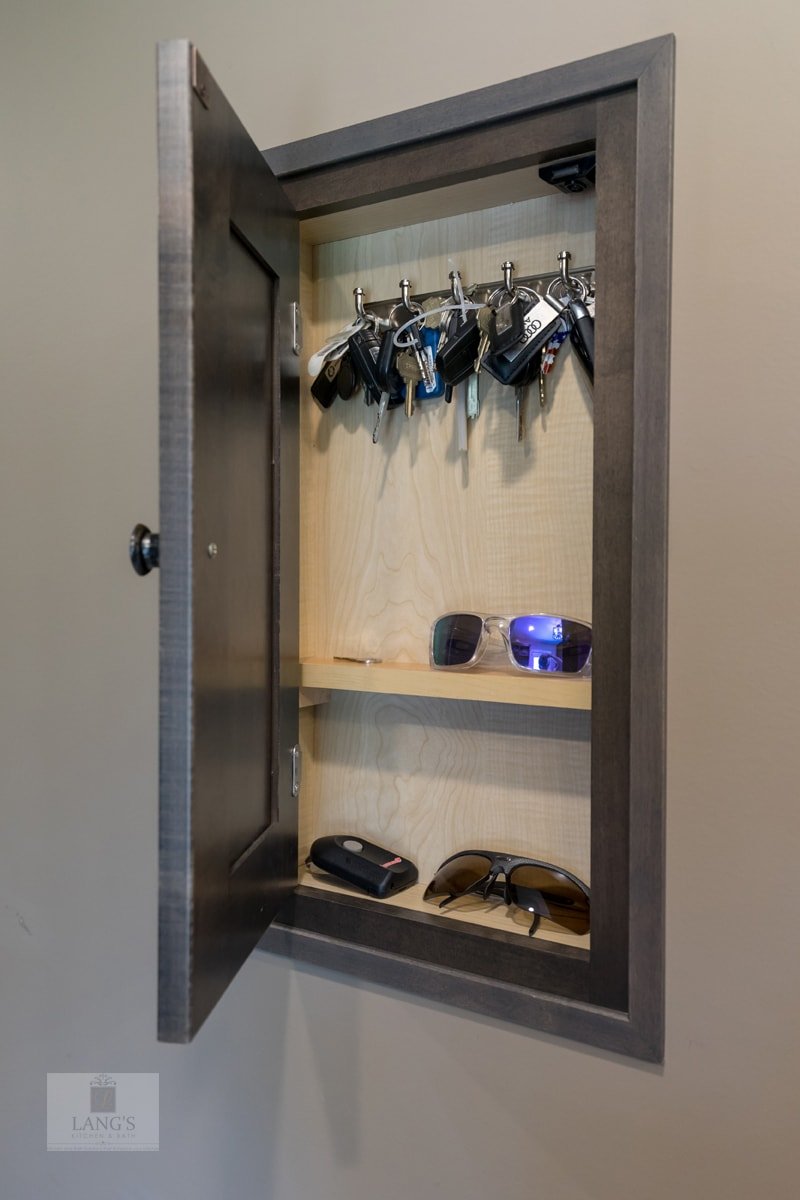 Racks can also be attached to walls to hold utensils and free up drawer or counter space. Putting a rail on a wall also gives huge potential in an eclectic or country style kitchen design to hang anything from scissors to pails for keeping herbs or dish-washing essentials. Suspending a rail over your cooking area lets you hang awkwardly shaped pots and pans, sieves and measuring cups and gives a cool, culinary look to your kitchen design.
5. Plan For a Pantry
Pantries are becoming more popular than ever in kitchen design. A walk-in pantry, attached to your kitchen remodel, can store everything from food to gadgets, seasonal items, and even a spare refrigerator or freezer. Custom storage, such as swing-out door racks, store a wealth of items, making them easily accessible and giving you more space in your kitchen design.
Organize foodstuffs into categories and keep them in clear storage containers. This looks super stylish but also avoids overbuying or waste and lets you grab what you need at a moment's notice. Non-food items can be stored in cabinets or containers that complement your style. Keep less used things such as seasonal platters up high since you only have to access them once a year. If your kitchen design can't accommodate a separate pantry, you can always fit one in an adjacent alcove or designated cabinet.
6. Organize Contents
A pantry consolidates a decent amount of your kitchen's contents, but how do you store the rest without overwhelming your kitchen design? Custom storage is tailored to your specific requirements and contains many solutions that work behind the scenes for a sleek aesthetic. Roll-out trash compartments discreetly take care of all your trash and recycling needs. Door mounted, swing-out or pull-out spice racks easily store as many jars as you need.
Pull-out and roll out shelves, wire cans, wood cans, peg boards and tray dividers accommodate a large amount in an organized and concealed way. Lazy Susans, blind corner swingouts and pull-out rails or baskets provide easy access to awkward corner cabinets. Drawers that vary in size to keep everything from silverware to pans also benefit from internal compartments that store lids and trays. Knife blocks, pegs and even two-tier organizers can be inserted inside drawers for the ultimate in decluttering solutions.
7. Utilize Island Storage
Islands provide a design focal point as well as offering essential storage in a kitchen remodel. Current trends are leaning towards two islands if space allows in your kitchen remodel, so why not go for a second island? Each one would have different functions, such as one for food prep and one for dining. Then store what's needed for each activity in its respective island. Outlets and charging stations can be included in the islands so devices and appliances can be hooked up and stored there easily. Wine, cookware, linens, recipe books and appliances are just some of the things you can store in an island. Pet toys, food and bedding can be accommodated too. Vases, trays, bowls, and candles look great on the countertop. Your kitchen design expert will maximize the space available in each island, eliminating clutter throughout your kitchen remodel.
Consider adding a Galley Ideal Kitchen Workstation to your island for the ultimate, efficient kitchen tool.  The Galley creates a streamlined, multi-functional workspace where accessories work together neatly and slide in and out as you require them. Since there is no need to take up extra cabinet space storing the Galley accessories, it is the ideal solution to reducing clutter and improving organization.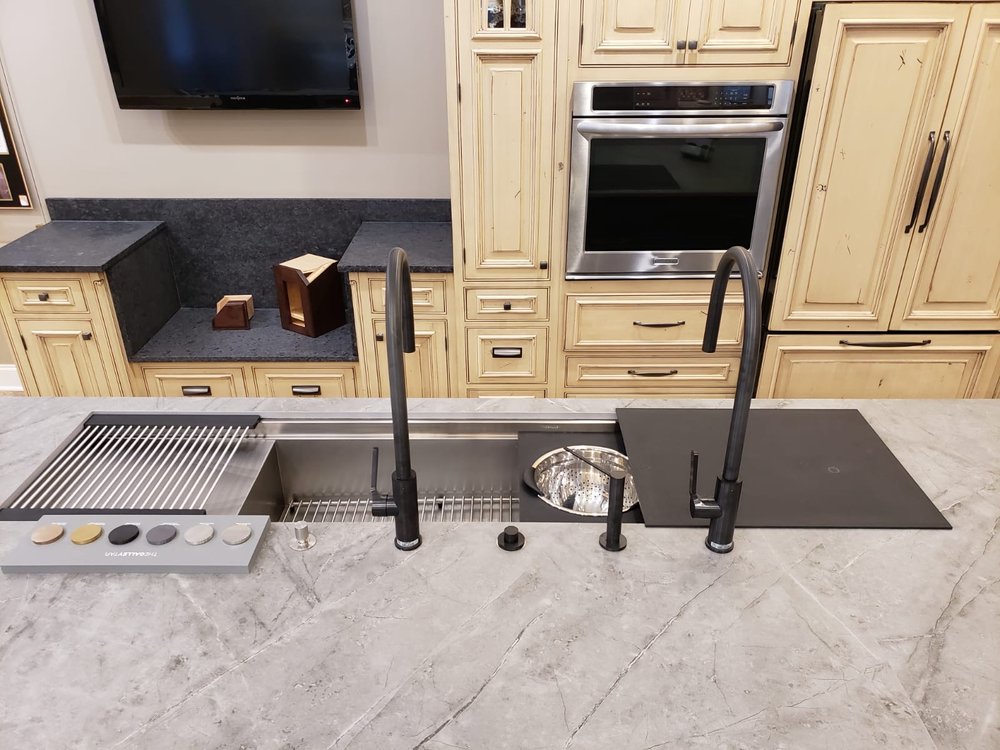 8. Streamline Your Storage
This year's kitchen design focuses on strong, clean lines. In order to achieve this look, it's essential to conceal anything that interrupts the flow of sleek cabinetry. Appliances should be integrated by covering them with cabinet doors. Smaller appliances can be encased in countertop cabinets with lift-up doors. Pop-up mixer shelves allow your heavy food mixers to be stored in a cabinet and easily brought to the surface when you need it, without breaking your back to lift it out. Pull-out cutting boards can be positioned over drawers, for support when using. Tilt-out sink fronts reveal a hidden compartment for cleaning accessories. Underneath your sink you can install a slide-out towel bar to let towels dry in a tidy, covered space.
9. Set Up a Beverage Bar
A beverage bar is simply any designated area in your kitchen design to store everything you need to make drinks. It can be as little as a coffee machine and your favorite mugs, or you could design it at the planning stage of your remodel to include a full-service beverage center with all the accessories and features you can imagine.
You could place essentials on a wheeled cart under open shelving or take a section of countertop with cabinets overhead. If space allows, create a standalone beverage bar that is part of your kitchen design, but away from the cooking area and easily accessible to entertainment spaces. This allows guests to help themselves to a refill of wine or coffee without having to interfere with the food prep work.
Why not go for a built-in coffee machine with an undercounter refrigerator, dishwasher, and sink? Bottle and stemware storage is ideal for wine lovers and can easily be incorporated into your kitchen design with dividers and racks. The whole area can be concealed with pull-up or swing-out doors, ready to be thrown open for guests or just when you want a morning coffee.
In some cases, it's necessary to use up space to create a feeling of spaciousness. A pantry, beverage bar, extra island or streamlined cabinetry with customized storage accessories all take up space in your kitchen remodel footprint, but the reward is an organized and beautiful design that will remain clutter-free.
At Lang's Kitchen & Bath, we work with you to maximize your kitchen's storage potential and deliver on your lifestyle requirements. Style is never sacrificed for functionality as we endeavor to create a perfect balance for your dream kitchen design. Check out our kitchen remodeling gallery for more storage ideas and contact us today to discuss a kitchen design that works for you on every level.