Italian Pasta Salad with Pepperoni
My easy Italian Pasta Salad with Pepperoni is filled with fresh vegetables, pepperoni, cheese and more. It's also make ahead and so delicious!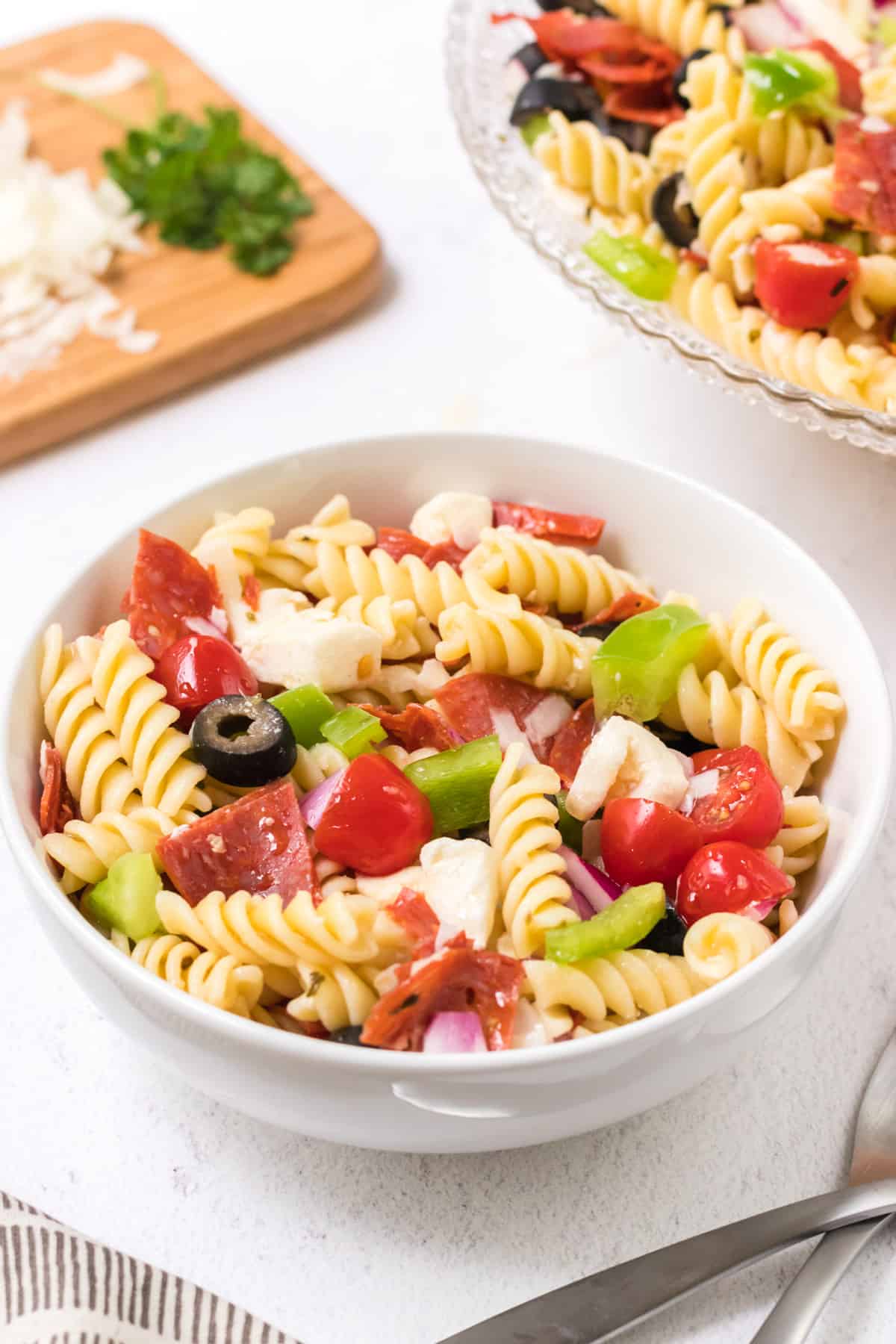 Why We Love This Recipe
Can you imagine a pepperoni pizza in a pasta salad? If you love pizza as much as we do, then you will love this Italian Pasta Salad with Pepperoni! Just imagine many of your favorite pizza toppings in a salad.
This pasta salad is full of fresh ingredients like chopped up tomatoes, bell peppers and onions, fresh mozzarella and more. It's easy to make ahead also which makes it perfect for an easy lunch or dinner idea. Or bring it to a potluck or picnic!
I especially love healthy pasta salads like this one in the warmer months of the year as it's easy to make and won't heat up the kitchen. A couple of other favorites include Easy Ham and Broccoli Pasta Salad and Delicious Chicken Caesar Pasta Salad.
I originally tried this pepperoni pasta salad several years ago at a friend's house. I modified it a bit from the original recipe and it has been a hit ever since! With the variety of ingredients, it's filling without being too heavy.
What Ingredients Are Needed To Make This Recipe?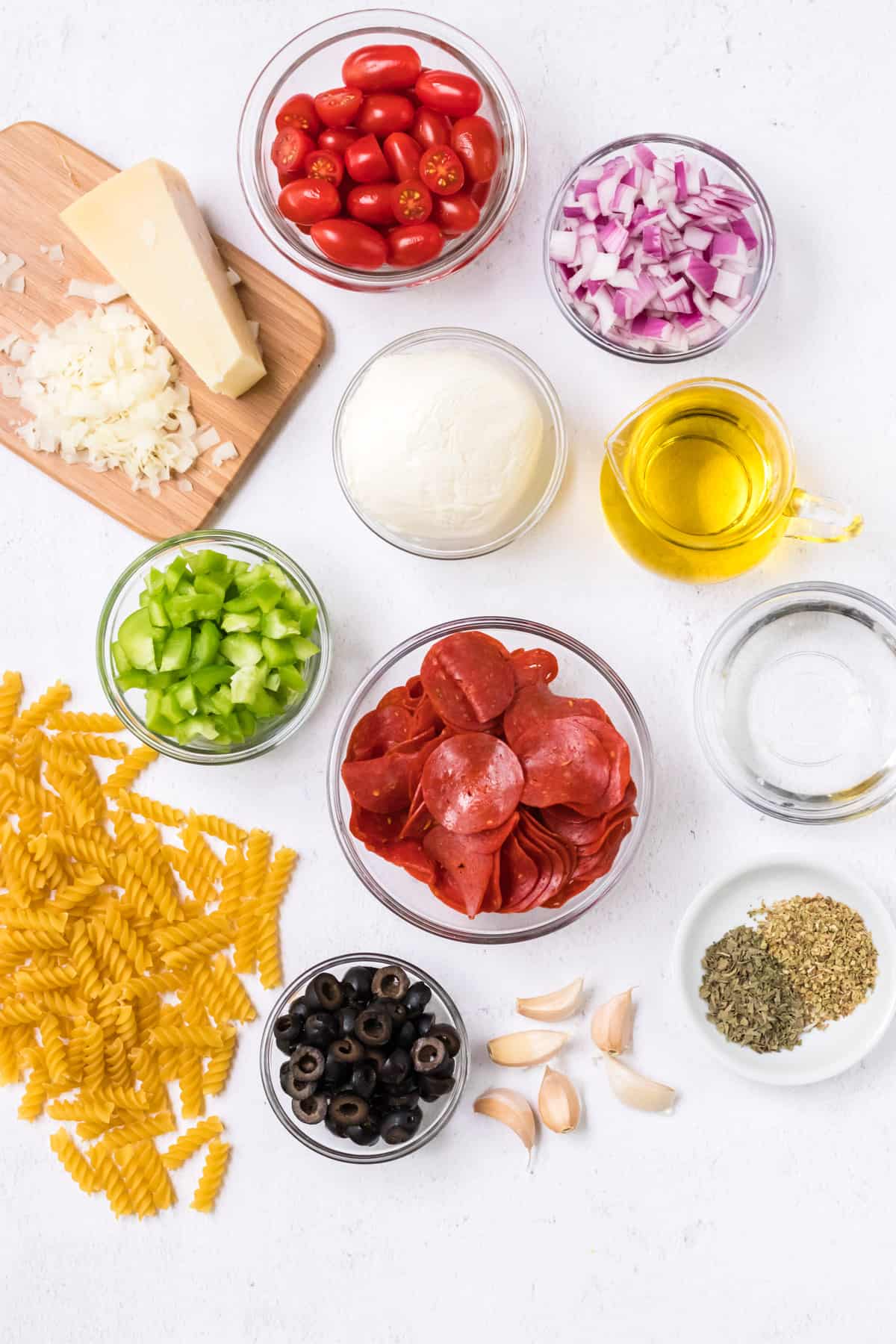 The ingredients to make this pepperoni pizza pasta salad are easily found at the grocery store but I have a few tips to help you out.
Tomatoes – The recipe calls for grape or cherry tomatoes to be cut in half. If you prefer, you can substitute Roma tomatoes instead. The grape, cherry or Roma tomatoes tend to have less seeds and pulp so they are a nice option for this salad without it getting to messy.
Purple Onion – I like to use my handheld food chopper (affiliate link) to chop up onions. That means fewer tears and it's so quick and easy. Did you know you can freeze extra chopped onions? Yes! I do this often and they are easy to add into other recipes like soups or sauces.
Olive Oil – We use a lot of olive oil so I buy the large bottles at Costco and that helps save money. I'm not really too picky about the brand of olive oil and will often go for the store brand if I'm buying a smaller bottle at the grocery store. There seems to be such a wide variety so I'm not sure if the more expensive varieties make a difference so that will be up to you to decide!
White Wine Vinegar – Look for special variety vinegars near the salad dressing section of the grocery store. Sometimes I will find them near the pickles or olives. There are many different types to choose from and the white wine variety is not as acidic as a plain white vinegar. But since it doesn't call for much, you can substitute plain white vinegar if you don't have the white wine variety.
Dried Basil and Oregano – Look for these herbs on the baking and spice aisle of the grocery store. I use these herbs so often, like in my Homemade Crockpot Spaghetti Sauce, that I buy them in bulk at Penzey's or the warehouse club!
Garlic Cloves – I love my garlic press (affiliate link) for mincing fresh garlic but I also usually keep a jar of the already minced type on hand in my refrigerator as it is just so easy. Look for the jarred variety near the fresh garlic in the produce section of the grocery store.
Sliced Ripe Black Olives – Look for the cans of pre-sliced olives near the green and other specialty olive varieties on the condiments aisle of the grocery store.
Fusilli Pasta – Sometimes called corkscrew pasta, I prefer to buy the store brand when I can and will sometimes substitute the whole wheat variety to boost the fiber a bit in this salad. You can cook the pasta up to a day in advance and keep it in the refrigerator until you're ready to make this salad.
Green Bell Peppers – Just like the onion, I love using my handheld food chopper (affiliate link) for chopping the bell peppers. Just a few pulls of the handle is all it takes to have them chopped up quickly!
Turkey Pepperoni – This pasta salad recipe calls for turkey pepperoni. I have found this in different places in the grocery store depending on the store. Look for it near the deli section where you'd get fresh sliced lunchmeat or cheeses. Sometimes I find it on the pasta aisle in a section that has pizza ingredients like the pre-baked crusts and pizza sauce.
We like the turkey pepperoni as it is much lower in fat, calories and sodium than regular pepperoni. It is a bit more thinly sliced as well.
Parmesan Cheese – You can buy the pre-shredded Parmesan cheese or shred it yourself. I love my mini box grater (affiliate link). I received it as a gift several years ago and it's one of those things I didn't know I needed until I got it! It has several different grating types and stores easily in my cooking utensils drawer.
Fresh Mozzarella Cheese – I love the creamy, fresh flavor of fresh mozzarella cheese! If you can't find the fresh variety, substitute cubed block mozzarella cheese instead.
I usually try to buy fresh mozzarella at Aldi as they seem to have the best price but it's available at other, larger grocery stores too. I find it most often in the deli section of the grocery store but sometimes it's near the larger selection of shredded cheese varieties. Sometimes I will buy it in bulk at the wholesale club for an even better price.
Did you know you can freeze leftover fresh mozzarella? Yep! You can freeze it all in one piece or separate it into slices and place on a silicone mat (affiliate link) on a baking sheet (affiliate link) and flash freeze until just frozen.
Then remove the frozen pieces to a freezer safe storage bag, like a reusable silicone bag (affiliate link). Seal the bag and freeze up to three months.  Don't for get to date and label (affiliate link) the bag!
You can then pull out slices as needed to thaw and use in recipes like this Caprese Panini Sandwich where it gets all nice and melty. Yum!
How to Make This Pasta Salad
While this pasta salad with pepperoni seems to have lots of ingredients, it comes together pretty easily.
I like to start by chopping and dicing several of the ingredients first like the tomatoes, fresh mozzarella and pepperoni (1). Then I'll use my handheld food chopper (affiliate link) or large chef's knife to chop green bell pepper and onion. Then it's easy to scoop everything into the mixing bowl.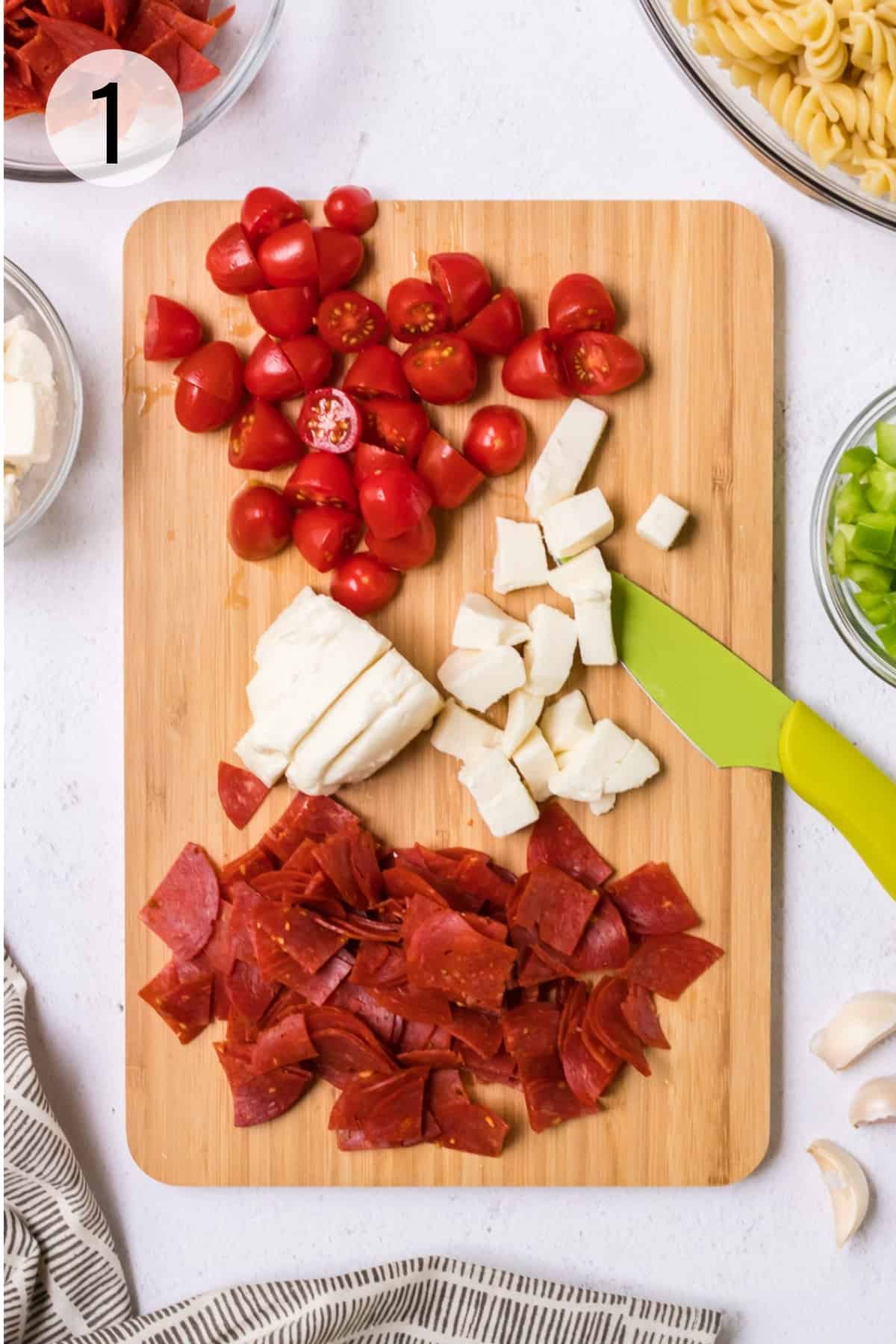 Next, if I am starting with a block of Parmesan cheese rather than the pre-shredded variety, I will use a mini box grater (affiliate link) to grate it (2) and then I can easily measure out what I need for the recipe.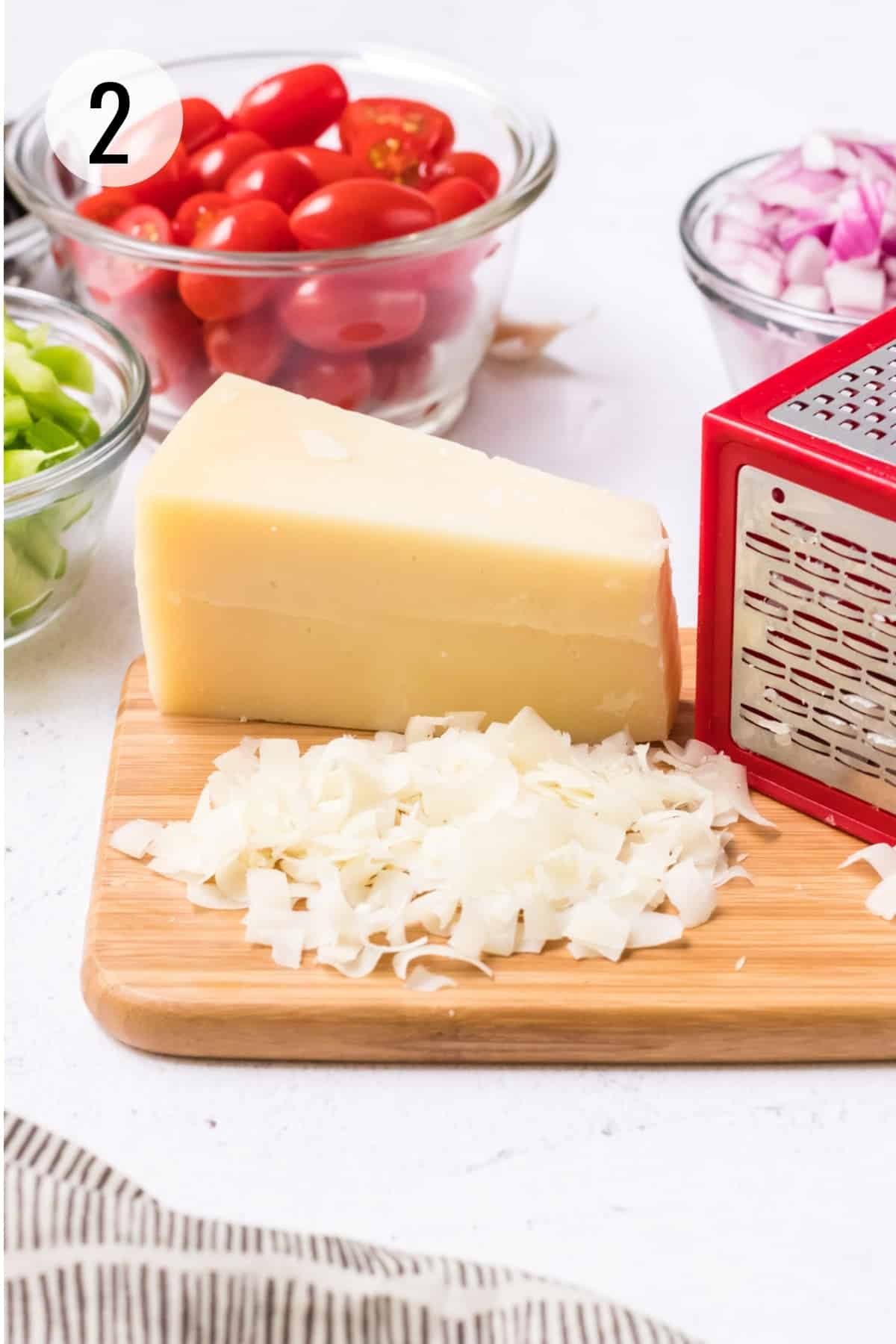 In a separate bowl, I combine all the dressing ingredients and whisk (affiliate link) together (3).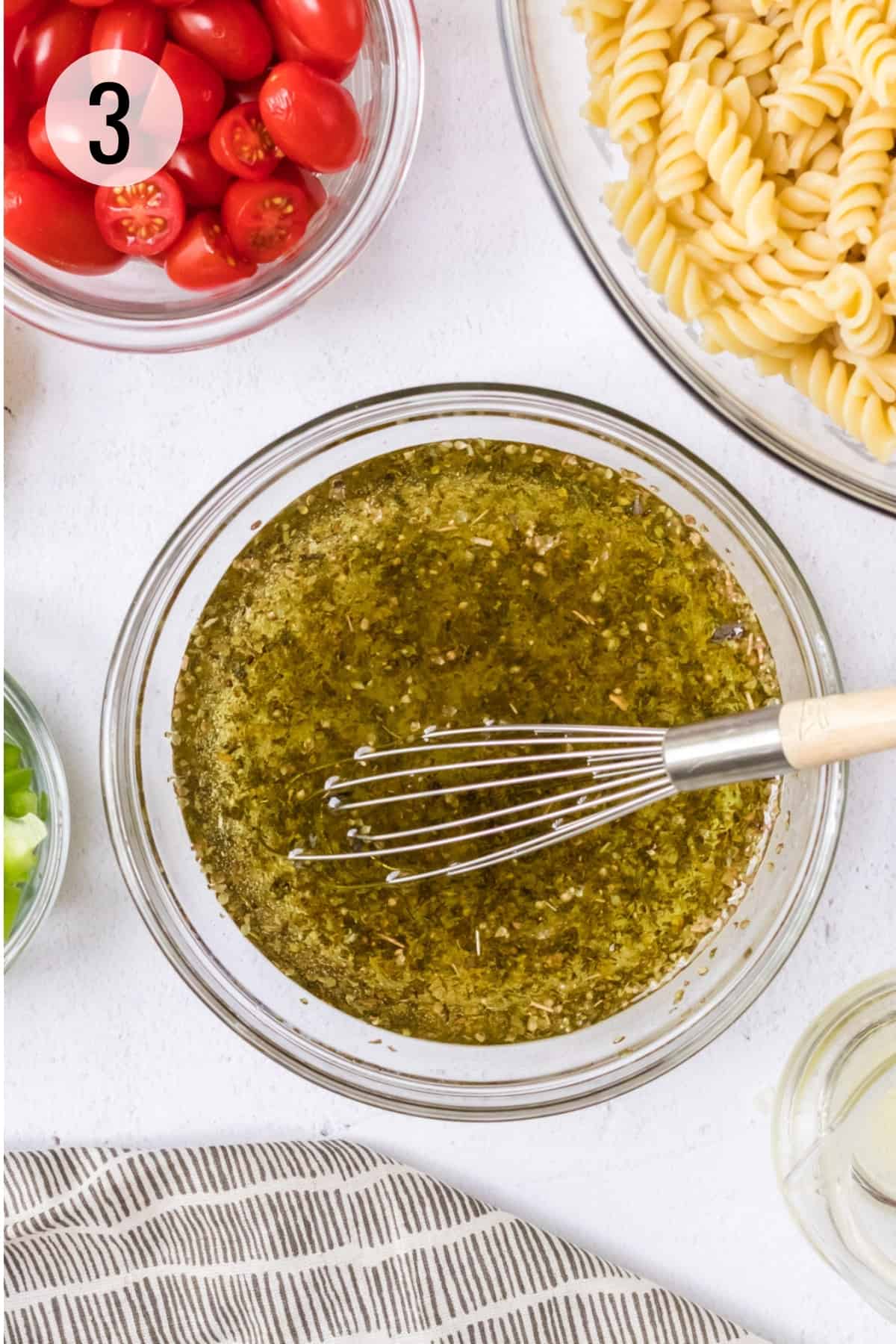 The rest of the assembly goes quickly after this. In a large bowl, I combine all the ingredients including the cooked pasta and sliced, canned olives (4) stirring well to combine.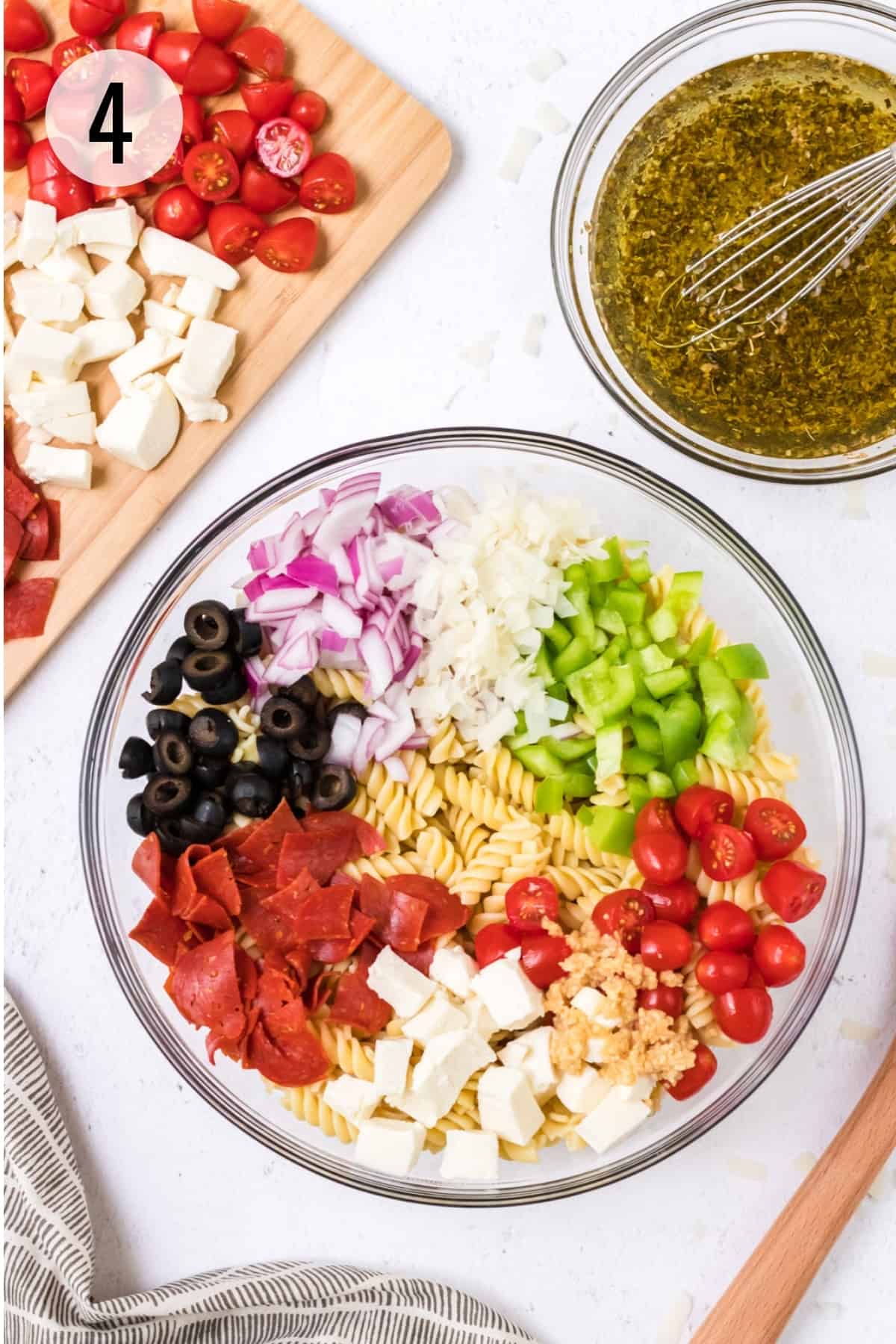 Lastly, I drizzle on the prepared dressing mixture (5) and stir again. Then it's into the refrigerator to chill for about an hour. This allows the flavors to blend really well with all the ingredients.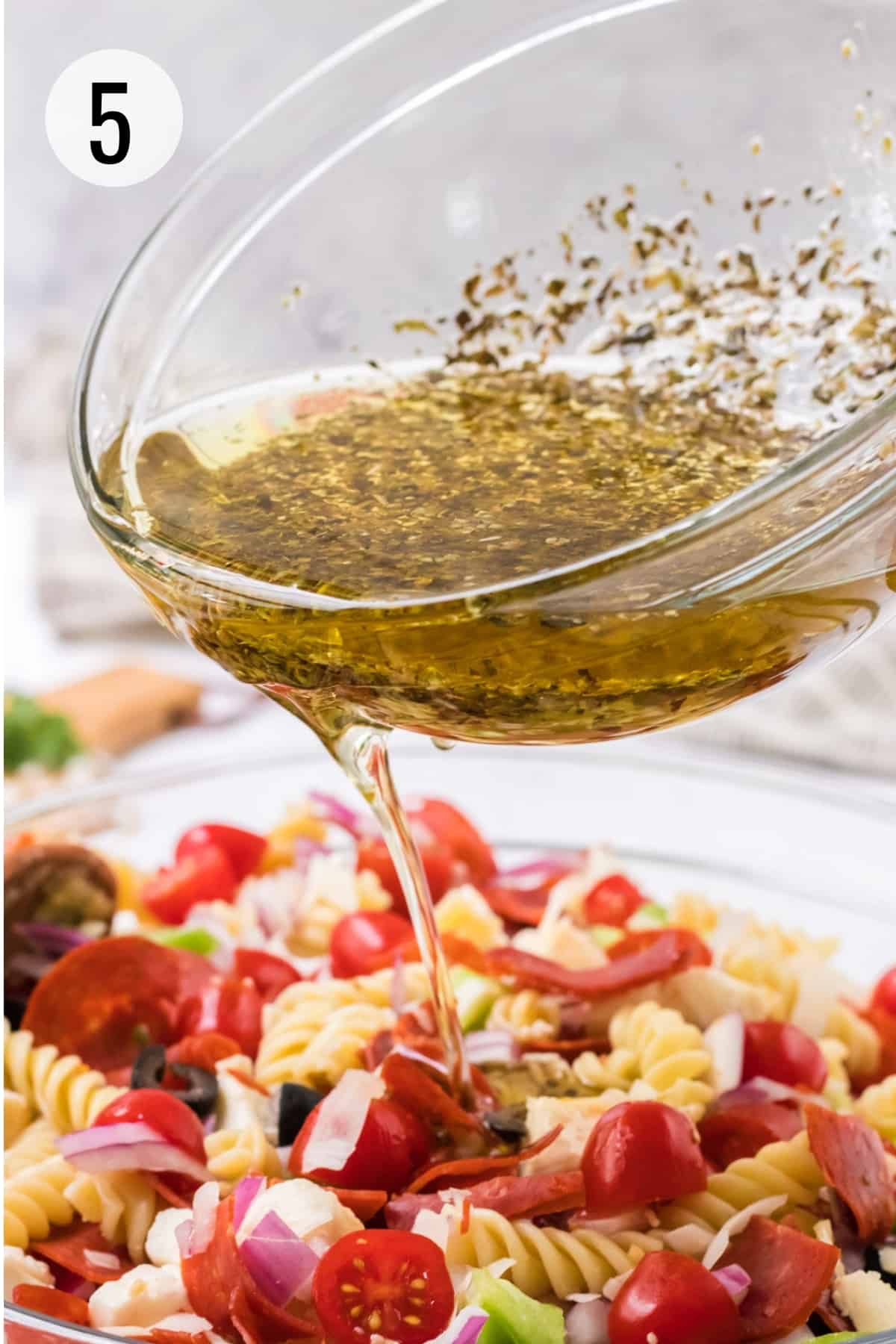 Make Ahead Preparation Tips
I've mentioned some prep-ahead tips in the ingredients section above but I've gathered them up here to simplify things for you.
As this recipe calls for several of the ingredients to be chopped or cut up, you can do all of this up to a day in advance. Store them in airtight containers (affiliate link) in the refrigerator.
For the bell peppers and onions, I like to use my handheld food chopper (affiliate link). (Have you figured out yet, after reading here, how much I LOVE it?!)
The fresh mozzarella cheese and pepperonis can be cut up to a day in advance and stored in the refrigerator. I like to use my large cutting board (affiliate link) to  chop everything in different "zones". That way I only have to wash the cutting board one time.
The dressing mixture can be made up to a day in advance as well. Since it is made with oil, vinegar and herbs, it can be stored at room temperature for two to three days in a cool place (like a cabinet or pantry). Leave out the minced garlic until just before making the pasta salad since it is a raw ingredients and not shelf stable.
Is pasta salad freezer friendly?
One of the great things about this pepperoni pasta salad is that it is made with so many fresh ingredients. That means that freezing it ahead of time won't yield the same results as fresh, so I don't recommend it.
You can freeze any leftover pepperoni or fresh mozzarella separately to use in other recipes. See the ingredients section above for tips on how to do that.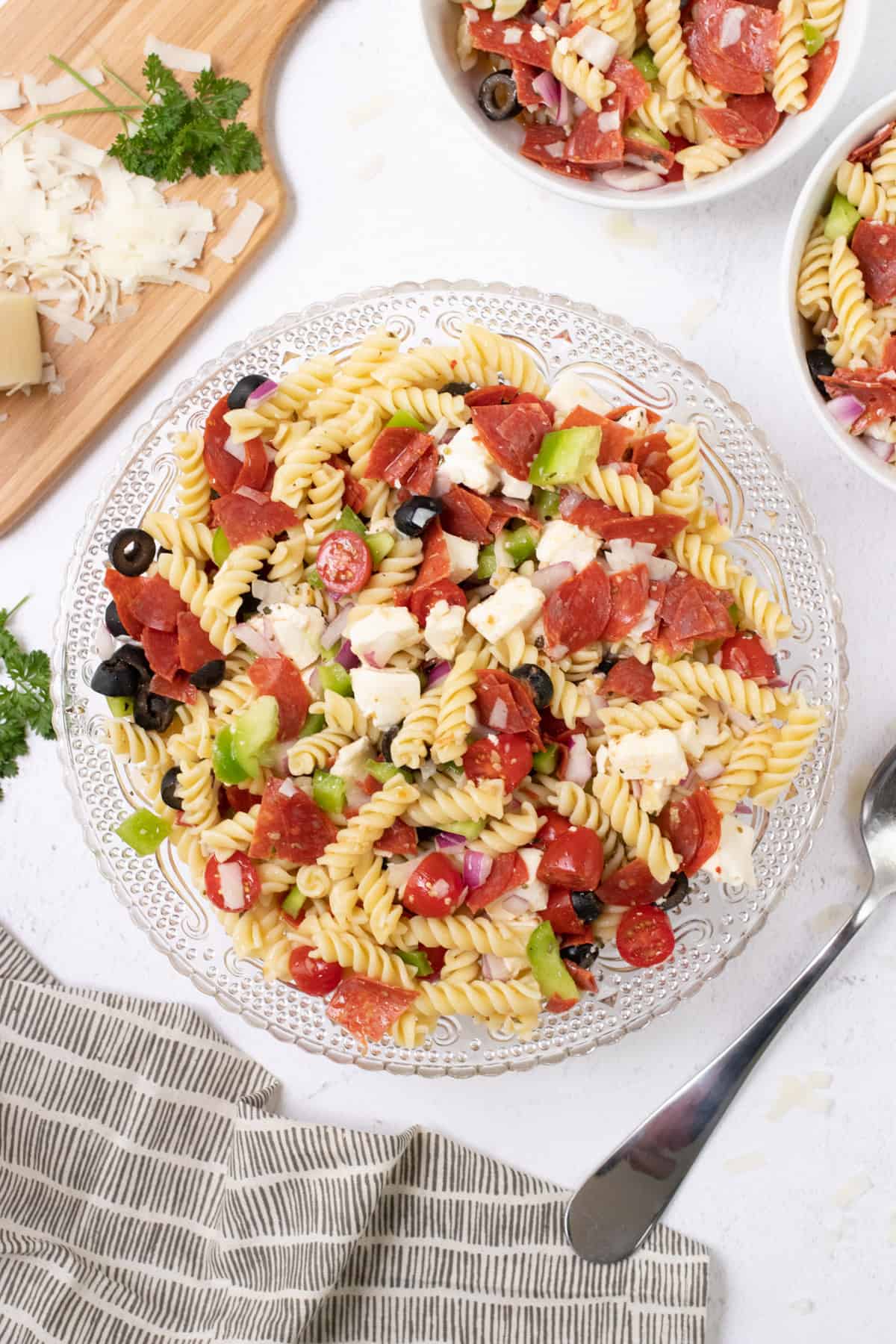 More Pizza Inspired Recipes
It's no secret that our family loves pizza flavor inspired recipes. That is pizza that's not really pizza! Here are a few of our favorites that you might like to check out too!
Sign up to receive an email in your inbox for each new recipe and get a FREE menu plan printable: FREE EMAIL SUBSCRIPTION
If you've tried this recipe, let me know how much you enjoyed it by coming back and leaving a comment below and a rating. I love hearing from you!
This post was originally published in June 2013 and updated in June 2021 with new photos, video and content.
Be sure to check out my Amazon Shop to discover the many items I use in my own kitchen. Meal Planning Magic is a participant in the Amazon Services LLC Associates Program, an affiliate advertising program designed to provide a means for sites to earn advertising fees by advertising and linking to Amazon.com. Ordering products mentioned here are at no extra cost to you. Thank you for your support. 
The post Italian Pasta Salad with Pepperoni appeared first on Meal Planning Magic.