Pork Chop Seasoning (Dry rub for pork, ribs, chops, and more)
This pork dry rub is a simple mix of herbs and spices that creates the perfect flavor for any of your pork recipes. This Pork Chop Seasoning can be used for pork chops, pork ribs, pork tenderloin, pork roast, pork shoulder, and more. It's deliciously savory, with hints of spice and sweetness to balance things out. Keep it in your spice cabinet for quick cooking!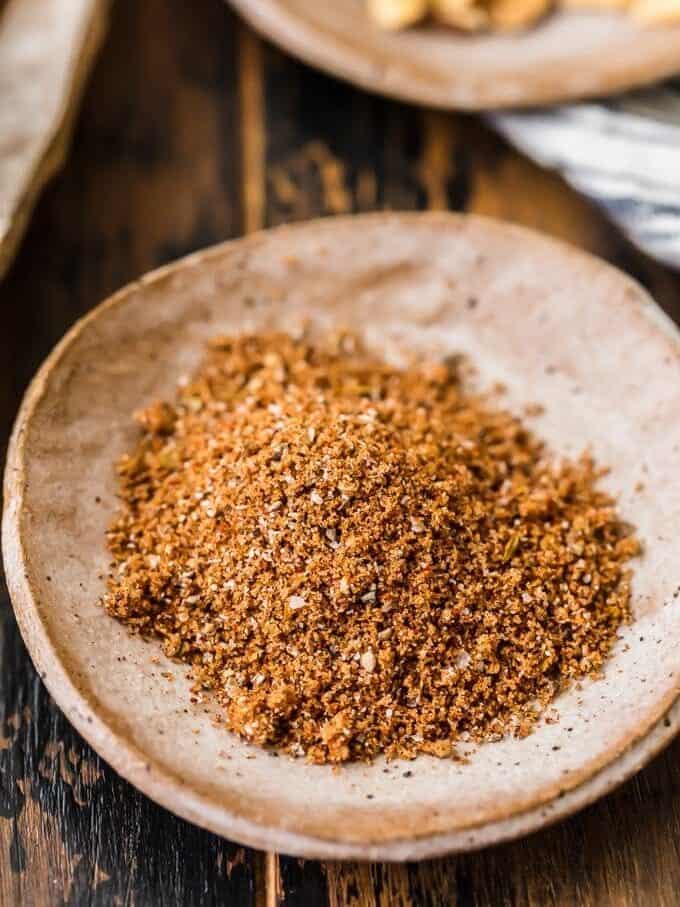 What's in this Pork Chop Seasoning?
All you need for this pork rub recipe is a handful of herbs and spices, most of which you'll probably already have in your spice cabinet. A real pantry staples kind of recipe!
Brown Sugar: This adds a rich sweetness into an otherwise savory mix. Be sure to pack it when measuring.
Chili Powder: This adds a bit of heat. Increase the amount just a bit if you want a spicier rub.
Smoked Paprika: Smoked paprika is slightly more intense than regular (sweet) paprika, but you can substitute if needed.
Cumin: This adds an earthy flavor.
Garlic Powder: This adds just a hint of garlic flavor, and won't overwhelm the mix.
Onion Powder: This adds that savory pungency of onions.
Dried Thyme: This herb adds a light and savory flavor.
Dried Oregano: This has an earthiness that helps balance out the spices.
Ground Mustard: This adds in a bit of tanginess.
Salt & Pepper
For more information on each ingredient, check our guide to herbs and guide to spices. It will help you make decisions about substitutions if you need to.
How do you apply a dry rub to meat?
Use your hands to firmly rub the seasoning directly onto the surface of the pork, and be sure to get all sides of each piece of meat. For example, if you're making pork chops, you want to liberally cover both sides of each chop.
Let the meat sit for a while so the seasoning can sink in. In some cases, 15 minutes is enough, but I recommend letting it sit for 2 hours or even overnight (in the refrigerator) to really let it absorb.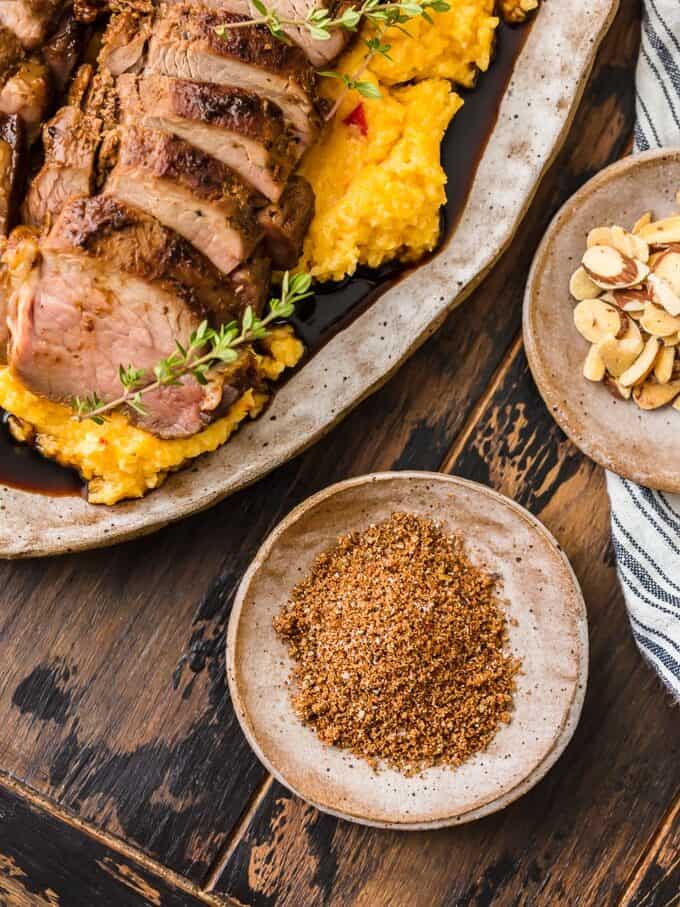 How do you make a dry rub?
It's so easy to make a homemade dry rub. All you have to do is measure out each spice, whisk them together to make sure everything is evenly distributed, and then use it or store it.
What does this pork rub taste like?
This seasoning mix was created to bring out and complement the flavor of pork. So it's a little bit sweet, but mostly savory.
What seasonings go well with pork?
The sweetness of brown sugar is a great balance to the natural savoriness of pork. Cumin, thyme, oregano, and mustard all mix beautifully with pork as well. And chili powder and paprika both add spice without overpowering.
How long will this spice mix keep?
As long as you store it properly in a sealed container, it will keep as along as any spice in your cabinet. It will be best made with fresh spices, stored up to 3 months. After that, it will lose potency (though it's still fine to consume).
Can I make more?
To make a larger batch, just increase each spice while keeping to the same ratios. Double the amount of each ingredient, and you'll have plenty to store for later.
How to Store a Dry Rub
You can mix this pork seasoning blend as you need it, then store extra. Or you can make it ahead of time so it's ready to grab and use any time you cook pork.
Store it in a resealable bag or airtight container (like a spice jar), and keep it in your pantry or spice cabinet. Use it within 3 months for best potency.
When to Use this Pork Seasoning
This delicious mix of herbs and spices is perfect for any kind of pork. Of course it's great for chops, so use when making Air Fryer pork chops, breaded pork chops, or grilled pork chops.
You can also use this dry rub to make pork tenderloin (I use it in my sweet tea pork tenderloin), pork belly, pork ribs, pork shoulder, pork loin, pork roast, and more.
It tastes amazing with chicken as well, so try it next time you grill chicken breasts.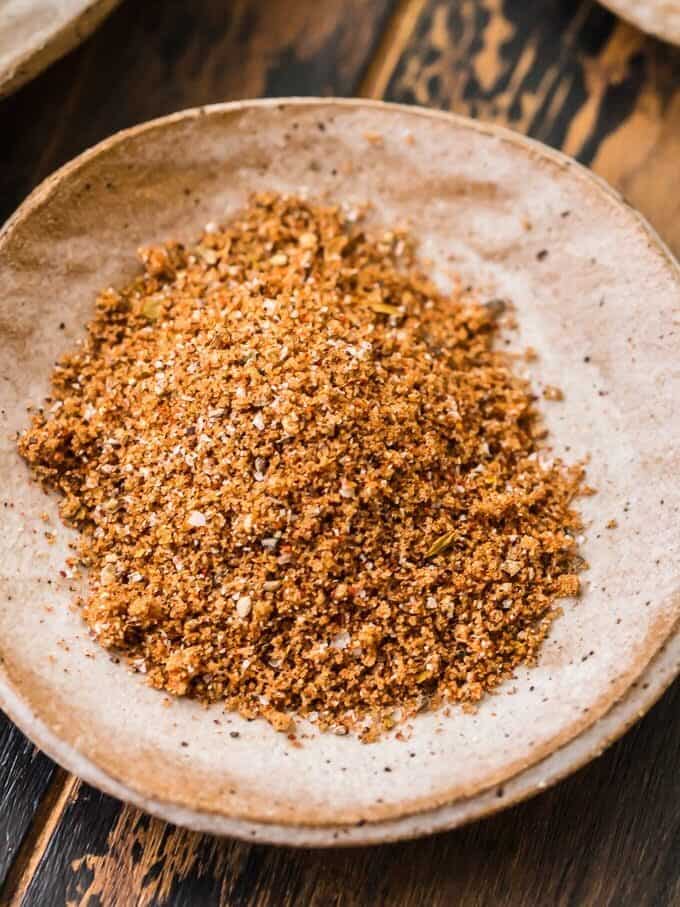 If you make this recipe be sure to upload a photo in the comment section below or leave a rating. Enjoy! You can also jump to recipe.
Print
Pork Chop Seasoning (Dry Rub for Pork, Chicken, Ribs, and more)
This simple mix of herbs and spices creates the best blend of sweet, spicy, and savory to go with any pork recipe.
Ingredients
½

cup

brown sugar

firmly packed

2

tablespoons

chili powder

2

tablespoons

smoked paprika

2

teaspoons

cumin

1

teaspoon

garlic powder

1

teaspoon

onion powder

2

teaspoons

dried thyme

1

teaspoon

dried oregano

2

teaspoons

ground mustard

2

teaspoons

kosher salt

1

teaspoon

black pepper

freshly ground
Instructions
Whisk all ingredients together and keep in an airtight container. When ready to use, sprinkle the meat with a liberal amount of the seasoning and rub it in. Be sure to cover the entire surface. Allow the meat to rest at least 2 hours in the fridge (or overnight). Cook the meat as desired.

½ cup brown sugar,

2 tablespoons chili powder,

2 tablespoons smoked paprika,

2 teaspoons cumin,

1 teaspoon garlic powder,

1 teaspoon onion powder,

2 teaspoons dried thyme,

1 teaspoon dried oregano,

2 teaspoons ground mustard,

2 teaspoons kosher salt,

1 teaspoon black pepper

Enjoy!
Notes
Storage: Store in a resealable bag, spice jar, or another airtight container. Keep in the pantry or spice cabinet up to 3 months for best quality.
Nutrition
Calories:
89
kcal
|
Carbohydrates:
21
g
|
Sodium:
827
mg
|
Potassium:
147
mg
|
Fiber:
1
g
|
Sugar:
18
g
|
Vitamin A:
1950
IU
|
Calcium:
36
mg
|
Iron:
1.6
mg
More Seasoning Recipes We Love
The post Pork Chop Seasoning (Dry rub for pork, ribs, chops, and more) appeared first on The Cookie Rookie®.