Roasted Five Spice Potatoes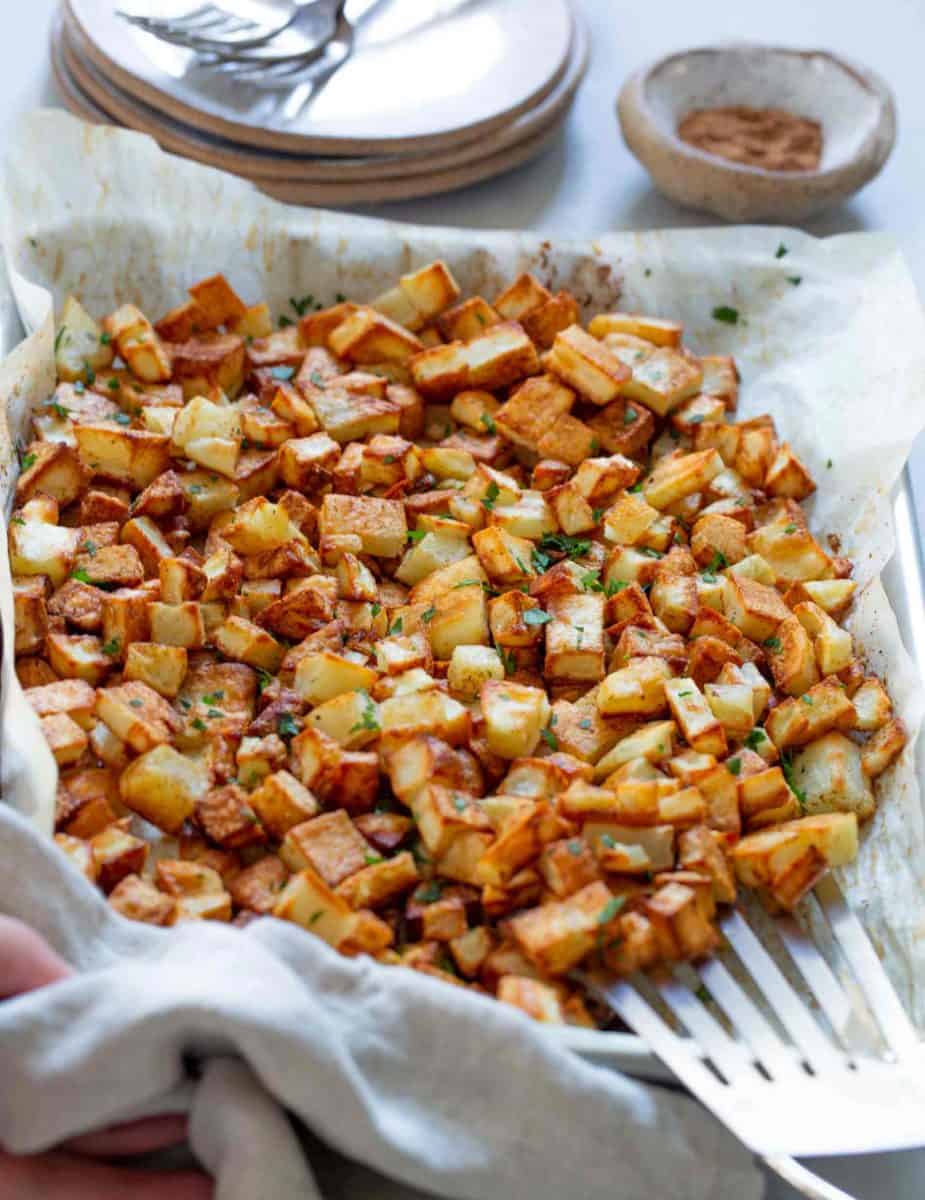 Roasted Five Spice Potatoes
Roasted potatoes are often a staple for weeknight dinners in our house.
Lets face it, potatoes in any form are always welcome at my dinner table, but sometimes you need to switch things up a little to get out of the boring old side dish rut.
With these roasted five-spice potatoes, you can take your potato side dish game to the next level.
Not only are they quick and easy to make, but they are a dish everyone will love them.
The bold flavor that the five-spice powder brings is unmatched. They are perfect crisp bites of heaven and you wont be able to put them down.
They would be perfect for a potluck (hint hint: Friendsgiving) where you want an easy side dish but elevate the flavor of regular roasted potatoes.
What is Five Spice?
Five-spice is a powder used in cooking that blends of several different spices that come together and give you all five tastes in one seasoning.
With five-spice, you will taste a little bit of sweet, sour, bitter, salty, and hot. It might sound a little weird, but trust me, its great and one of my favorite staple spices I keep in the cabinet at all times.
You can find it pre-made in the spice aisle at most grocery stores, labeled either just five spice or Chinese five-spice as it does have Chinese origins.
What Potatoes Should I Use?
You can really use any potatoes you like for this recipe.
Essentially any potatoes you can roast can be used in this recipe.
Yukon or red potatoes will be your most common potato for roasting.
If you dont want a regular white potato, you can also opt for sweet potatoes or yams.
Obviously with that substitute, you will have an overall sweeter end result, but still a very good side dish.
How To Make Roasted Five Spice Potatoes
Could this side dish get any easier?
Can I Make These Roasted Potatoes As Fries instead of Cubes?
Of course! Just as you can get creative with the type of potato you use, you can also cut them into any shape you want.
As long as you arent leaving the potatoes cut into extremely thick wedges the cooking time should remain the same.
To make these into fries, simply cut long think strips instead of chopping into small cubes.
How Do I Reheat Roasted Potatoes?
For best results, I would set your oven on broil, place the leftover potatoes on a baking pan and broil for about 5 minutes or until heated through.
Be sure to keep an eye on them though, as the broiler can burn food quickly.
You could also reheat them in the microwave but they wont be crisp and like they were right out of the oven.
Microwaved potatoes will have a softer more squishy texture.
What To Serve With Roasted Five Spice Potatoes?
You can serve almost anything with this simple side dish recipe.
Some of my favorite recipes to serve up along with these potatoes would be, Buttermilk Roast Chicken and this Nutty Spinach and Quinoa Salad.
Any dinner with that trio is sure to be a crowd-pleaser everyone will talk about well after dinner is over.
Oh, and you dont want to forget dessert, so I suggest whipping up a batch of Chewy Chai Chocolate Chunk Cookies too!
Tips For Roasting Potatoes
Make sure all of your pieces are about the same size. If you have a large variation in sizes of your potato cubes, some will turn out more or less done than others.
To get the potatoes to roast to their best potential, be sure to pat the cut-up pieces dry before placing them in the oven. This will remove any excess water that could lead to a soggy potato instead of a nice crisp one.
Be sure to stir the potatoes halfway through to make sure all sides are getting that nice crisp outer coating that really sets the recipe apart for just any old run of the mill potato recipe
For easy cleanup, line your baking pan with parchment paper. It prevents most of the mess from getting to the actual pan, saving you a little bit of extra hassle during the cleanup process.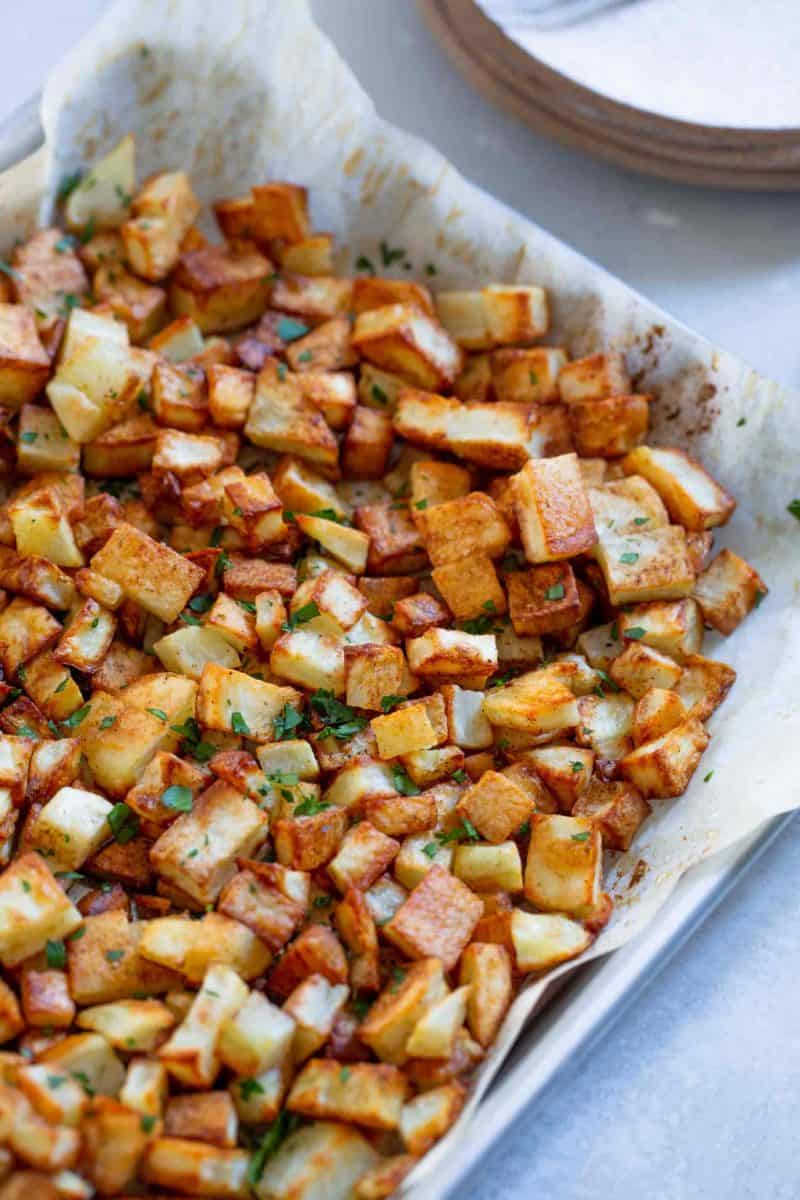 Check Out These Other Potato Recipes Youll Love
Parmesan Garlic Ranch Butter Smashed Potatoes
4-Ingredient Tangy Potato Salad
Twice-Baked Loaded Ranch Potatoes
Loaded Sweet Potatoes with Shredded Zucchini, Mushrooms, and Onion
Print
Roasted Five Spice Potatoes
These roasted five spice potatoes are a flavorful twist on classic roasted potatoes!
Ingredients
1

pound

baking potatoes,

cubed

1

tablespoon

five spice powder

Salt
Instructions
Preheat oven to 400 degrees Fahrenheit and line a large baking sheet with parchment paper.

Place potatoes on baking sheet and drizzle potatoes with cooking oil (such as avocado oil).

Sprinkle five spice powder and salt all over and toss again.

Bake for 25-30 minutes or until potatoes are brown and softened, tossing/flipping halfway through.