Save up to 80% on The Pioneer Woman Products from Walmart!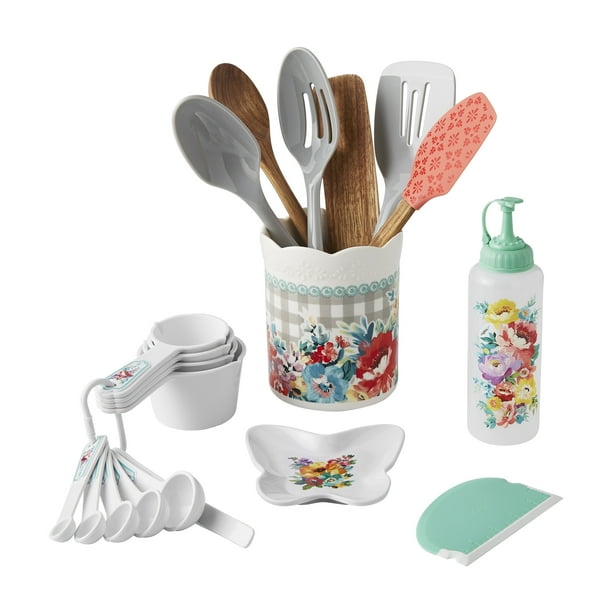 Save on The Pioneer Woman accessories for the kitchen from Walmart! Everything ships Free with a $35.00 order or with Walmart+. The Pioneer Woman 20-Piece Kitchen Gadget Set, Sweet Romance, is reduced to $15.00 (regularly $39.99)! Whether you're measuring, mixing, storing, or baking, The Pioneer Woman Sweet Romance 20-Piece Kitchen Gadget Set can do it all! Use the melamine measuring spoons and cups to measure out your ingredients, the acacia wood spoon and turner, the spatula, or the melamine spoons and slotted turner to stir, flip, and serve, the melamine spoon rest and ceramic crock to set and store your utensils, and the dressing bottle to put the finishing touches on your meal. When you're baking, you can use the dough knife to scrape the dough together and section it as needed. Whatever you're whipping up, the 20 pieces in this set will help you to make your next culinary creation a tasty success! Upgrade your kitchen with The Pioneer Woman Sweet Romance 20-Piece Kitchen Gadget Set.
20-piece set of cooking and baking kitchen gadget essentials
Pieces feature vibrant colors and Ree's signature floral patterns
Gadgets are made from acacia wood, nylon, ceramic, melamine, and plastic
Mix and match with all your favorite pieces from The Pioneer Woman collection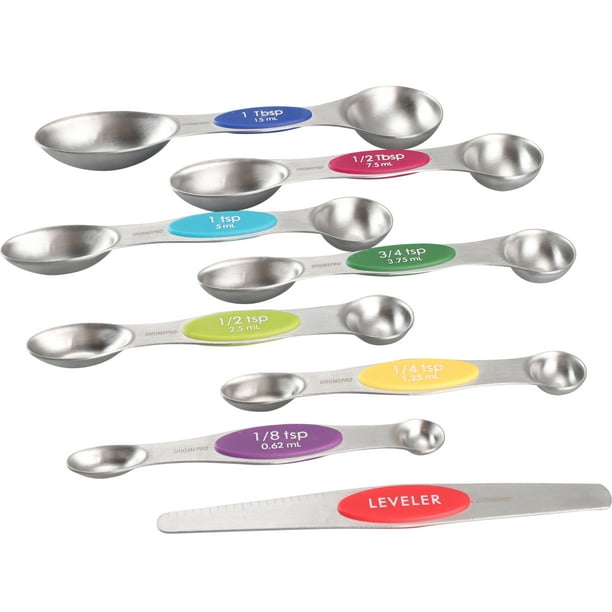 This Set of 8 Metal Magnetic Stainless Steel Measuring Spoons is $13.99 (regularly $69.99)! These cute measuring spoons are made of food-grade heavy-duty stainless steel and an all-in-one structure, without plastic BPA, much safer and rustproof,won't bend or deform so sturdy even can use for frozen ingredients measurement, like butter. Each measuring spoon with dual heads which are conveniently used for dry and liquid spices separately, and the oval side is narrow can fit into most spice jars, the round side is perfect for liquids measurement. The flat bottom design keeps your tablespoon measuring spoon rest on the counter won't tip over and spilling.
ESSENTIAL MEASURING SPOONS for KITCHEN – 7 individual different sized narrow stainless steel measuring spoons (1/8-tsp, 1/4 tsp, 1/2 tsp, 3/4 tsp, 1 tsp, 1 tbsp, and 1/2 tbsp) great for cooking, baking, and supplements that give an accurate leveling measure for recipes.
DOUBLE SIDED FOR LIQUIDS AND SOLIDS – Cook, prep and create meals with ease without going to your cabinet, our unique double-sided spoon is designed to measure various amounts of liquids & solids with accurate and easy to read tsp/tbsp & mL measurements.
MAGNETIC BASE FOR EASY STORAGE – Each piece of this modern cute fun & decorative measuring spoon set has a magnetic center allowing for easy and convenient nesting. Each magnetic spoon stacks together to save space in your kitchen cabinet or counter.
HIGH-QUALITY PREMIUM STAINLESS STEEL – These exact measuring spoons are made out of premium stainless steel for a long-lasting measuring tool. With a flat base that can sit scoops stably on the counter without spilling the tiny and small spice contents.
VERSATILE DESIGN & DISHWASHER SAFE – These magnetic narrow stainless measuring spoons can be used as a melon baller substitute and are great for measuring coffee, protein powder, spices, baking powder, and more. Safe to use in the dishwasher and BPA-free.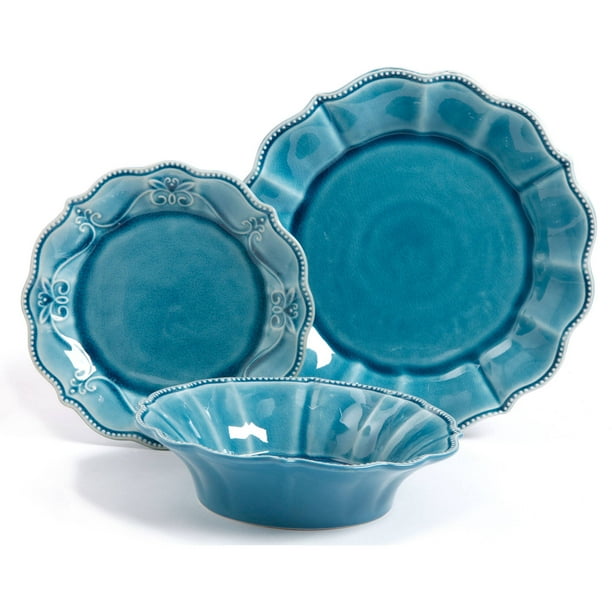 The Pioneer Woman Paige 12-Piece Dinnerware Set in any one of five color is $49.92 (regularly $59.99) Treat your tabletop to The Pioneer Woman Paige 12-Piece Dinnerware Set. The set includes four dinner plates, four salad plates, and four bowls ready to be set with table linens from The Pioneer Woman Collection. The vibrant denim adds a pop of color to your kitchen. Bring a little country charm to your meals with The Pioneer Woman Paige 12-Piece Dinnerware Set.
Includes 4 Dinner Plates, 4 Salad Plates and 4 Bowls
Dinner Plates: 10.75″
Salad Plates: 8″
Bowls: 8.25″
Features an elegant design with scalloped edges and intricate embossed details
Made of ceramic for long-lasting use
Each piece is microwave safe and dishwasher safe for easy cleaning
Mix and match with other The Pioneer Woman collections
Crackle glaze colors have small cracks throughout the glaze. This is the style/appearance of the set and the plate is not actually cracked or defective
Find more great deals on The Pioneer Woman products here!
The post Save up to 80% on The Pioneer Woman Products from Walmart! appeared first on The Shopper's Apprentice.