The Best Coffee Grinders in Canada of 2022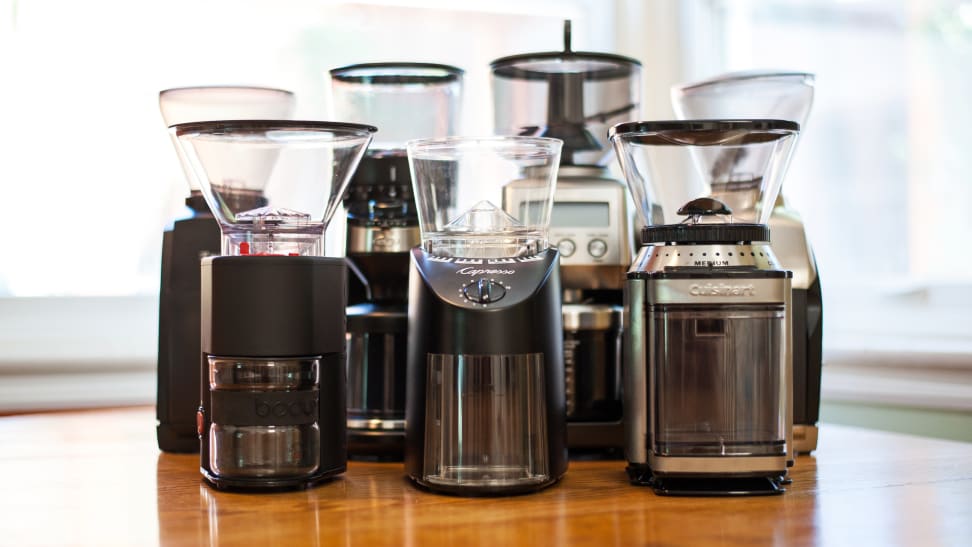 — Recommendations are independently chosen by Reviewed's editors. Purchases you make through our links may earn us a commission.
Coffee beans come from a variety of plants, climates, and countries that all affect the taste and body of your beverage. The light, floral, fruity, or rich chocolatey, nutty flavours that define the most sought-after beans begin to dissipate as soon as they are ground and subjected to air, even if the coffee is sold in a vacuum-sealed or nitrogen-flushed bag or can.
That's why coffee lovers and aficionados prefer to grind their own beans right before brewing. But oxygen isn't the only enemy of coffee flavour—overheating the beans, grinding them unevenly, and using the wrong grind for your coffee maker can do just as much damage.
The key is buying a good coffee grinder—like our top pick, the Baratza Encore (available at Amazon)—that gives even results without overheating, and that offers a range of settings no matter what brewing method you prefer—from a fine grind for use in an espresso machine to a coarse grind for a French press.
But with all the different types of grinders—blade, burr, and manual models—which one is right for your needs will depend on how much coffee you brew at once, the amount of ground coffee you use per cup, and how much effort you're willing to exert before your wake-up caffeine jolt.
If you're an el exigente who enjoys a full-bodied cup, you'll probably want an electric burr grinder. But if you prefer the convenience of an automatic drip coffee maker that uses a medium grind and don't want a particularly strong cup of brewed coffee (we get it, no judgment!), an inexpensive blade grinder like the Krups Fast Touch blade grinder (available at Amazon) will do the trick.
Here are the best coffee grinders we tested ranked, in order:
Baratza Encore
Krups Fast Touch Electric Coffee and Spice Grinder
OXO Brew Conical Burr Grinder
Cuisinart Touchscreen Burr Grinder
Braun Burr Coffee Grinder
Hamilton Beach Fresh-Grind Coffee Grinder
Mr. Coffee Blade Grinder with Chamber Maid Cleaning System
Capresso 560 Infinity
Fellow Ode Brew Grinder
Breville Smart Grinder Pro
OXO On Conical Burr Coffee Grinder with Integrated Scale
Bodum BISTRO
Cuisinart DBM-8 Supreme Grind
KitchenAid BCG1110B
Hario Ceramic Coffee Mill Skerton PRO
Peugeot Brésil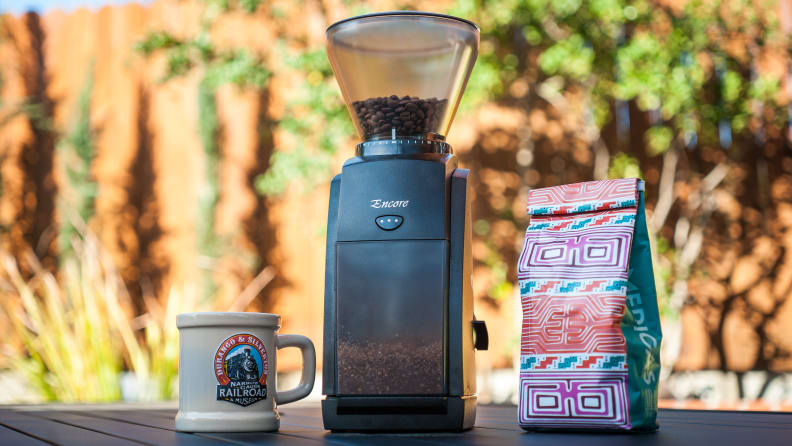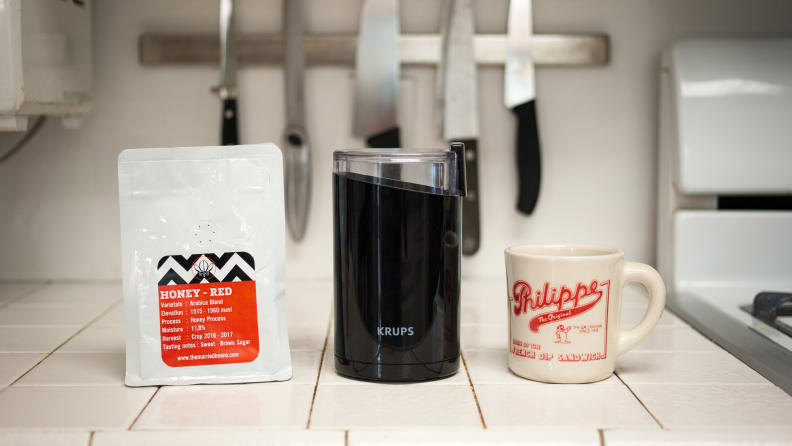 How We Tested Coffee Grinders
The Testers
Hi, I'm Sharon Franke, and I've been reviewing kitchen equipment for consumer magazines and websites for over 30 years.
If there's one area I'm particularly interested in, it's coffee making and that's because java is always my drink of choice whether it's first thing in the morning, before or after dinner, or late in the evening. I'm pretty fussy about my coffee, preferring a rich and bold-flavoured brew that comes from using a generous dose of ground coffee made from freshly ground, high-quality beans.
This guide was first written by Ben Keough, who has been testing and writing about consumer tech and home goods for more than a decade. He previously served as Reviewed Editor-in-Chief of News and Features. He also once owned and operated a specialty coffee shop in Da Nang, Vietnam, where he converted his love for coffee drinking into a passion for making coffee and learned what it takes to produce a perfect cup.
The Tests
For our updated round of testing, we chose Starbucks Pikes Peak Roast, a popular medium roast that's widely available both in stores and through mail order.
In each grinder, we ground two batches of beans to a fine, medium, and coarse consistency, timing each batch. After grinding, we recorded the temperature of the ground coffee and evaluated it for grind size and uniformity.
We noted whether or not there was static cling and/or caking in the grinder cup, whether the machines spat ground coffee all over the counter or got stuck in the chute.
We listened to hear how much of a racket they made as they worked and determined how easy they were to clean. In addition, we considered the quality of construction and how much space each grinder took up on the counter.
What To Consider When Buying Coffee Grinders
Before you make a purchase, it's important to understand the differences between burr, blade, and manual grinders. A burr grinder pulverizes roasted beans between two serrated moving steel plates, a handful of beans at a time which always results in an even, consistent grind. While not large in comparison to a coffee maker or a toaster oven, burr grinders require some space on your countertop. However, they can process enough coffee at once for a full-bodied 12-cup carafe.
Among electric coffee grinders, the more affordable option is the blade grinder, which chops up the beans with spinning blades. While it is often claimed that they chop beans unevenly and that they overheat the beans, this has not been our experience. Rather, blade grinders are inconvenient for two reasons: First, they don't grind enough coffee in one batch for a full pot, unless you like a weak brew.
Second, most don't have grind settings, so you have to guestimate how long to run them to get the right texture for your cup. This type of coffee grinder doesn't take up too much space on your countertop and is easy to stash in a cabinet when not in use. Plus, it can double as a spice grinder.
Manual grinders (or hand grinders) don't need any electricity but require you to use a hand crank to grind the beans. While you get even results, it takes minutes as opposed to seconds to grind coffee beans by hand, and the chore gets tedious fast.
Manual grinders hold a small amount of coffee in the hopper and the ground coffee container so aren't a good choice for brewing a big pot. They're quite compact in size but premium priced.
Coffee Talk: How to Make the Perfect Cup
According to the Specialty Coffee Association (SCA) which sets standards for coffee making, the perfect cup of coffee is brewed by using 2 tablespoons of coffee per 6-ounce cup or a standard coffee cup size. If you do the math, that's 24 tablespoons for a 12-cup potful. (We know, that's a lot of coffee!)
Most automatic drip coffee makers come with instructions calling for 1 tablespoon of coffee per cup and many even come with a tablespoon scoop. Now how much you use is entirely up to your personal preferences. Using the SCA's recommended amounts will bring out all the nuances in coffee beans and will yield a rich and full-bodied beverage, but many may find that way too strong.
If you like to use 2 tablespoons per cup and often brew a family-sized carafe at one time, a burr grinder that can grind enough beans in one batch is your best choice. In addition, be wary of coffee grinders that ask you to select the number of cups and then automatically grind the beans. They grind less than two tablespoons per cup.
---
Other Coffee Grinders We Tested
More Articles You Might Enjoy