The Perfect Smoked Turkey
Just in time for Thanksgiving, this perfect smoked turkey is juicy and tender with a subtle smoky flavor. Start with a simple brine and fresh herbs to make each bite burst with flavor!
No Thanksgiving is complete without a turkey! Looking to switch things up this year? Try my oven-baked herb, air fryer, or slow cooker turkeys!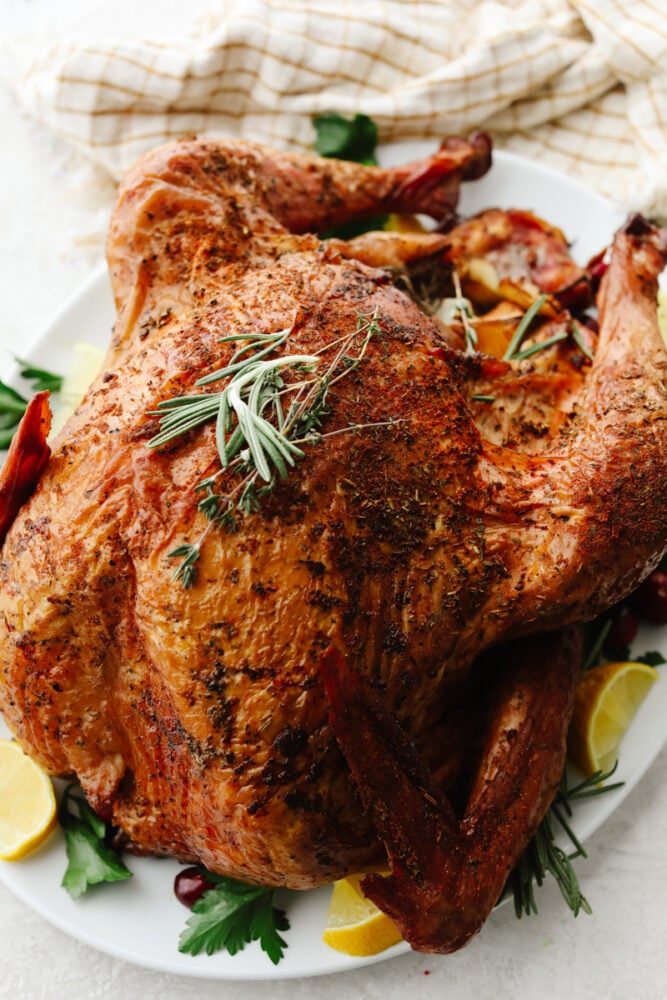 Amazing Garlic Herb Smoked Turkey Recipe
We have smoked a turkey now for the past two Thanksgivings in a row and I don't think we will ever go back! Smoking creates some of the juiciest, most amazing turkey I have ever experienced. Dry, flavorless turkey is now a thing of the past! This recipe has been foolproof for me. My turkeys have ended up moist and flavorful each time. To flavor from the inside out, I start out with a simple turkey brine to infuse the meat with flavors of citrus and herb. Then, I generously coat my turkey with my favorite blend of garlic, pepper, and aromatic Italian herbs. I like to stuff my turkey with lemons, onion, and extra herbs to flavor and help tenderize. Then it's off to the smoker! You're going to love how easy this is to prepare.
Truly, this smoked turkey is a lot easier than it looks. Whether you're seasoned in the art of smoking or this is your first time, this recipe will do all of the heavy lifting! It's super straightforward! I've even included a graphic below to give you temperatures and cooking times for all of your smoking endeavors. Once you start smoking your meat, you won't want it any other way! No matter what meat you choose, it ends up soft, juicy, and deliciously smoky every time. You can find my list of smoked recipes here, with more soon to come!
Everything You Need for the Best Smoked Turkey
The best part about this smoked turkey recipe is that it uses simple ingredients from your cabinet! Thanksgiving is hectic as it is, no need to brave the grocery store! See the recipe card below for a full list of ingredients and measurements.
Turkey Brine: A brine is a simple saltwater mix, but I like to add in herbs and citrus for extra flavor! It also helps to tenderize. While this step is optional, I highly recommend putting in the time for a more flavorful turkey! You can find my full recipe here.
Whole Turkey: Make sure the giblets and neck are removed.
Paprika: I love adding paprika to my turkey rub for some mild spice! It tastes amazing in contrast to the smoky flavor.
Garlic Powder: You can't go wrong with garlic! Added for the perfect savory flavor.
Italian Seasoning: This is my personal blend of herbs like rosemary, thyme, marjoram, and basil. It upgrades whatever dish it's added to!
Onion Powder: I love the hint of sharp flavor that onion powder adds to turkey.
Salt and Pepper: Used to enhance the smoked turkey's overall flavor.
Apple: I add quartered apples to the inside of the turkey for moisture and a subtle sweet flavor.
Onion: Like the apples, I stuff the turkey with quartered onions to flavor from the inside out!
Lemon: Sliced lemons are added to the inside of the turkey for zesty flavor.
Fresh Rosemary: I like adding whole sprigs of rosemary inside the turkey for flavor. They also work great as a pretty garnish!
How to Make the Perfect Smoked Turkey
In just 5 easy steps you can make an amazing smoked turkey, too! Trust me, this turkey is going to be the star of the show with how tender, delicate, and juicy it is! It's always a favorite with my friends and family.
(Optional) Brine and Pat Dry: Let's get smoking! First, remove the turkey from the brine and and pat dry with a paper towel.
Preheat Smoker, Combine Seasonings: Next, preheat the smoker to 225 degrees. In a small bowl, combine the paprika, garlic powder, italian seasoning, onion powder, salt and pepper. Rub generously on the entire turkey.
Stuff: Fill the cavity of the turkey with the apple, onion, lemon and rosemary.
Smoke: Next, place the turkey in the smoker and smoke for 30 minutes per pound. Put the meat thermometer into the thigh without touching the bone, or an about an inch into the thickest part of the breast. Smoke until the internal temperature is 165 degrees Fahrenheit.
Rest: Once the turkey has reached the target internal temperature, remove from the smoker and let rest 10-15 minutes before carving.