Three Uniquely Designed IKEA Coffee Stations
If creative design and IKEA SEKTION cabinets had a baby, it would look like one of these coffee stations.
There is something comforting about a favorite coffee shop: the smell of freshly brewed coffee with the background noise of typing, chairs scraping, and friendly chit-chat. The barista knows your name and usual order. However, you can't always justify a trip across town to your favorite spot, and if you start thinking about how four coffees from Starbucks cost about as much as an entire can of Maxwell House, you may feel a little less comforted.
While nothing can replace the occasional escape to get a triple-shot oat milk chai, the new coffee station trend allows you to bring the coffee shop atmosphere into your home.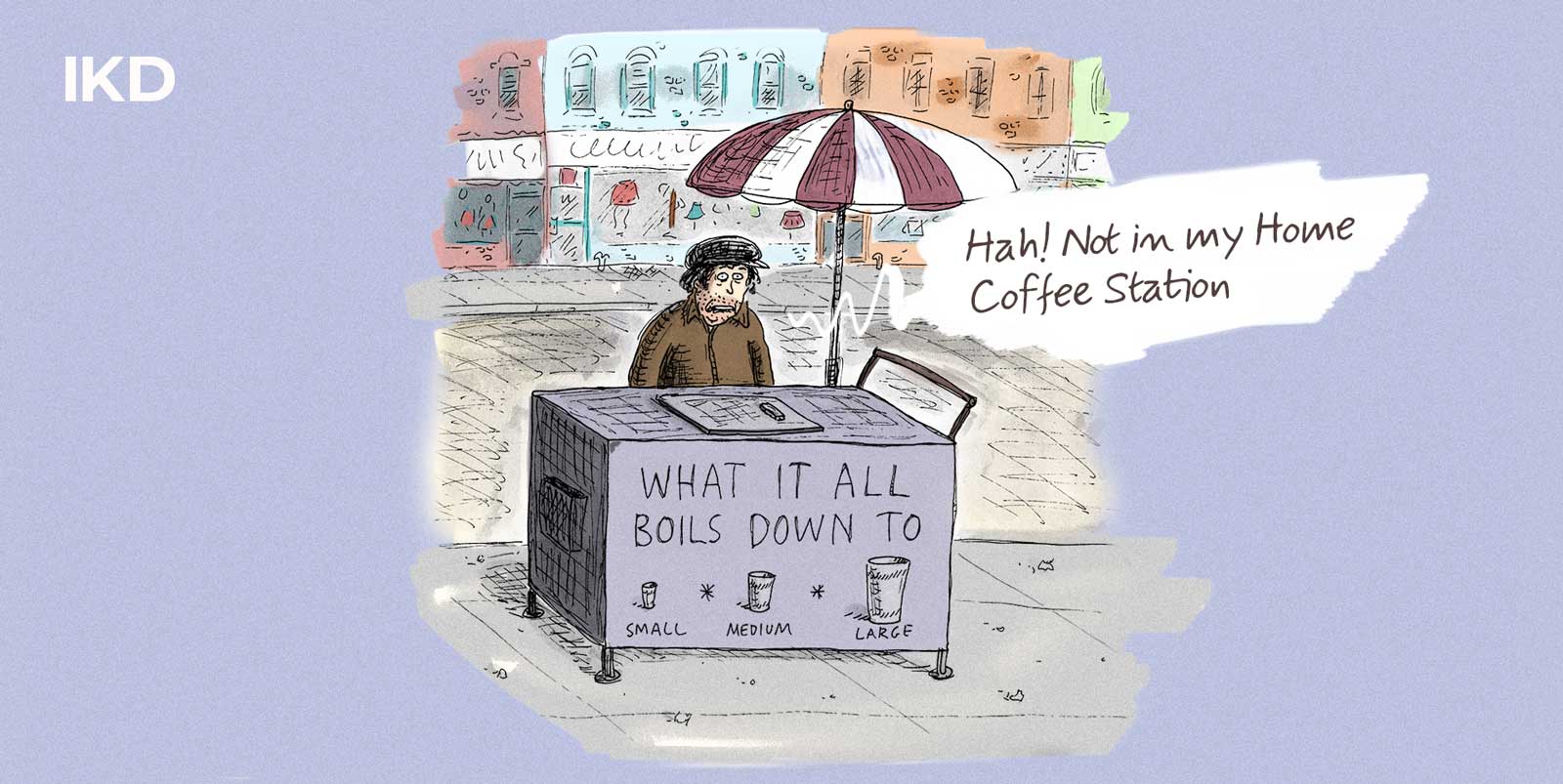 The following designs borrow from the appliance garage trend to create a hidden coffee station in these customers' kitchens. Our designers used IKEA SEKTION cabinets to make these coffee station projects affordable, while their knowledge of IKEA hacks and alternative product sources ensured they were also attractive and functional.
Personalized IKEA Kitchen Designs
Created by Certified Designers
GET STARTED
Whether you need a convenient IKEA coffee station or appliance garage, the following designs are sure to offer inspiration.
A hidden IKEA espresso bar in a tidy kitchen.Henri's cappuccino addiction started in law school.


"After I passed the bar and got my first job as a qualified lawyer, I was late to the office at least twice a week. I was 'that guy,' walking in fifteen minutes late with a takeout coffee. I decided to learn how to make my own. Espresso machines are huge, and I know cluttered countertops are one of my fiancé's pet peeves. Turns out hidden appliances are a thing, so we decided to see if IKD could fit it into our kitchen design." –Henri, IKD customer

Henri's IKEA hidden appliance design focused on contrast to show that there was something special about that particular cabinet. While the rest of the door fronts were ASKERSUND dark brown, the coffee station doors were AXSTAD matte white. The upper cabinet is a standard 24"W x 24"H x 24"D for storing bulk supplies. The middle cabinet is where the magic happens.

IKD designer Frank designed custom shelves to fit the espresso machine, mugs, and other accessories using IKEA panels. The cabinet was designed by cutting a 40"H x 44"W frame into four panels with standard 40"H x 24"W pocket cabinet doors. IKEA doesn't offer pocket cabinet doors, but the hardware was easily sourced from Amazon for less than $300.

The lower cabinet comprises two 24"W x 30"H base cabinets. It consists of two IKEA pullout drawers and four pullout drawers from Rev-A-Shelf, as Henri believed too much white would look sterile.

Bringing a sense of community to a Semihandmade and IKEA kitchen."When I first asked IKD to design my kitchen, I knew I wanted an appliance garage. I'd seen an article about them on the IKD website, and I thought it was a great idea. However, shortly after I hired a contractor to execute the design, I was diagnosed with an autoimmune disorder. My friends and I met at the same coffee shop weekly for years. Suddenly, I didn't feel comfortable sitting around in crowds anymore. It was like the pandemic 2.0. I decided to turn that appliance garage into a coffee bar so we could keep our standing coffee date." –Alice, IKD customerAgain, IKD designer Frank went for contrast with the IKEA appliance garage. All kitchen cabinet doors are Semihandmade Supermatte Shaker-style, with the appliance garage (now coffee bar) in white and the other cabinets in Night Sky. The cabinet boxes were designed using 30″W x 30″H SEKTION wall cabinets, with the lower cabinets measuring 30"W x 24"H. Frank added three surrounding panels to ensure the appliance garage feels like a cohesive unit.
The most exciting feature is easily the lift-up cabinet doors, achieved using four uplift hinges from Amazon at less than $100 each.
Saving cash with a custom IKEA coffee station."I'm trying to save money and create less waste, but I want these to be long-term lifestyle changes. I listened to a book called The Year of Less, and one thing the author mentions is how much money she used to spend on takeaway coffee before committing to her shopping ban. It got me thinking, and I do buy a lot of coffee. I realized I could save $150 per month if I just made it at home. IKD designed my kitchen when I first moved into my apartment, and I asked if they could create a matching coffee station. I wanted it hidden because I like how neat a hidden coffee station looks, and I thought it might still give me that feeling of going somewhere special and getting something special when I made coffee during the day." –Lilith, IKD customerIKD designer Merari took on this project, designing a 48″W x 94.5H x 24″D cabinet, created in part by joining two 24″x30″ base cabinets together. The tall cabinet doors are from Semihandmade (Moss Supermatte Slab), and Merari customized panels to encase the unit and create custom interior shelves. As in Henri's design, the lower section contains both IKEA pullout drawers (in white) and Rev-A-Shelf pullout drawers (in wood grain).
An IKEA butcher block countertop and LYSEKIL brushed copper backsplash panel give the coffee station that chic, coffee shop vibe, while two Rev-A-Shelf spice racks attached to the interior of one cabinet door allow for additional storage.
All it takes is a little caffeine and creativity to add interesting features—like a hidden IKEA coffee station—to your home.
IKD knows how to hack SEKTION cabinets and utilize multiple resources to give customers a kitchen design that ticks all their style and function boxes. IKEA does not offer coffee stations or hardware that makes it easy to include an appliance garage in a kitchen design.
However, by enlisting the help of a professional and knowledgeable designer, you can get the most out of your IKEA design.
Get a Professional IKEA Kitchen Design – All Online
Work with our certified kitchen designers to get a personalized kitchen designed around your needs and vision. If you're interested in learning more about our service, make sure to check out our IKEA Kitchen Design Services.