Unique Kitchen Features We Love
I have always said that my favorite space to organize is the kitchen as it is truly the heart of every home. Not only does organizing a kitchen and pantry have so much impact on a family's daily life but in these two spaces there is just so much to organize. From food to dinnerware to cooking tools to appliances, organizing a kitchen can feel overwhelming.
Over the years the custom home building industry has felt that overwhelm experienced by many families and created some unique features to help organize the kitchen. Our Rachel and Company team has seen our fair share of custom homes in the Washington DC area and have definitely come across some of our favorite custom kitchen features. So whether you are working on building and designing a custom home or perhaps considering renovating your kitchen these custom kitchen design ideas are perfect options to consider adding to keep your kitchen organized once and for all.
Appliance Garage I recently posted on Instagram about a client's appliance garage and the response I got was amazing! So many of you had never heard the term appliance garage or were simply excited about the idea of keeping those less than beautiful appliances out of sight. An appliance garage is just what you might assume based on the name: a space in your kitchen with a door of some sort to keep your small countertop appliances out of sight. However, these garages have come a long way from the dated wooden roll top appliance storage garages you might remember from your grandmother's kitchen. These days we see most appliance garages with doors on hinges that either swings open, pops up or slides back into pockets and, of course, with outlets built in the back so your tools are ready to go. I love the idea of an appliance garage in a custom kitchen as it keeps the visual clutter of many items you use daily, like your coffee maker or blender, out of sight but still very easily accessible. Add that functionality with the beautiful aesthetic of a cabinet that ties into the rest of your kitchen and you have pure custom kitchen gold.
Pull-Out Spice Organization I love this kitchen feature so much that I have one in my own kitchen. There are a few ways that we love seeing spice organization built in so you can choose what works best for you in your kitchen remodel. I love either a skinny pull-out cabinet or a drawer with a built-in spice organizer. The pull-out cabinet does give you a bit more flexibility if you have different sized jars or larger spice jars that need to be stored but either option totally works and functions well in a kitchen! The most important thing with spice organization is keeping it close at hand so it is easily accessible while you are cooking - consider adding a pull-out or spice drawer near your stove so for easy access.
Knife Drawer Let's be honest, no one wants a bulky knife block on the counter of their newly designed and renovated kitchen. Built-in knife drawers are the perfect solution and an easy add on as you are designing a custom home. These drawers allow you to keep your knives close at hand, protected and very organized in your space. Make sure to take into account the length of both the blades and handles of your knives when designing the drawer and don't forget about steak knife storage.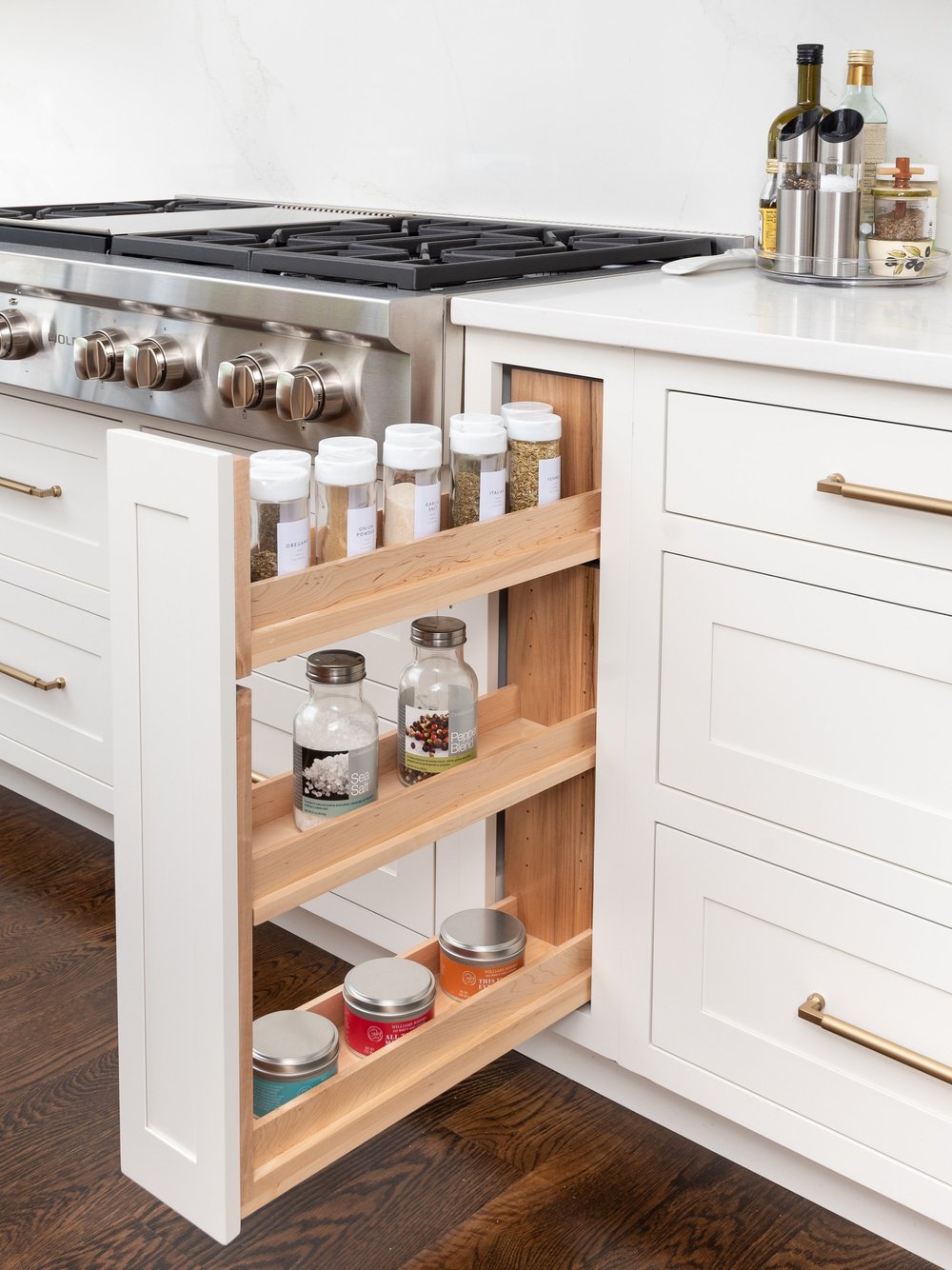 Built-in Storage for Utensils Similar to knife storage, I love a drawer with built-in organizers for kitchen utensils like spoons, spatulas, measuring cups, etc. That said, these types of drawers should be used with caution as it is very important to ensure that you are designing the drawer to specifically work with your kitchen tools and not generic templates. If you don't have a lot of longer tools it might not make sense to have several drawers with long skinny sections but maybe a couple with smaller category options for things like pizza cutter. As long as you customize the layout of each drawer during the home design process these built-ins are wonderful but if not it might be best to wait and use drawer organizer inserts that can be moved and customized over time.
Double Island I consider a double island to be a true luxury that I long to have in my kitchen (along with a double dishwasher but that is a topic for another day). We are seeing more and more double islands in our clients' kitchens. Not only does having two islands give you more space to work it also creates a significant amount of storage allowing you to create different zones throughout the kitchen, it can help create "traffic" patterns in your kitchen and allow you to add on additional appliances like a wine fridge, fridge drawers or that double dishwasher I have been dreaming of.
Deep Drawers For so many years the majority of kitchen storage was in cabinets, it made sense to everyone and was comfortable. Well, I am so glad that storage has been turned on its head and kitchens are being designed with more and more storage in drawers, particularly deep drawers. Deep drawers are an amazing storage opportunity that allows you to store way more than just flatware and baking tools. We love using deep drawers for everything from pots and pans to creating stations like a breakfast smoothie station with almond milks, protein powders, etc. to even storing dinnerware. The benefit of deep drawers is that it allows you to easily access everything vs. if the same space was used for a cabinet things would be lost in the back. The only organization tidbit to keep in mind is it is still very important to label a drawer. For example if you are storing your flours, sugars, etc. in a drawer make sure to label the top of the canisters and not just the fronts as that is what you will see when you open the drawer.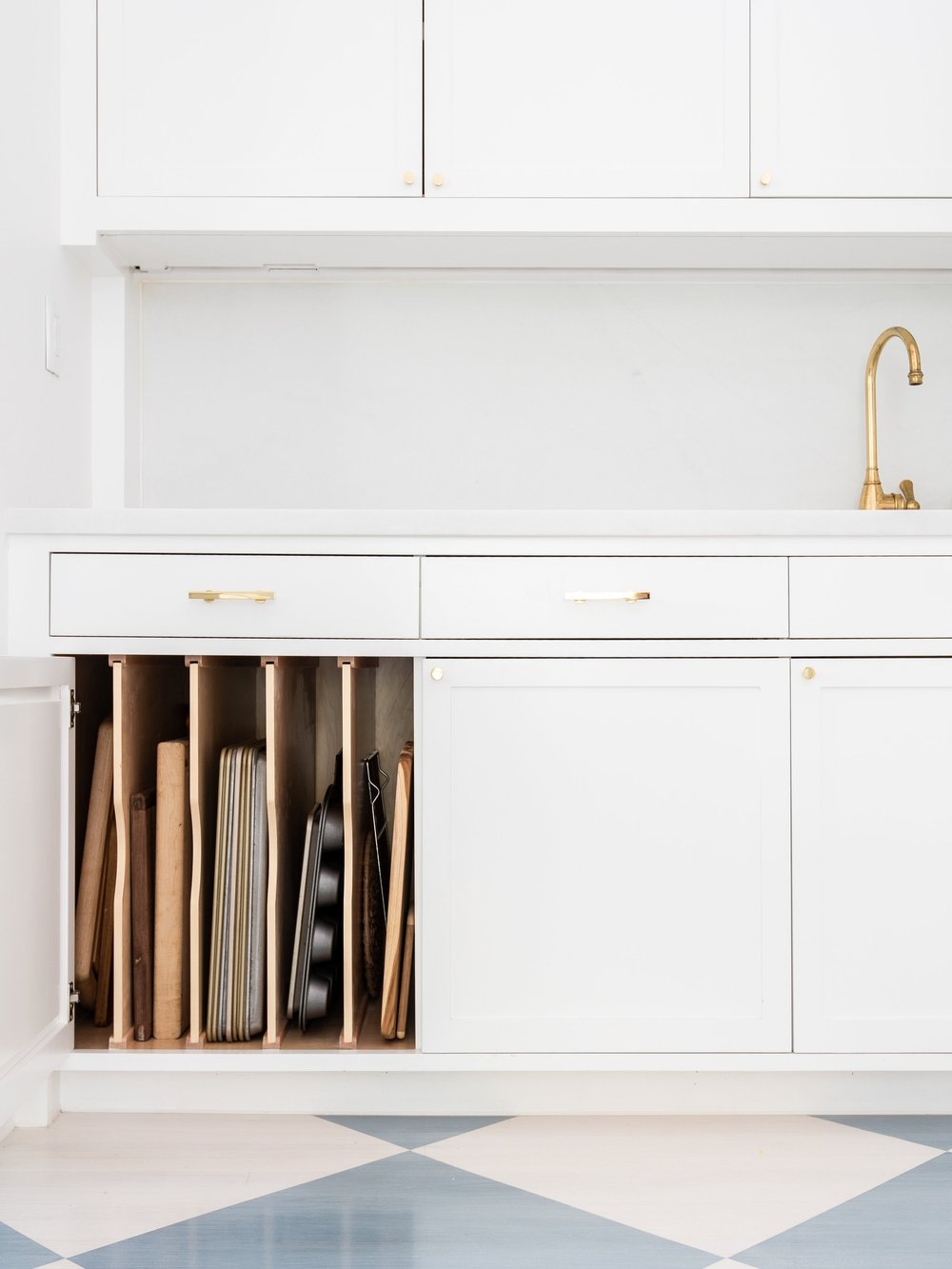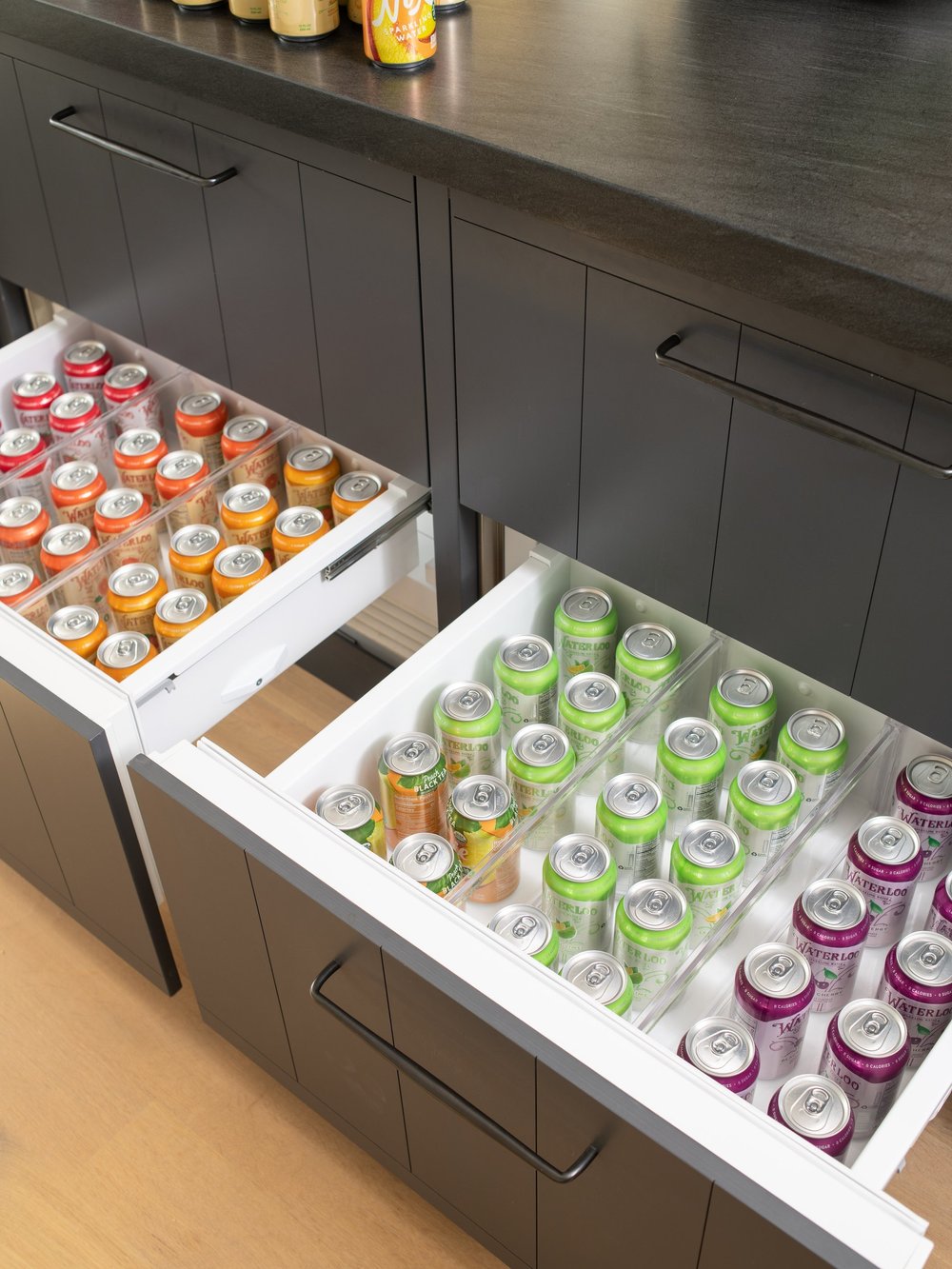 Built-in Paper Towel Holder A client recently had a built-in paper tower organizer in her newly renovated kitchen and I fell in love! Yes, I am, of course, trying to move away from using paper towels as much as possible but just about every kitchen still has a paper towel stand somewhere in the kitchen. I love the idea of building in paper towel storage to keep them accessible but out of sight while clearing up counter space.
Cookie Sheet and Cutting Board Organizer We have all been there, trying to get a cookie sheet only to have a mountain of baking pans tumble down on you, not fun! A cabinet designed for cookie sheet and/or cutting board organization is a great option. These cabinets with tall skinny sections allow you to easily slide in and out just the piece you need without disturbing the rest of the items. For an added bonus build this in right by your oven or if you will be using for cutting board storage right by your built-in knife drawer.
Fridge Drawers I am not sure I am ready to fully step away from my fridge with doors just yet but I love the addition of fridge and even freezer drawers to a kitchen to supplement the main refrigerator. These fridge drawers work absolutely wonderfully for storage of drinks, can help clear up space in your main fridge and bring those cold items to a more convenient space in your kitchen (think soda storage in your wet bar).
I hope these unique kitchen features helped give you a few design ideas to keep in mind if you are considering building a new home or renovating your kitchen. The most important thing is to ensure whatever features you select for your new home or new kitchen work for you and your family's daily life. Don't bring on all the bells and whistles just for the sake of it if it won't add to the functionality of your home. And now TELL ME: what is your favorite kitchen feature that you would design into a new space?