Your Guide to Growing, Drying, and Storing Herbs and Spices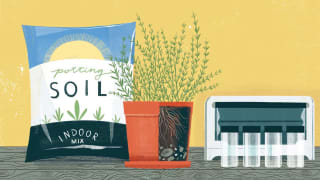 When Karen Washington, a food activist and farmer, recalls holiday meals with her family, one herb stands out: thyme. "What's a Thanksgiving turkey without thyme?" she asks. And even at other times of the year, it's the most common herb used in her kitchen, she says.
But if you use a lot of thyme—or basil or oregano—and are concerned that most or all brands of those herbs and spices that CR recently tested had high levels of heavy metals, don't worry—you don't have to skip them. Instead, Washington says, grow your own in your yard, on your patio or porch, or in a sunny spot inside.
"No matter how small or how big, the fact that you can control even part of your food system by growing, nourishing, and harvesting something is a powerful act," says Washington, co-founder of the nonprofit organization Black Urban Growers and co-owner of Rise & Root Farm in Chester, N.Y. And if you want to dry those herbs for future use, she suggests this: Put them in a dry paper bag for several weeks. For more on how to grow and how to dry your own herbs and spices, as well as how to store those you buy at the store, read on.
Grow Your Own Herbs and Spices
Here's what you'll need to do, in addition to buying seeds or starter plants.
Pick a Sunny, Warm Spot
An indoor windowsill or a small outdoor space will do, as long as the location you choose gets at least 6 hours of sunlight each day. Too dark inside? Try a grow kit. These often come with lights, plus some are hydroponic, meaning they require only water, not soil. If you can, keep the temperature at about 60° F to 70° F and you can grow indoors all year.
Get Pots With Good Drainage
Standing water is a no-no for herbs—it promotes root rot. To encourage drainage, put a few rocks at the bottom of a pot that also has a hole in it, and raise it slightly on a saucer.
Pro tip: Each type of herb should have its own pot (don't crowd the plants, though!) because needs may differ.
Use Good Soil
If you want herbs that are free of heavy metals, you'll need soil free of them, too. If you're buying potting soil, look for a product that carries the OMRI Listed seal, which means it has been assessed for heavy metals by the Organic Materials Review Institute. If you are using your own dirt, consider testing it. You can buy a kit at many hardware stores or online, though it may screen only for lead. Or contact your local agricultural cooperative extension office for advice on testing.
Check Your Water
If you're not sure whether your water is free of heavy metals, you can test that, too. You can also consider using water that comes through a filter that has been certified to remove heavy metals. Find out how to test and treat your water.
Dry Your Own Herbs and Spices
For our herb drying tests, a CR staffer tried an air fryer, a toaster oven, and a multi-cooker in her home kitchen. All are from CR's list of recommended products, and all have a dehydrate function. We used fresh basil, first pinching off the leaves from the stem, then rinsing and drying. In each case, we selected the dehydrate function on the device and, once warmed, placed a single layer of basil in it. Here's what you need to know about each.
Air Fryer
• Preheat to 135° F.
• Place on crisper tray.
• Dry for 30 minutes.
This was the fastest in our tests, but the fryer has a limited basket capacity, so it's best for small quantities. (Model tested: Gourmia GAF686, $70.)
Toaster Oven
• Preheat to 125° F.
• Place on dehydration rack.
• Dry for 4 hours.
This was the slowest of the methods we tried. But you can do a lot at once, so it is ideal for drying large amounts. (Model tested: Breville Smart Oven Air Convection BOV900BSSUSC, $400.)
Multi-Cooker
• Preheat to 125° F.
• Place on multi-cooker basket.
• Dry for 3 hours, 30 minutes.
The device had limited space. To increase capacity, consider buying a multilayer stainless steel dehydrator rack that fits in the device. (Model tested: Instant Pot Duo Crisp, $120.) How to Store Your Herbs and Spices
CR food experts offer tips on keeping your spices fresh.
Keep Herbs and Spices in Small, Airtight Containers
Large containers or bulky bags invite air and moisture, which can affect the flavor or cause the spice to cake up, says CR nutritionist Amy Keating, RD.
Store them in Cool, Dark, Dry Spaces
Sunlight, heat, and moisture can diminish the flavor and aroma, says Sana Mujahid, PhD, manager of food safety research and testing at CR. So don't keep herbs and spices in a cabinet above the stove or near the dishwasher. And if you keep herbs and spices on your countertop? "Only do that if you use that dried spice often," she says.
Don't Refrigerate or Freeze Herbs and Spices
Doing so won't extend their shelf life. In fact, chilling or freezing may make them spoil faster, Mujahid says.
Don't Sprinkle an Herb or a Spice Directly Into a Hot Dish
"The steam could carry moisture into the container," Keating says. Transfer spice to a spoon or dish, then add it to the pot.
Give Your Herbs and Spices the Sniff Test
Dried herbs and spices don't go bad in the sense that they become unsafe to eat. But the aroma and flavor fade over time.
In general, that means two to four years for whole spices, such as allspice, clove, and nutmeg, and two to three years for ground ones, like curry and ginger, according to the Department of Agriculture. But in some cases they can degrade faster. "If you can't smell the spice, regardless of how long you've had it, it's lacking in freshness," Keating says. "So it's probably time to throw it out."
Editor's Note: This article also appeared in the December 2021 issue of Consumer Reports magazine.
Consumer Reports has no financial relationship with advertisers on this site.
Consumer Reports is an independent, nonprofit organization that works side by side with consumers to create a fairer, safer, and healthier world. CR does not endorse products or services, and does not accept advertising. Copyright © 2021, Consumer Reports, Inc.